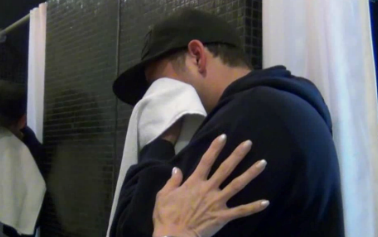 by Jessica Blackwell
It's round two of Kardashian family therapy, and Rob managed to compose himself long enough to come back to the group. While Khloé and Kourtney shed tears of sympathy for Rob, Kim and Kris remained stoic while he sobbed in the next room. They eventually showed emotion when he was back in the room, but Kim was crying in defense of her mother, not Rob. I saw a side of Kim I've never seen before. A side that was really icy and self-centered. She even had the nerve to brag about how she was able to be composed when their father passed away, stating that she spoke at her father's funeral and that none of the other siblings would have been able to do that. Then she brought up that she was working in his office at the time that he died, and when Khloé piped up and mentioned that she was as well, Kim claimed not to remember that. It seemed that there was good reason for all the siblings to feel a certain type of way about Kim, not just Rob. 
Right after the therapy session, the sisters had to rush to an appearance on Jimmy Kimmel live - together. Awkward!! Kim later realized that she was "kinda" insensitive and sent her siblings a mass email. No one responded. 
Kris came over to Kim's house for an afternoon chat, and while Kim was preparing her Ramen noodles (random), Kris dropped some reality in her head. Kim couldn't fathom why they wouldn't accept her email as a genuine, sincere apology but Kris let her know that her siblings were probably offended at the way she handled the delicate situation. She got the message and apologized in person and that seemed to do the trick. 
The mini Kardashian (Jenner) girls were on a mission to get Kris to allow them to be home schooled. Their modeling schedule has gotten so rigorous that they can't keep up with their studies on a regular basis. At first Kris balked at the idea, threatening to cancel every job they had if they couldn't keep their grades up. Their outbursts wore Kris down, and she eventually agreed to hear a presentation on the homeschool process. She ended up agreeing to it, realizing that it was the best way for them to balance their careers and school. 
Even though she was cold in the therapy session, Kim thought of the idea for Rob to have a men's Kardashian clothing line. She convinced Kris to set up a  meeting with the business manager for their clothing line and Rob. Despite Rob's complaining about being taken seriously, he showed up to the big business meeting with Scott and his mother, wearing a sweatsuit. He claimed he was trying to make a statement about being casual and fashionable at the same time, but judging by the sloppy sweats he chose and his unshaven face, I think it was more about his lack of tact and professionalism than a statement. Lucky for him, they ate it up and could't wait to work with him. 
Kim tried to show Khloé that although she wants to separate herself in a business aspect, she still wants to be involved with her family. She decided to head to Queens with her and Lamar to visit his old neighborhood. First donning a ridiculous outfit that was supposed to give her street cred (?) which she later changed, Kim headed to New York. Kim was astonished to see herself on the cover of a mix tape while shopping. She was first outraged, noting that she didn't authorize the use of her image, but once Khloé explained that mix tapes aren't a legitimate thing, she calmed down and it was all good! The trip was nice, Lamar gave Kim a tour down his memory lane and it brought them closer. 
Next week, Kris gets more plastic surgery, Kourtney wants more babies, and Khloé's lack of babies is front and center again! 
Keeping Up With The Kardashians airs Sundays at 9/8c on E! 
(Image courtesy of E! Online)