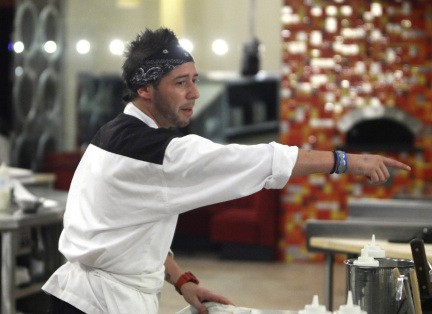 by Todd Betzold
Here we go: we are one week away from the Hell's Kitchen finale and with four chefs left, that means two chefs will be leaving us tonight. Plus, we ended with the chefs getting a surprise as they celebrated their victory in the dorm. Who did Chef Ramsay allow into Hell's Kitchen? I think it is their family members!
And I was correct, the chefs' family members and loved ones come in to get some quality time with each other before heading into the homestretch. They all say this is exactly what they needed. The next morning comes and the final four get into vehicles to head out and meet Chef Ramsay. The challenge today is to see how they can maximize their profits. Chef Ramsay gives them each $15 and they have ten minutes to select some stunning ingredients and then head back to Hell's Kitchen where they will have 30 minutes to create the dish. The key is to create a dish that will bring the highest price and therefore bring the biggest profit.
The chefs head out to get their ingredients: Dana goes the expensive route and gets Halibut and Barbie goes the inexpensive route and gets pork chops that were $5.99 a pound. She adds some sausage to her basket. Justin is busy getting ingredients that are in season, so they are cheaper. All the chefs made it under budget except Justin, who returned an avocado and got a mango instead so he could get under $15. Justin doesn't have a clue on what he is making, but he purchased Colossal Shrimp. Christina is worried she didn't get the right ingredients, but she purchased Swordfish and Shrimp, so she is helping that will help increase the price.
The time runs out and it is time for Chef Ramsay to judge the challenge. Helping him out tonight are David LeFevre (Manhattan Beach Post), Hugh Garvey (Bon Appetit) and Christian Philippo (Patina). The judges will taste each dish and give the price they would pay for that dish. Chef Ramsay will take the average of the three and the chef with the highest average price will win this challenge.
Justin is first and Christian said it is crispy and the cooking is done well. Hugh said the shrimp is perfectly cooked, but it needs liveliness. Christian said he would pay $24, David said $29 and Hugh said $32, so his average price is $28.33. Up next is Barbie and they said the pork is cooked very well, but the sausage is too much salt. They said it had too much meat and she didn't need the sausage. David said he would pay $33, Hugh said $34 and Christian said $32, so his average price is $33. Next is Dana and they said they loved she choose Halibut and it is the star of the show and very elegant. Hugh said he would pay $32, Christian said $32 and David said $38, so the average price is $34. The last chef is Christina and they said they love the broth and a very flavorful dish and would have taken the skin off, but Hugh liked the flavor. Hugh said he would pay $35, Christian said $32 and David said $34, so her average price is $33.67.
That means Dana wins the challenge, which she had the smallest portion on the plate...it worked out for her! For winning, she gets to visit a David LeFevre restaurant. She will get lunch from him and then get a one-on-one session with him for some tips. The losing chefs will have to separate and sort every ounce of trash in Hell's Kitchen, because they pride themselves on saving the environment. This is just disgusting and stupid. Who does this in a regular kitchen? While they are cleaning, Dana heads out to her cooking lesson and not mad at all that she is not picking through trash! After cooking, she gets to go out and enjoy the meal with her parents!!! How nice for her.
As Dana comes back and the chefs prep for dinner service, none of the chefs are talking to Dana. Not her fault she kicked your butt. Tonight during dinner service, each of the chefs will have some time to run the pass. The president of Paris Las Vegas will be present in Hell's Kitchen. James opens up Hell's Kitchen and things are going to get started! Chef Scott and Chef Andi will be helping on stations to get the ball rolling.
The first apps come back and Christina sends up risotto that is approved and apps are heading out of the kitchen. It is time for Justin to run the pass. He is off to a solid start, but then Chef Scott places crab in the Lobster Spaghetti. Justin catches it and sends it back. They have moved to entrees and Dana is running behind on fish and Justin keeps hounding her, but she gives him an attitude. Chef Ramsay said it is Justin's time, not Dana's time and to lose the attitude. He questions her if she is sabotaging him.
Dana sends up the bass and food is heading out to the dining room again. Time for Dana to run the pass. She calls back the orders and no one answers her. Chef Ramsay tells her she needs answers and she does it again, but with responses this time. Food is steadily leaving the kitchen, but then Chef Ramsay throws some sugar in the risotto. Dana misses it and Chef Ramsay calls her out on it. We are an hour and a half into dinner service and the chefs are working together very well.
It is time for Barbie to run the pass. Barbie starts calling out orders to the dining room, not to the chefs. Chef Ramsay tells her to tell her chefs, which she does. Dana and Justin aren't communicating and things get behind. They finally get it together and the apps start going out again. Barbie passes her quality test. Christina takes over the reins on the pass. Chef Ramsay said finally a voice on the pass. Dana burns the cod and now they have to wait another four minutes. She then brings up raw cod and Christina sends it back for another 90 seconds. Chef Ramsay said Christina is losing control of the brigade and she keeps pressuring Dana to get it faster, but with no luck.
Dana finally gets it up and it looks like Christina's assertiveness paid off because they didn't lose much time. Christina passes her quality test and gets the final entrees out to the dining room. They finished the dinner service and Chef Ramsay said they must go back to the dorm and discuss who deserves to stay her and who deserves to stay home. Dana said no one sucked it up, but Justin and Barbie said she was a disaster. Barbie said she felt that Dana has never worked a pass before. Dana feels she was on top of every challenge and doesn't deserve to go home.
The chefs head back to Hell's Kitchen and all four of them get a chance to tell Chef Ramsay why they deserve to be here. Chef Ramsay said that the next dinner service will be the final dinner service, so two chefs will be heading home tonight! The first chef leaving tonight is Barbie. He said the improvement has been significant and she is a smart woman and she needs to take that and run with it. There will be one more chef sent home, but of course not tonight. The final two chefs are...to be continued! Dame you Chef Ramsay and Fox!
Hell's Kitchen airs on Mondays at 9/8c on FOX.
(Image courtesy of FOX)
Follow Todd on Twitter @tbetzold