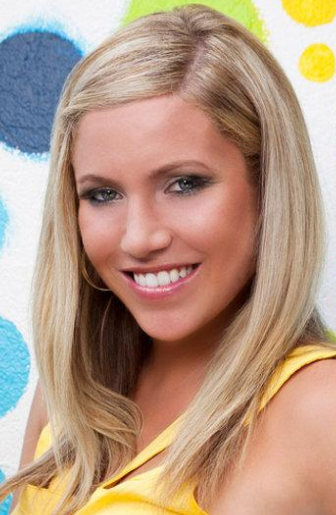 by Gina Scarpa
If there's one thing we've learned about Marie thus far on The Real World: St. Thomas, it's that she's not afraid to say what she thinks to anyone. Her unfiltered style has been the cause of some conflict but the roommates should rest assured that they always know where they stand with her. From her on again/off again romance with Robb to her bonding with bestie LaToya, Marie always keeps things interesting. We'll be seeing more of her soon on the upcoming season of The Challenge and we talked to her about that, her roommates, and whether or not she's looking forward to the upcoming Real World reunion in our exclusive interview.
Q. Gina, RealityWanted: What made you want to do The Real World?
A. Marie: I used to watch when I was in high school. You try to find all these different jobs afterwards and nothing feels right. I was thinking, "Let me just try out for The Real World," because I was sick of being at home. I never thought in a million years that I would get it. When I found out I made it, I was like, skipping around my house and then stopping and contemplating if it was a bad idea and then skipping again.
Q. Gina, RealityWanted: You met Robb first and obviously became very close. What was it about him?
A. Marie: I just felt like he would be one of my friends from home. He didn't take anything too seriously. Some of my other roommates were so serious. That's what really brought us together.
Q. Gina, RealityWanted: You've had an issue with Laura this season and the way she allows Trey to treat her. Was it frustrating that she wasn't really listening to you?
A. Marie: It's much easier to tell someone what to do than to actually do it. Everyone gives advice but it's up to those people to take that advice. Eventually me and Toya just got fed up with it. It's annoying. If your best friend was doing something that you felt was terrible, you'd say something. On top of it, we're being filmed. We're like, "Do it for Nebraska, at least"!
Q. Gina, RealityWanted: When I talked to Trey and Laura, I asked if Trey was just getting a bad edit because he really doesn't come across great on television. You lived with him. What do you think about what you're seeing on tv versus actually living with him?
A. Marie: Trey and a bunch of other roommates are saying I'm getting the best edits. I've been crazy, drunk, and funny so you see all of that. From what I saw, I think Trey is getting a good edit. That's like dead on. Yeah, I was probably the craziest and most obnoxious person in the house. I get aggravated and pissed off but I think for the most part, it's been pretty dead on.
Q. Gina, RealityWanted: You and Swift have had it out already this season, and your personalities really conflict sometimes. Were you guys able to move forward and be friends?
A. Marie: It's funny because you'll see in tonight's episode, we fight the entire time. It's kind of sad. Maybe it's just where me and Swift are similar. We're from New York and New Jersey. When we get into fights, we get over it. After the show, Swift is one of the few people I can laugh with about things right now. We're really good right now. I'm afraid of the reunion because it's hard to say how I felt then and how I feel now and not get mixed up.
Q. Gina, RealityWanted: You and LaToya have such a great friendship. It's really entertaining to watch!
A. Marie: Toya is a girl that I would hang out with at home. She always has your back no matter what. She's hilarious. I'm upset they haven't shown how witty she really is. Every time she talks on the show, I'm cackling in the background. I know they should me with Robb a lot but honestly, most of my time there was spent with her. I will be friends with her for the rest of my life.
Q. Gina, RealityWanted: So you haven't filmed the reunion yet. How are you feeling about being back with all of your roommates and hashing out everything from the season.
A. Marie: I am not really looking forward to it, to be completely honest. I just think that a lot of people are upset with their edit and aggravated with me. If there was a fight in the house, I was involved. I'm not the type of person not to approach somebody. Everyone felt the same as me but when I said something, all of a sudden, everybody shut up.
Q. Gina, RealityWanted: What's going on with you and Robb right now?
A. Marie: We're talking. There's a lot stuff to be hashed out at the reunion. That's the part I'm least looking forward to.
Q. Gina, RealityWanted: You're on the next season of The Challenge, which is awesome! How soon after St. Thomas did you leave again?
A. Marie: We got home from St. Thomas and we literally left for The Challenge the next week. We had no time to get in shape or figure things out. Everything about The Real World and The Challenge is real. Everyone is who they are and you do lose your mind a little bit. You don't have a tv, you don't have a phone, you don't have a computer. You just kind of go crazy. Going straight there didn't help with my craziness. If people thought I was crazy on The Real World, oh just wait...
Q. Gina, RealityWanted: I think you and Toya need your own spinoff, like Snooki and JWOWW.
A. Marie: I think that, too! I honestly do! Right now, I'm trying to figure out what I was going to do. I never pictured myself, at 23, on The Real World. I thought I'd be in New York, in a suit, making a lot of money.
Q. Gina, RealityWanted: Are you big on interacting with fans of the show?
A. Marie: Yeah! They can follow me @MarieMTV. I do Facebook but Facebook is so 2010. I'm doing a UStream tonight, live, but this episode is really going to make me look like a demon. It's so unfortunate because I'm not even drunk in this episode. They don't realize that when I'm sober is when they have the most problems with me!
The Real World: St. Thomas airs Wednesdays at 10/9c on MTV.
(Image courtesy of MTV)

Follow Gina @ginascarpa