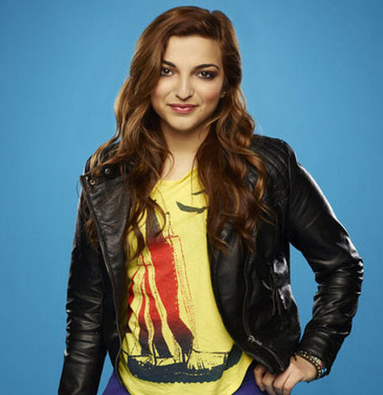 by Gina Scarpa
Aylin Bayramoglu never needed to worry what character Ryan Murphy would write for her if she had won The Glee Project - he was drawn to her story right from the beginning. The idea of having a Muslim character on Glee was all too appealing to him, and she delivered fierce performances week after week. That strength and consistency took her all the way to the finale, but she ultimately lost to Blake Jenner. Still, the show has opened many doors for her and we talked about that and more in our exclusive interview with her about The Glee Project.
Q. Gina, RealityWanted: Did you watch the first season of The Glee Project?
A. Aylin: I actually auditioned for season 1 and I didn't make it. I didn't even come close. I was kind of bitter towards it and I didn't watch it for a while. My sister was like, "This show is kinda awesome. You should watch it." Then, I fell in love with it. I felt like I had nothing to lose when I auditioned again.
Q. Gina, RealityWanted: From the beginning, Ryan loved you and your story. He seemed like he knew exactly the character that he would write for you. Did you like his vision for you on Glee?
A. Aylin: Oh absolutely! People like me haven't been represented on tv. Like Ryan said, I would be a first. I loved the story he had in mind for me. It's very similar to who I am.
Q. Gina, RealityWanted: One of the concerns from Ryan and the mentors was that you wouldn't be able to handle the backlash if you were cast on the show. In the finale, you said that you could. Can you elaborate a little more on that?
A. Aylin: I have been getting a lot of backlash since the show started. I have a lot of haters! I'm a strong enough person where I know when I can handle things and when I can't. I'm comfortable enough with myself not to let what people say about me affect me.
Q. Gina, RealityWanted: It was a little surprising that more people weren't making a case for you to win to Ryan during the finale. Then, Charlie stepped up and gave a really nice speech about you. What was your reaction when you saw it?
A. Aylin: Oh, I cried my eyes out. It was beautiful. He's a good boy. I was very, very happy. When I was watching it, I realized not many people were sticking up for me, which was kind of surprising. I thought people had my back. I guess it was just Charlie and Amber Riley.
Q. Gina, RealityWanted: I mean, it's pretty amazing that Amber loved your performance and was rooting for you to win.
A. Aylin: Oh absolutely! I LOVE Amber and her voice has inspired me! That girl is just so nice and such a genuine person. Hearing her say that meant so much.
Q. Gina, RealityWanted: Were you thinking about any other songs for your final performance, or were you set on Adele?
A. Aylin: I was between Rolling In The Deep and The One That Got Away by Katy Perry. Rolling, I emotionally connected to.
Q. Gina, RealityWanted: What were you thinking Ryan was going to say right before he announced the winner?
A. Aylin: I didn't know. I thought literally that it was split three ways. I had no idea who they were going to go with. I was crying the entire time. It was just a very vulnerable situation just waiting for Ryan to announce it. It was really nerve wracking. There was never a time when I was like, "I totally got this." Blake and Ali are amazing.
Q. Gina, RealityWanted: What did you think about Blake's win?
A. Aylin: Blake has been very consistent throughout the entire competition. He's such a strong competitor. I know why they chose him to win. Blake is such a sweet person. I couldn't even be mad or envious that he won. I love him so much!
Q. Gina, RealityWanted: Do you feel like doing The Glee Project opened up opportunities for you?
A. Aylin: Absolutely! It got my foot in the door in the entertainment industry. That's something I've been dreaming about since I was a little kid. I'm very thankful for The Glee Project. I got to sing solos all the time in front of Ryan Murphy and Robert Ulrich!
Q. Gina, RealityWanted: What are you planning on doing from here?
A. Aylin: I definitely am going to get some acting classes going and keep up with my voice, obviously. I would love to come out with an album. That would be a dream come true. I definitely wanna dabble in acting and tv. Hopefully, I'll be auditioning for stuff. It definitely isn't the last you've seen of me.
(Image courtesy of Oxygen)

Follow Gina @ginascarpa