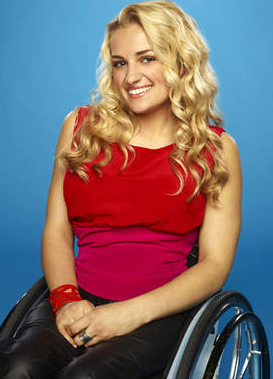 by Gina Scarpa
From the moment Ali Stroker appeared on season 2 of The Glee Project, her energy and positive attitude grabbed the attention of both the mentors and Ryan Murphy. They didn't always love her theatricality, even questioning her authenticity at times, but she was able to show who she really was through both strong performances and passionate speeches about why she wanted to win a role on Glee. In the finale, there were many members of Team Ali supporting her for the win but that honor ultimately went to Blake Jenner. Today, we talked to Ali about her Glee Project experience and her big plans going forward.
Q. Gina, RealityWanted: Your desire to win definitely came across this season. I assume you're a huge fan of Glee.
A. Ali: I loved Glee from the moment I saw it. I really think that the show changes people's minds about what someone can or can't do. I really loved the message of the show, the heart of the show, and I think it pushes boundaries for young people.
Q. Gina, RealityWanted: Was there anyone in the competition that you felt threatened by or was there someone that you felt you needed to keep your eye on them?
A. Ali: I think that I really tried to stay focused on myself. I was never going to be able to be Shanna or Blake. I was only competing against myself. I really tried to stay focused and there was a lot of talent and a lot of different voices. Shanna has a pop voice, Lily has a theater voice, so across the board, we brought something different to the table.
Q. Gina, RealityWanted: Towards the end, Ryan and the mentors were starting to see you as perhaps a comical, mean girl. What did you think of their idea for a character for you?
A. Ali: I love that! That's so exciting to me because then it's not about the wheelchair. That comes into the room when I roll in the door! I feel like what's exciting is that that character, put her in a wheelchair, it pushes people. Not often do you see the bitch in a wheelchair. That pushes people, again, ideas of what they might expect.
Q. Gina, RealityWanted: This cast seems very close. Who did you have the strongest connection with?
A. Ali: I definitely became closest with Dani. We met at callbacks and instantly connected. We had so much in common, which is really cool. We really wanna help people and push boundaries. We really are on the same page. We're working on some things together right now, some surprises! I'm excited to share more with the world!
Q. Gina, RealityWanted: Now, there were some concerns that your perky energy could come across as forced. Did you understand where the mentors were coming from?
A. Ali: I think that comes from my theatricality background. Playing to a 500 seat house was different than performing on camera. That also comes from my own life experience. When I was younger, I felt like I had to push a little or overcompensate to prove that I was capable. Maybe sometimes, people push a little too hard. The greatest lesson I learned is that I'm enough.
Q. Gina, RealityWanted: I really loved your choice of Popular for your final song in front of Ryan. What made you go with it?
A. Ali: I thought Popular was a perfect opportunity to show Ryan what I had in mind for me. I thought it was a perfect kind of combination of showing my voice and keeping with this character.
Q. Gina, RealityWanted: There were many people in the audience at that last chance performance that were Team Ali. What did you think about the things they had to say about you?
A. Ali: I was so, so flattered! To have all those people that I respect so much say that about me really meant a lot. It's a dream! It was really, really thrilling. To watch it back is the greatest compliment.
Q. Gina, RealityWanted: You said how lucky and grateful you felt after it was announced that Blake was the winner. Was there any part of you that had a tough time with the outcome?
A. Ali: I absolutely felt lucky and grateful at the end. Nothing was lost. I only gained so much experience and confidence. I made so many incredible friendships. Nothing was lost, I only gained.
Q. Gina, RealityWanted: What are you working on now?
A. Ali: I'm working on a lot of different projects. I'm part of an anti-bullying campaign called Be More Heroic. We're going to do a school tour and bring the message of love and compassion. I'm writing my own show and I'm going to the paralympics in London at the end of the month. Lots going on! I'm just so excited!
Q. Gina, RealityWanted: I feel like we really got to know you throughout this season of The Glee Project. Did you feel that way as well?
A. Ali: Yes! I feel very lucky that I was portrayed in the light that I was! Of course, there were moments that I wish were show on tv, like, silly and goofy moments. I wish those things were shown a little more but absolutely! I feel really fortunate.

(Image courtesy of Oxygen)

Follow Gina @ginascarpa