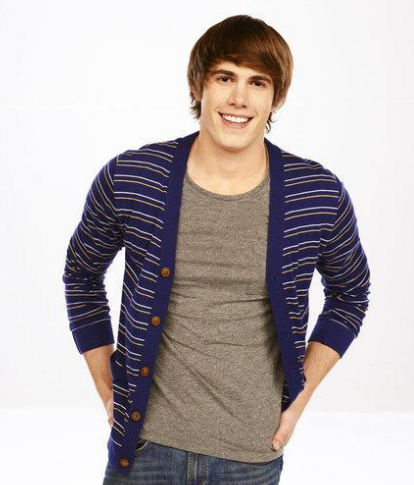 by Gina Scarpa
This season on The Glee Project, Blake Jenner was the model of consistency. He was constantly prepared, always delivered, and rarely struggled. His calm, cool, and collected demeanor worked in his favor in the weekly challenges, but Glee creator Ryan Murphy worried he wasn't affected or layered enough to really fit on his show. On this week's finale, he delivered a deep performance of Edwin McCain's "I'll Be" and followed it up with a poem that really showed his fellow contestants, the Glee mentors, writers, and creators exactly who he is. Ryan was sold and named him the winner over runners up Aylin and Ali. Today, Blake talked to us about his exciting win and we try to dig for details on his new character on Glee in our exclusive interview.
Q. Gina, RealityWanted: What made you want to try out for The Glee Project specifically?
A. Blake: Well my love for Glee definitely, definitely drove me to audition for The Glee Project, and also, my love for acting. I've loved acting ever since I was a kid. I've auditioned for things and I never got anything. I was struggling for quite a while, eating Ramen noodles, trying to survive, working a bunch of odd jobs, and I just thought the show was such a great opportunity. I love the show itself!
Q. Gina, RealityWanted: Who were you viewing as your biggest competition in the beginning?
A. Blake: Charlie had an amazing voice. He was definitely a force to be reckoned with.
Q. Gina, RealityWanted: The mentors and Ryan did worry that maybe you were a bit too perfect and not as affected as they'd like. What did you think about their take on you?
A. Blake: I mean, it's just the fact that they can only see what they see. I remember the first week, they were saying they wanted to see that vulnerable side and I was in the bathroom crying away from the cameras. I didn't want anyone to see, but that's the honest truth. I didn't wanna lose again or go and fail once again. I was really nervous and I wanted to give it my all.
Q. Gina, RealityWanted: Do you feel like that poem you wrote made a difference in swaying Ryan and others in your favor?
A. Blake: I think so. Throughout The Glee Project, there's a change in everyone. They saw I'm not perfect, nobody is! I have a lot of things that they hadn't seen yet. I definitely think they saw that change.
Q. Gina, RealityWanted: A lot of people fought for you to win. What did you think when you watched the finale back and saw what they had to say to Ryan?
A. Blake: When I watched it and I saw what the cast and the writers were saying, I was so grateful for all the nice things they said about each of us actually! It was great to hear that. I was so appreciative.
Q. Gina, RealityWanted: Were you set on "I'll Be" for your final song or did you go back and forth over a few different options?
A. Blake: No that's a song that I had been singing and humming to myself since the beginning of The Glee Project. I love Edwin McCain and I love that song. It wasn't a last minute choice. No, that song really means a lot to me. One lyric alone "I'll be your crying shoulder" ... that's what I love for my friends to know. I'll always be there for them, I'll never judge them, and I'll always accept them for who they are. That song pretty much explains how I felt.
Q. Gina, RealityWanted: Were you feeling confident when you stood on the stage waiting for Ryan to announce his decision?
A. Blake: I was really scared! I get nervous and I was super nervous in the finale! In my mind, I was saying, "Please, please, please..." but then I look to my left and I'm like, "Oh crap!" I honestly thought Aylin or Ali was going to win.
Q. Gina, RealityWanted: What does it feel like to win The Glee Project after being at it for so long?
A. Blake: Oh my gosh! It's insane! It is a dream come true. Acting is the only thing I know how to do. It's the only thing I've ever loved to do. I love it dearly. I ran up and jumped as if I was Superman and I was going to fly away! I can't even put it into words.
Q. Gina, RealityWanted: Do you have any details about your character on this upcoming season of Glee?
A. Blake: Oh, I have no idea! Ryan tweeted this one thing the day of the finale. It said, "Who will win The Glee Project 2? Writing such a great role for the winner! And just wait until you see who they are dating..." I'm so excited! I don't know who I'm going to be dating. I would love to know! I'd love to be in a relationship with anyone on Glee!
Q. Gina, RealityWanted: What would you like to say to your fans?
A. Blake: Oh I just wanna say to my fans thank you so much from the bottom of my heart. If I could, I would teleport to each and everyone's house and give them the biggest hug in the world! I truly do care and love each and every one of my fans. I will forever be grateful.

(Image courtesy of Oxygen)

Follow Gina @ginascarpa