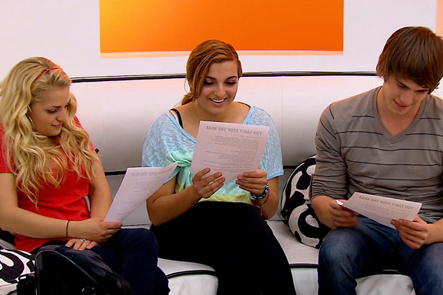 by Gina Scarpa
It's finally time for the Glee-ality challenge! Only Ali, Blake, and Aylin remain and for their final homework challenge, they'll be performing "You Can't Stop The Beat" from Hairspray for Robert and one of Glee's biggest stars. Before Robert leaves them in the dorm to practice, he lets the final three know they'll have some amazing backup vocalists to join them this week and in rushes all of the previously eliminated contestants. Ali and Dani can't stop hugging, Aylin and Charlie can't stop kissing, and Blake can't stop Michael from fawning over him. More on that later!
The final guest judge for this season is (the best) Glee star, Chris Colfer, who plays Kurt Hummel! The eliminated contestants didn't provide much backup vocals, or dancing for that matter. They just bopped around and sang a note or two every now and then. I have to admit that I was slightly disappointed by the performance but thankfully, Ali brought her larger than life personality to the table which saved it in the end. Aylin and Blake couldn't have done the harmony during their verse together? A little more planning for this performance would've kicked it up a notch, for sure.
Chris decides that all three of them are the winners so all three of them will get a mentoring session with him. The same will not be the case later on, when only one person will win the competition. First, it's time for a video shoot, "Tonight Tonight" by Hot Chelle Rae", set at a high school prom. Each of the final three will play a very specific character - Aylin, a girl with a strict upbringing who is sneaking out to prom against her parents' wishes; Blake, a humble prom king; and Ali, a flirty mean girl. Each one delivers in the studio, even if it takes Aylin a minute or two to get there. Nobody comes out of the vocal session on top. Let's see about choreography...
I don't know who's going to miss Zach Woodlee more, the contestants - or me! I love him! He has realized that they don't look good doing choreography as a big group, so he creates a fun, line dance for them. Ali has to adjust everything to fit her, but has Michael as a helpful partner to make it look great! On set, things are going great and Erik adds last season's co-winner Damian McGinty as a last minute addition to the cast for the video. The video looks great with very few issues coming up. The mentors worry Aylin can't handle the pressure of being a breakthrough Muslim star, that Blake is still too one dimensional, and that Ali comes across perhaps a little forced at times.
On to the last chance performances, where the Glee writers, creators, stars, and former Glee Project contestants sit in the audience, anxiously waiting to watch.
Ali - "Popular" from Wicked
It's no surprise that Ali chose a theatrical song for her final performance and it was a good choice at that. She showed off her humorous side, but also incorporate that slightly mean girl attitude that the writers are interested in pursuing with her.
Blake - "I'll Be" by Edwin McCain
Blake was hoping to show Ryan that he's a deeper character than the captain of the football team who always gets the girl. I'm not sure if the song showed it, even though he sang it well. What really sold him to people was the poem he read after his performance, which caused some tears, and showed that there are many layers to explore with him.
Aylin - "Rolling In The Deep" by Adele
What a perfect song choice for the always fiery and confident Aylin. She really showed off her vocal prowess with this and proved she could hold her own with the cast members of Glee. Afterwards, she acknowledged that Ryan wasn't sure she could handle the pressure but she promises that she can and she will!
It was a little surprising how many people were Team Ali during the deliberations, only because Aylin hardly got any love at all. Amber Riley jumped in, saying she thought Aylin's vocals stacked up in the Adele song and Charlie made an overdramatic, emotional pitch about the importance of her character in a post 9/11 world. Ali's light and positivity cannot be denied and that's what drew so many people to her. But Blake is a star for sure, and was the most solid and consistent throughout the competition.
Ryan announces that the winner of The Glee Project is... BLAKE! I am so pleasantly surprised. I thought, for sure, this whole season was being set up for Aylin to win but Blake really has something special. Can't wait to see what his character will be like! Are you happy with the results?
Stay tuned to RealityWanted for interviews with Blake, Ali, and Aylin!

(Image courtesy of Oxygen)

Follow Gina @ginascarpa