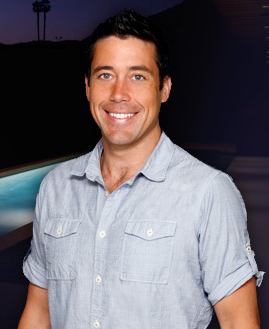 by Gina Scarpa
When Ed stepped foot onto Bachelor Pad this season, he was just hoping to have a good time and to win himself some money. What he didn't count on was his frienemy Reid holding what happened between them on Jillian's season of The Bachelorette against him, and then campaigning to get him out of Bachelor Pad. Ed narrowly escaped elimination this week and now, is planning to have it out with Reid, who he thought he could trust. Ed talked to RealityWanted and reporters today about his time in the mansion thus far, whether or not he's interested in finding love, and the drama that's about to ensue.
Q. Gina, RealityWanted: You seem like you're having a fun time on Bachelor Pad. Are you taking it seriously or is it part of your strategy to be more laid back and having a good time?
A. Ed: Yeah, I think it's kind of a blend. I never took The Bachelorette seriously until I realized I had a chance. I'm treating this the same way. I think with this week coming up, you're going to see that this is a turning point for me. You're going to see a different side to a lot of people.
Q. Gina, RealityWanted: Were you surprised that Reid still harbored resentment towards about about what happened during your season of The Bachelorette with Jillian? It was kind of a while ago...
A. Ed: I was definitely surprised that Reid brought up this baggage and old business. While I definitely respect him for playing the game, I think that he had a hard time playing it and he made some bad moves. Reid's a great guy and we're going to stay friends.
Q. Gina, RealityWanted: So were you there for money or for love?
A. Ed: I definitely wasn't there for love! I absolutely was there to win. I treat it just like any competition. I have someone at home that I have always kind of had feelings for, even though I was single on the show. I wasn't there to look for anybody but I made some great friendships. I'm happy for that!

Q. You said you have someone back home but you hooked up with Sarah. Did you have any explaining to do?
A. Ed: You know, we weren't together and we made an agreement. I wasn't going into this to find a relationship but we agreed that I was going to be single. The game certainly involves having... whatever you wanna call last week. It was fun, Sarah is a great friend, and I think she realizes that. I was very clear about having somebody back home.
Q. They painted this picture of you sweating bullets, thinking you were going home. It was all very dramatic. Were you actually worried that last week was going to be your last week in the Bachelor Pad?
A. Ed: Every bone in my body thought I was going home, without a doubt. I absolutely thought I was going home. It was the weirdest feeling ever. It sounds egotistical but I never thought that way on The Bachelorette. I was packing my bags on Bachelor Pad and I didn't wanna be there. It turned out for the better but I was shocked.
Q. How did that affect you in the next week?
A. Ed: Well, I think that next week is going to be... it's a turning point for me. I think I go from being there to having fun to realizing, "Wow. I can actually go pretty far in this thing and win money." This is when I start taking it seriously. It's a tough challenge and absolutely demoralizing but I think I realized that I needed to step up my game or I was going home.
Q. It looks like things are going to come to a bit of a head between you and Reid. Can you tell us a little about that?
A. Ed: Well, I didn't really learn about Reid's antics until just before the rose ceremony. I'm not one to contrive this huge plan and dig out people but it was everyone else, actually, that was saying they wanted to get rid of Reid. I didn't realize what he was doing behind my back and I was pissed. I wanted him gone. Even though he's a friend, he lost my trust and he played the game poorly.
Q. We've heard Chris Harrison say that Chris antagonized the guys as well. Is that true?
A. Ed: Uh yeah, even Chris and I go head to head a little bit and I would say we were the closest guys there. He's an alpha male type personality and I'm kinda middle of the road. I was following his leadership and I disagreed with some of his moves. At the end of the day, we had a great alliance but sometimes, you're going to step on people's toes.
Q. Obviously, the show only has so much time to show so many funny and dramatic moments. They've focused a lot on Blakeley and Chris. Can you share something that happened that hasn't aired?
A. Ed: To be honest, it was an ongoing saga between Blakeley and Chris. She was upset and I think that right now, he's look like a jerk but he's a great guy and he knows how to play the game.
Q. Were there friendships or pairings that came out of hte show that surprised you?
A. Ed: You're going to start to see some real "romances" start. Kalon and Lindzi was a total surprise. They really hooked up and I believe they're going to be together for a while. Who knows how long but they had a solid relationship. They were also isolated too because of that. Rachel and Michael were forming a relationship too. Everyone was kinda questioning that because they have different personalities. Beyond that, I think we were all pretty much teams. I wasn't in a relationship with Jaclyn. We were best friends and on the same team. We weren't letting romance get in the way of what our goal was.
Q. Where do you and Reid stand now?
A. Ed: The minute I got home, him and I chatted and it was water under the bridge. I have to respect his style because he was not included in our alliance. It wasn't deliberate, he just wasn't participating in it. He tried something different. Look, it's a game and we're going to be friends for a long time.
Q. Is there going to be a big blowout between you two on the show? What can we expect?
A. Ed: I would expect a big blowout.
Q. It's been an interesting dynamic between the veterans and the fans. It seems they're being bullied. Is that true?
A. Ed: I think that the girls had an alliance from Ben's season. Obviously, the twins didn't belong there. But the other girls are okay, we just never got a chance to know them because the girls alienated them. Why do I need to strategize? The girls are running the show and I can party my ass off until the fans are gone, then it's strategy mode.
Bachelor Pad airs Mondays at 8/7c on ABC.
(Image courtesy of ABC)

Follow Gina @ginascarpa