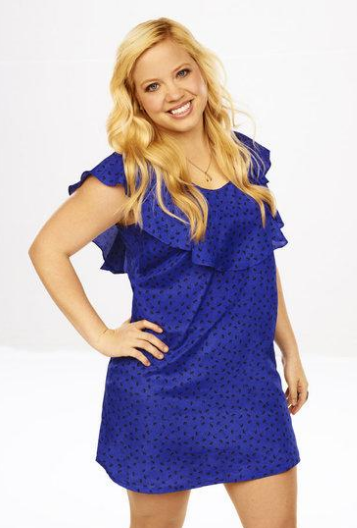 by Gina Scarpa
It was a tough pill for Shanna to swallow this week on The Glee Project. Having been a frontrunner all season, and never landing in the bottom three, she suddenly found herself giving a last chance performance for Ryan Murphy. During Romanticality week, the mentors felt that she seemed stiff and that her choreography with her partners didn't feel natural. Despite belting out Kelly Clarkson's "Stronger" for the mentors, they weren't convinced that a great role could be written for her and she was eliminated. We talked to her today about whether or not she was surprised to be sent home, her relationships with the other cast members, and her big dreams that she wants to achieve.
Q. Gina, RealityWanted: Did you watch the first season of The Glee Project? What made you decide to audition for season 2?
A. Shanna: I loved season 1 and was totally inspired. I had a hard life growing up. I had a talent for singing and a passion for being on stage. I was in my senior year of college and needed to find a job. I found out they were having auditions again and I prayed about it and felt like it was the right thing to do. I got on the show and was totally stoked!
Q. Gina, RealityWanted: You were asked by Ryan Murphy this week about what type of character you'd want to be on Glee. Is that something you had previously thought about before he asked you?
A. Shanna: You know, I had thought about it a little bit but the whole point is to inspire Ryan with who you are. I felt like who I am is a person is who I wanted to be on Glee. I am this bubbly, athletic girl that always has a smile on her face. I felt like I would be a character that would have a lot of layers.
Q. Gina, RealityWanted: Of course, you don't want to be in the bottom three but it's kind of a double edged sword if you never are. On the one hand, you're safe but on the other, you're never in front of Ryan. Do you feel like that put you as a disadvantage?
A. Shanna: Oh, it was totally disadvantage. If I could do it again, I'd put myself in the bottom every time! I was the complete underdog in the bottom three this week.
Q. Gina, RealityWanted: Which person did you have a tougher time pairing up with, Michael or Aylin?
A. Shanna: I think that it was tougher to be with Michael actually. We performed live and Michael, vocally... singing was not his strongest suit. It was difficult because he couldn't reach into the acting realm because he was so worried about his harmonies. I definitely think that was the harder thing. Aylin is a great singer, and we clicked in the recording studio.
Q. Gina, RealityWanted: The feedback you got was that your interactions with Aylin felt choreographed and fake. What did you think about that?
A. Shanna: I don't know because in the moment, it felt real and authentic. I don't really agree with what they said. I think we looked really good! That's my opinion.
Q. Gina, RealityWanted: So here you are, you've never been in the bottom, and then not only are you asked to do a last chance performance but you get eliminated! You had to have been a little shocked.
A. Shanna: Yeah, you know, I was talking to Abraham about the whole thing and I said I wasn't a shock to be eliminated. I was more shocked about who was in the bottom three. I said the whole competition, if I was in the bottom three against Blake and Aylin, that I was going to go home. Blake is just stronger in all facets than Michael. I knew they wouldn't get rid of Blake. I knew Aylin's story intrigued Ryan and then there was me. I was consistent throughout. I wasn't shocked I was eliminated. I was shocked at the bottom three. I wasn't at peace with who was still left.
Q. Gina, RealityWanted: Who have you maintained relationships with and who are you not that close with?
A. Shanna: I am really close with Nellie, Abraham, Tyler, Ali. And then I still keep in contact with Aylin and Lily. I don't really talk to Mario. He's kind of the only one but everyone else, I'm close with. Abraham, Tyler, and Nellie are my core little group. I speak with Blake. We all got super close.
Q. Gina, RealityWanted: What's next for you?
A. Shanna: I wanna get a Grammy in 5 years. That's my plan! I wanna work my tail off. I have high goals. I want to create an album, and I want to be on Broadway. Those are my two goals right now. I wanna be Elle Woods in Legally Blonde!

The Glee Project airs Tuesdays at 10/9c on Oyxgen.
(Image courtesy of Oxygen)

Follow Gina @ginascarpa