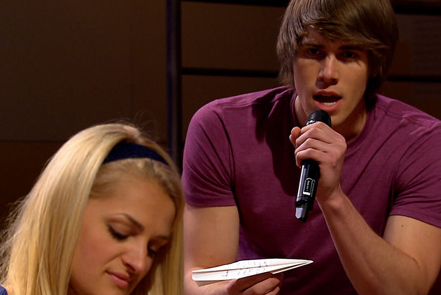 by Gina Scarpa
We're down to the final six on The Glee Project, and just two guys left competing for a role on Glee. Michael doesn't wanna sound cocky, but he's proud for making it as far as he has. I don't wanna sound rude, but I'm surprised he's still there. Let's see how he fares during the Romanticality challenge. Definitely not a word.
For the homework challenge, the contestants perform Extreme's "More Than Words", which brings me back to 8th grade. Thanks, Glee Project! They're also accompanied by Extreme guitarist Nuno Bettencourt, who was probably happy someone remembered him and wanted him on tv again. In pairs, the performed the song - Michael and Shanna, Aylin and Lily, and Blake and Ali. By far, Blake and Ali were the most convincing which did not go unnoticed by guest judge Darren Criss (swoon!). He pointed out that Michael and Shanna seemed a little stiff, which really pissed Shanna off. She doesn't get bad feedback, okay?! And Blake was declared the winner. Good choice, Darren.
The video is set to Rhianna's "We Found Love" and takes place in a detention until the kids sneak off to have a little alone time in a far off corner of the school. Once again, they have to pair up and since Blake won, he gets to pick his partner. He ignored the fact that Lily was staring at him, praying he'd pick her, and stuck with Ali instead. Robert then paired up Michael and Lily, and Aylin and Shanna.
In the studio, Nikki had the pairs come into the studio together, hoping their chemistry would help them sing better. Yeah, it made no sense to me either. Almost everyone nailed it, except Blake REALLY struggled with harmonizing. He doesn't have a lot of experience in it but come on. You gotta be able to harmonize if you're going to be on Glee. He knows he's in trouble, too.
At the shoot, Shanna and Aylin struggle to use the choreography Brooke gave them earlier and make it look natural. It just looks like a dance and not very natural, which the mentors quickly take notice of. They love when Blake takes Ali out of the wheelchair and lays her down on the ground, and see a new side to both Lily and Michael.
Without a doubt, Ali and Lily were the most consistent throughout the week and Lily did a great job of showing that she has a vulnerable side. Both are the first to be called back and then the mentors reveal that Michael is also safe. That leaves Blake, Aylin, and a very unhappy Shanna to sing for Ryan Murphy.
Blake - "Losing My Religion" by REM
Ryan's been having an issue with Blake because he comes across just a little too cool and carefree. When he steps on the stage to sing though, he looks very nervous but sings the song well in spite of it. In order for Blake to win, or perhaps even make it to the finale, he's going to have to show a different, more layered and interesting side to Ryan.
Aylin - "The First Time I Ever Saw Your Face" by Roberta Flack
Aylin may have sung well, but she forgot the words, making it hard for the mentors to really get into her performance. Still, the idea of writing for a young Muslim woman is very intriguing to Ryan and understandably so. As Aylin points out, there aren't people on tv who look like her and she embraces the idea of breaking the mold for what you would expect a Muslim to be, even if her parents don't like it.
Shanna - "Stronger" by Kelly Clarkson
Shanna definitely has a fire underneath her when performing but she just always comes out so "bubble gum" as Robert put it in the video shoots. To make matters worse, when Ryan asks what kind of character she'd be on Glee, the best she could come up with is: an athletic girl who joins everything. That doesn't exactly paint a clear picture.
When the list is posted, Shanna, who has arguably been a frontrunner all season, was not called back. It IS a little surprising, but I didn't want to see Blake and Aylin go either!
The Glee Project airs Tuesdays at 10/9c on Oyxgen.
(Image courtesy of Oxygen)

Follow Gina @ginascarpa