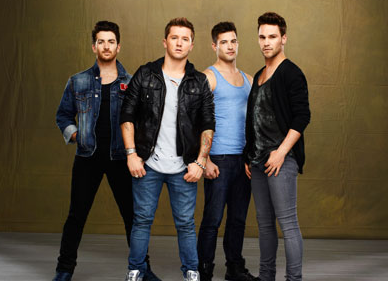 by Gina Scarpa
I have been waiting for All The Right Moves since the day Oxygen announced it and now, we're finally here! Travis Wall has teamed up with his best friends and roommates (Nick Lazzarini and Teddy Forance) to form a new dance company, Shaping Sound. Their fourth roommate, Kyle Robinson, is a friend of Teddy's and isn't one of the founding members so he's going to have to audition just like everybody else. That doesn't exactly sit well with him, but Kyle's pretty classy so he agrees.
Travis meets up with his agents at Clear Talent Group to get some feedback from them on how Shaping Sound can really take off. He wants to put together a premiere performance, which will cost about $20K. His people tell him that he really should attach his name to the company, as in Travis Wall's Shaping Sound. You can understand their point because Travis is the most well known, but there are two other founding members and they're not going to like that at all - and Travis knows it.
One of Travis's best friends is fellow So You Think You Can Dance alum Jaimie Goodwin, who wants to audition for the company, but is still recovering from knee surgery. Still, she's going to go and show her support! It's too bad she can't because she is such a brilliant dancer. Her hummingbird routine with Hok still stands as one of the best in SYTYCD history!
The guys are looking for 20 dancers, 10 guys and 10 girls... well, actually 7 guys since they'll be dancing as well. Travis's other friend Taja, who just returned from tour with Nicole Scherzinger, shows up and is pissed she has to dance. Kyle has to dance, everybody else has to dance, so she has to dance too. Get over it. Jaimie is so antsy sitting there and watching helplessly that she throws on a pair of booty shorts and stretches in the back. Part of me expected her to miraculously jump up and knock out the routine but she still has some healing to do.
Back at the apartment, nicknamed "The Manor", the guys make their decisions about who will be joining Shaping Sound. Of course, Kyle and Taja are in along with many SYTYCD alums, which is so exciting!! Melanie Moore, Alison Holker, Channing Cooke, Alexa Anderson, Ade Obayomi, Adrian Lee, and Robert Roldan are also part of the company. Amazing.
Travis wants to pay out of pocket to get the company started, but Nick and Teddy want to contribute financially as well. The guys throw a party to introduce the company and meet with investors and while Nick works the room, Teddy is too busy flirting with the girls. Taja tells Travis that he repeats phrases in his choreography and cracks under pressure. Kinda the wrong time for that.
The group performs an amazing piece, set to Florence and The Machine's "Shake It Out", and it seems Shaping Sound is on its way! Travis's agent makes another push to put his name on the company, but Teddy and Nick are not having it at all. In fact, if that's the direction it goes in, they both will walk. Let the drama begin!

All The Right Moves airs Tuesdays at 9/8c on Oxygen.
(Image courtesy of Oxygen)

Follow Gina @ginascarpa