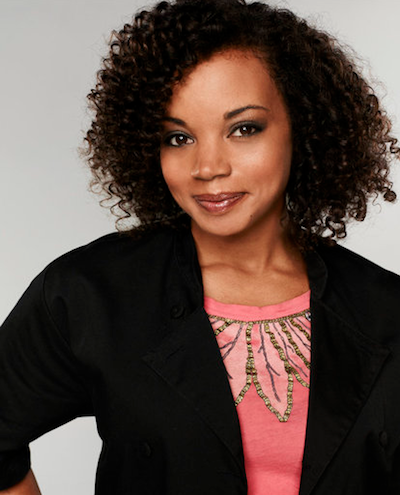 by Gina Scarpa
On the finale of Around The World In 80 Plates, Avery chose to go up against Liz for the last challenge of the season. Liz came close, but lost in the end. The young chef was often underestimated because of her lack of experience but she was a member of a winning team five times and named Most Valuable Chef twice. Oh yeah, and she made it farther than many of her doubters! We talked to Liz today in an exclusive interview about her experiences competing on 80 Plates.
Q. Gina, RealityWanted: What was the main reason that you wanted to do Around The World In 80 Plates?
A. Liz: The opportunity for travel, absolutely! They did an open casting at The Foundry and I was the sous chef at the time. One of the cooks was saying that there was a lady who wanted to talk to me. I was like, "Sure she does!" I work with a bunch of dudes and I thought they were kidding. I talked to her and the next day, I went in for an on camera interview. It all happened really fast!
Q. Gina, RealityWanted: Do you think it was a good or a bad thing that people underestimated you in the competition?
A. Liz: I think it is what it is. If I had any strategy going in, it was that I knew people were going to underestimate me because I had the least amount of experience. I figured I would let them do that, keep my head down, and cook good food. If you have an idea about me, I'm not on the show to change that. I'm there to cook great food and have a great experience.
Q. Gina, RealityWanted: Towards the end of the competition, there was you on one side and the alliance of Avery, John, and Nookie on the other. Were you worried that it was becoming more about strategy than cooking ability and that it could keep you from making it to the end?
A. Liz: Well, I knew that if I won Most Valuable Chef, that was the only way I was going to make it through that country. It can't get any more about the food than that. They all thought there was no way I'd win Most Valuable Chef and that they had it in the bag. Maybe some people got a little lazy because of that.
Q. Gina, RealityWanted: You and Avery both made comments in the finale about the way Nookie played the game. What was your biggest issue with him?
A. Liz: I don't know... I think my greatest issue with Nookie was... sometimes, he needs to focus more on the food than the jokes. We're still friends. I don't have any problems with him as a person.
Q. Gina, RealityWanted: How did you feel about your menu for the final challenge in Los Angeles?
A. Liz: I would've definitely done my dessert differently. Everything else I was really happy with. I thought that the first two dishes were beautiful and I love the way they came together. I just wish I would've used a stabilizer for my custard.
Q. Gina, RealityWanted: What made you choose Chaz and John to work with?
A. Liz: I trust both of them a lot and I know that they're really capable, strong chefs. Jenna and I don't work together well and I don't know Sai well enough. Chaz was an obvious answer. John is a prep monster and a beast in the kitchen. Whatever our past is in the competition, when that guy gets into the kitchen, he's going to cook his ass off. I'm happy with how my team performed.
Q. Gina, RealityWanted: Obviously, getting so close to the winning and then falling short was upsetting to you. Did that feeling stay with you for a while or were you able to bounce back soon after?
A. Liz: I bounced back pretty quickly! In that moment, it felt horrible but even the next day, I was like, "I was really happy with my performance!" I respected Avery and thought she was the one to beat from the beginning. To come in second place to her is awesome. I beat a lot of people who said they were better than me, you know what I mean? I feel like I did win, not to be cheesy. I made my mom very proud and I played the game with a lot of integrity.
Q. Gina, RealityWanted: What are you up to now?
A. Liz: Right now, I'm working on a small business with a friend of mine. It's called Free Range LA. Right now, we're in a couple farmer's markets and we're hoping to do some pop up breakfasts. I do Twitter and Facebook, and I'm working on a blog - but it's not up yet!
(Image courtesy of Bravo)

Follow Gina @ginascarpa