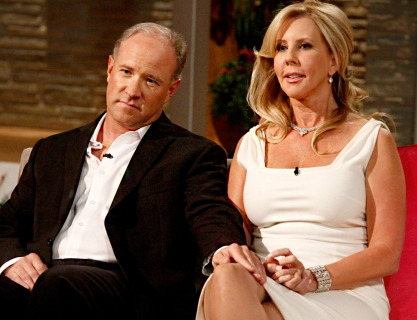 by Gina Scarpa
The fighting was just getting underway on last week's part 1 of The Real Housewives of Orange County reunion episode. Gretchen and Alexis are back at it again - this time, about who was offered the position at Fox 5 first. When Alexis calls her a liar and says they would never hire her, Gretchen whipped out an email from them proving that she was asked first. Alexis also tries to present proof but it's pretty weak. Tamra asks if she's even with Fox 5 anymore. After a long pause... no, Alexis is not. Moving on!
After Heather admits to only going into fights that she can win and that she probably overreacted about BowGate 2012, it's time for Brooks to take the stage and face the women. The viewers seem overwhelmingly on Tamra's side, that Brooks doesn't sound authentic and is an opportunist. I never realized it until the reunion but it really does seem that he studied the show and uses key words from past seasons and had previous knowledge about Vicki before dating him. Brooks finally shuts Tamra down by saying that taking relationship advice from her is like taking financial advice from someone who is bankrupt. Ouch.
Gretchen is in the hot seat next and says that she doesn't regret anything that she said to Slade on the show about marriage. A viewer wrote in saying that she's part of his financial problems and she agree. Who knew that he didn't even get paid to assist her? He's just donating his time to helping turn her into an even bigger celebrity that he's not working to pay off his debts. Tamra, back with relationship advice and clearly not phased by Brooks' comment earlier, tells her that she shouldn't walk down the aisle with Slade until she's totally sure.
Briana joins the housewives on the couch and shares that she and Ryan are living with Vicki currently... and Don, too! Everyone's in the house?! Vicki was able to throw Briana a proper wedding, with about 50 guests, but none of the housewives were invited. Briana didn't want Brooks there but felt she couldn't tell her mom who she could and couldn't bring as a guest. Brooks wouldn't even be on the reunion at the same time as Briana and, in her mind, has not made an effort to get to know her. She says he's afraid of the truth, and I love her for saying that.
Speaking of the truth, Briana spills that Vicki and Brooks had a relationship long before she and Don parted ways. Whether it was emotional, physical, or both seems unclear, but Vicki is pissed it was brought to light. Vicki then throws out that Don had an affair for 20 years, which nobody argues. Tamra calls out Vicki for having an affair in Cabo, and Vicki fires back that Tamra cheated on Simon with Eddie. Well that sets Tamra off, saying it's a low blow and telling Vicki she's going to hell.
Well, another season of drama has come to a close on The Real Housewives of Orange County. Which housewife was your favorite in season 7?
(Image courtesy of Bravo)
Follow Gina @ginascarpa