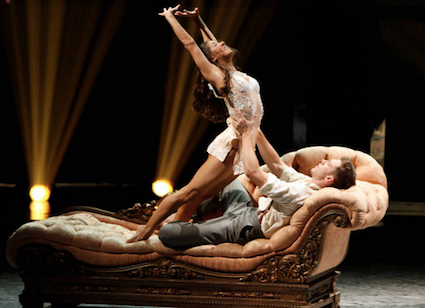 by Kylene Hamulak
Now that we've met the Top 20 dancers of Season 9, it's time for them to start REALLY impressing us. The group opens the show with an interesting routine to "Architect of the Mind" by Kerry Muzzey, which has our dancers in business attire toiling through a Mad Men episode that looks suspiciously like what goes on in MY cubicle every day. Or not. Interesting start to what is sure to be an impressive season!
Joining Mary and Nigel this week is Kenny Ortega, who I love for his work in Newsies (the movie). Nigel explains that because no one will be voted off this week, the show will actually lose FOUR dancers next week - two girls and two guys.  So let's get to the dancing, shall we?
Dancers: Witney and Chehon
Style: Latin
Song: Jump - The Cube Guys and Lucinana
Choreographer: Louis Van Amstel
Since we're still getting to know our dancers, each one is given 9 seconds to share some quick facts about themselves. What I remember most about Witney is that she's deathly afraid of crickets. CRICKETS? I don't even remember Chehon's because I'm distracted by CRICKETS. Anyway, with her ballroom background, Witney is more comfortable with the Samba routine, but Chehon holds his own. Nigel loves Witney, but warns Chehon to learn to enjoy the dance more. Mary agrees that there were some foot problems, but she thinks Chehon can really move and loved Witney too. Kenny also thinks Witney was amazing, but he tells Chehon to believe in himself and trust the choreographers.
Dancers: Tiffany and George
Style: Contemporary
Song: Turning Page - Sleeping at Last
Choreographer: Sonya Tayeh
Weirdest fact about Tiffany? She has baby hands. And as for George, he rattled off like 18 things about himself so quickly that all I wrote down was, "Talks faster than I can process. Also, hates being outdoors." Sonya explains that the routine should convey the two star-crossed lovers melting into each other to become one, and Tiffany and George certainly make that happen. Mary thinks they did great, surrendering to the choreography, and she calls George one of the best dancers in the competition. Kenny called it breathtaking and "exquisite to watch." Nigel thought the dancing was superb from the pair.
Dancers: Janaya and Brandon
Style: Hip Hop
Song: Take Care - Drake featuring Rihanna
Choreographer: Napoleon and Tabitha
Fun facts: Janaya wants to meet Shamu and Brandon is allergic to pets, but not to his brother. (Don't blame me! This is what we can get out of them in 9 seconds!) Though Napoleon noted that Janaya and Brandon were having some issues getting to the emotional point of connection to properly tell the story, they are perfectly in sync throughout the routine. Kenny tells them he believed every word of the story and thought they did a great job. Nigel thinks they got away with a few things that normally wouldn't go over in hip hop, but overall liked it. Mary also loved the storytelling, but she thought Janaya should get a little more gritty.
Dancers: Alexa and Daniel
Style: Jazz
Song: Hey Hey (DF's Attention Vocal Mix) - Dennis Ferrer
Choreographer: Sean Cheesman
Alexa tells us she loves red lipstick, as if we didn't already know that. She also likes watermelon, frozen yogurt, and puppies. Daniel, meanwhile, has a pet kangaroo and is related to Crocodile Dundee. (Say what now!?) Their routine is interesting, as the choreography is very mechanic - meaning if one move is a little off, it could throw off everything else. And possibly land Alexa on her head. Thankfully, they escape the performance unscathed. Nigel wonders if the audience will connect with the choreography, as it was so packed in, there wasn't a lot of time to really take each piece of it in, though he does think it showed what Alexa and Daniel are capable of. Mary agrees that it was highly packed in routine, and says it was a job well done. Kenny also notes that it was a demanding piece, and though he was impressed with the exercise, he was less impressed with the performance.
Dancers: Amber and Nick
Style: Viennese Waltz
Song: Nights in White Satin - Tina Arena
Choreographer: Jason Gilkison
Amber loves bunnies and Nick's dad works at the Playboy Mansion, so they have that in common. You might expect Amber to have a tougher time than Nick, as this dance is in his genre, but it's actually Nick who is feeling the pressure to really work hard to excel and getting pushed by Jason. I don't think this pair is quite as dynamic as some of the previous teams, but they do pretty well. Mary thinks the dance was dreamy, though she does note that Amber was obviously not totally comfortable. Kenny said it took his breath away. Nigel throws out an Abby Lee Miller (um, Dance Moms for all of you who are missing out...watch it, you'll see) reference for Jason's reaction to Nick, but he thinks it really brought the best out in the ballroom dancer. He does warn him not to show his discomfort on his face, and says that, though they both deserve to go through, the performance didn't necessarily have the type of "moment" that will urge people to vote.
Dancers: Amelia and Will
Style: Hip Hop
Song: The Lovecats - The Cure
Choreographer: Napoleon and Tabitha
Amelia's dad is a tattoo artist (though she has no tattoos) and she was named after Amelia Earhart because her dad likes to fly planes - lesson learned? Amelia's dad is kind of awesome. Will is completely hyper and loses his facts completely after he tells us that he strongly believes he's Simba. You know what though? I can kind of see it. Napoleon and Tabitha challenge Will and Amelia to become the characters of an "alley cat" and a "house cat". I'm totally seeing Amelia in her role, but Will? Apparently gets giggle fits. A lot. He's adorable, but it's going to make it tough dance if he can't get it together. Luckily, he does, and the routine is terrific - I think these two are going to be around for a while. Kenny thought it was fun and charming, and he loved it. Nigel thinks it's a great partnership and was a memorable routine danced brilliantly. Mary calls it "purrrr-fect" and said it just makes you happy.
Dancers: Janelle and Dareian
Style: African Jazz
Song: Jungle - Hilight Tribe
Choreographer: Sean Cheesman
Janelle's interesting facts aren't that interesting, I have to be honest, but she'll cook you anything you want. Dareian left home to join the circus and can talk like Donald Duck though, so he makes up for it. During the routine, however, I learned that Janelle apparently has no bones in her body - I've never seen someone bend the way she was contorted! It's definitely a high energy routine, and these two dancers have a lot of personality. Nigel loves the routine and thinks they're both extremely exciting to watch. Mary thinks Janelle is phenomenal, Dareian is a powerhouse and that both will do great on the show. Kenny felt like he was "watching two flames dance across the stage" - he tells them they set the place on fire.
Dancers: Eliana and Cyrus
Style: Broadway
Song: Run and Tell That - Hairspray (Original Broadway Cast)
Choreographer: Tyce Diorio
Eliana hates raisins but loves the word "Alfred." (Word? Or name? Or maybe I heard her wrong?) Cyrus is a Pisces. (Fun fact? So am I.) Considering Broadway isn't the style of choice for either of these dancers, they do a great job with this number from Hairspray. They've both got engaging styles, and I think that Cyrus in particular will have a decent run on the show if he continues with this energy. Mary says they brought joy, love, and life to the routine and that people will love it. Kenny felt like he was in New York watching the performance on a Broadway stage - he loved it too. Nigel praises Cyrus for immersing himself and giving 100% and thinks he is absolutely entertaining to watch. He tells Eliana she is a brilliant dancer and the benchmark for the other girls in the competition.
Dancers: Audrey and Matt
Style: Contemporary
Song: Unchained Melody - The Righteous Brothers
Choreographer: Travis Wall
Before they even dance, I like Audrey and Matt. Her facts aren't all that interesting (she already told us she can fart with her neck) but it is kind of cute when she gets distracted after revealing her crush on Taylor Lautner. As for Matt? He looks like Ryan Gosling. He didn't need to be charming, and yet he admits there's a mannequin in the room that terrifies him. Then we find out their routine is inspired by Titanic and to Unchained Melody, and I fall in love with them both. It's gorgeous and daring, and the judges are on their feet by the end. Kenny says it was exquisitely choreographed and brilliantly danced. Nigel says he enjoyed it more than any other routine in the evening. Mary calls it breathtaking.
Dancers: Lindsay and Cole
Style: Paso Doble
Song: Unstoppable - E.S. Posthumus
Choreographer: Jason Gilkison
I kind of love how Lindsay begins telling us how much she loves food, then tells us she hates tomatoes, and closes with "I gave someone stitches." WHAT?! Cole is a walking cliché, but he's also got Samurai in his blood, so like...just don't mess with him. The routine plays to both of their strengths and is a powerful way to close the night. They're a great pair, in my opinion, and the judges are on their feet again. Kenny calls them mesmerizing and electrifying and calls them two of the most fantastic performances he's ever seen on the show. Mary thought it was fabulous and thinks they'll be unstoppable if they continue this way. She's also yelling the entire time, so she's obviously very excited about it. Nigel tells Cole it was the best Paso he's ever seen from a boy on the show and thinks Lindsay has magic that helped make Cole so incredible.
After the first night of competition, it's clear there are some really strong pairs that are going to be a lot to keep up with. Besides the final two pairs of the night, there were several other standouts, and some of the early dancers are at risk to be overlooked based on personality alone.
With two boys AND two girls leaving the show next week, it may already be too late for some of them to change their fate - tune in to find out if your favorites survive to dance again!
So You Think You Can Dance airs Wednesdays at 8/7c on FOX.
(Image courtesy of FOX)