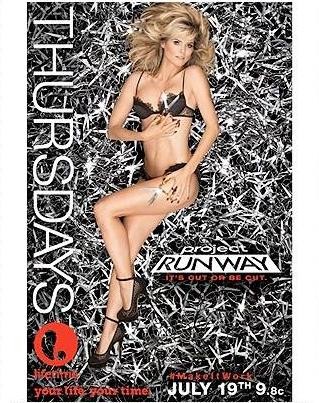 by Todd Betzold
Heidi Klum went around to all the networks and tried to pitch an idea for a new show. It was called Project Runway and none of the networks wanted to take it on. It was finally picked up and here we are getting ready to start the tenth season of the hit reality show! With nine seasons under her belt, Klum has seen a lot of designers and designs cross her path. Today she spoke to RealityWanted and other reporters in a conference call about her time on Project Runway, the challenges for Season 10, guest judges and much more.
Q. Todd, RealityWanted: What guest judges can we expect to see this season?
A. Heidi: Obviously some of them I am not allowed to say, but some of them I am allowed to talk about are Patricia Field. She has been a stylist and she has a store here in NYC and very well-known for doing Sex and the City, The Devil Wears Prada. She actually does a lot of movies and television. She actually has been one of our very first judges ever on Project Runway. She did our very first challenge on our very first season, so we thought it would be fun to bring her back. She is a very well-known, New York woman. I love her very much. Our very first challenge we did inside Times Square, we also had Lauren Graham. Hayden Panettiere has been one of our guest judges. Also, Krysten Ritter.
Q. Todd, RealityWanted: What's it like for you being back for the tenth season of Project Runway?
A. Heidi: It's been amazing. It's been ten years. We all would never have thought we would make it this far. Michael (Kors) always says that we are on longer than I Love Lucy (laughs), which we always laugh about and I can't believe it because we all love I Love Lucy. Ten years is a milestone, it's a long time. Even though we've been doing it for ten years, I still love coming to work every season. I love sitting with Michael and Nina and Tim. They're all so much fun and we have become a family. It is always exciting to see these new designers, to see their story. They all have a different story to tell and they are all passionate. They are young people that come here with green eyes not really knowing what this business is about and they're not jaded. It's always fun to have these people that are so hungry for it all and we love it. We still laugh and we sit there and have a great time. We're very proud. I started Project Runway from the very beginning, going around in NYC trying to sell the show to networks and trying to explain what the show is all about. I'm very proud of it. It's like one of my babies. I love the show and I love what it's become and it's an iconic type of show that people recognize.
Q. How does this group of designers come to past groups as far as talent level?
A. Heidi: It's always hard to compare. I never like to say that this season we have more talented designers than previous seasons because they were all always talented and each year fashion evolves and fashion becomes different and so do our designers. I think we have some on this season that are not that talented and we quickly see that and we have some that are really amazing and have come up with new things and we sit there and are like wow, we've never seen anything like that or you have a different technique. It's always mixed. There are always designers there that we are hoping can be better and just aren't and then there are some that just blow us away and they do beautiful work in the time that they have.
Q. In the ten seasons, are there any particular fashions that stand out to you as the best thing you have seen or the worst thing you have seen in the ten seasons?
A. Heidi: I always love the pieces that get to go out there in the real world. We've done things with Banana Republic or where they created something for Barbie to wear. I love the challenges where they have to use unconventional materials and yes, those pieces do stand out to me. For example, there was a challenge where they had to use materials from a car. Someone made a beautiful trench coat out of seat belt or the mirror of the car and broke it and made jewelry out of it. They get really creative when they don't actually have fabric and I always love that. The very first challenge, where we had to determine if Project Runway was going to work or not, and the contestants had to go to the grocery store and Austin Scarlett made a cornhusk dress. I love those too, but I love the ones where our pieces go out for people to buy because our designers are so proud when people can actually buy their pieces. Or this season they get to design a new outfit for The Rockettes.

Q. If you could choose any designer to make you a red carpet dress, who would you pick?
A. Heidi: I would have to say Christian Siriano because we have become friends over the years. He's like a little Jack Russell and he does not give up. He is the kind of person that jumps up and down on you and then makes it happen. He's not someone that falls asleep someplace and is lazy. You have to be like that. The squeaky wheel gets the grease. He squeaks all the time. He says he's got new things. What are you wearing for this event, what are you wearing for that. He always makes sure that you don't forget about him, which is important. He also makes beautiful clothes.
Q. I am here in Portland and we don't think of ourselves as very fashionable, but two of the winners have come from Portland. Why do you think that is?
A. Heidi: Creativity is in a person or it's not. It doesn't matter where you come from. You can be from the smallest town in the middle of nowhere. There is the internet, there are books, there is the TV. Even if you have never traveled the world, either you are interested and you learn about fashion and you want to be part of it or you don't. So, it doesn't matter if you come from NYC or any other fashion city or if you come from a smaller town. Michael Kors is from NYC and his Mom is very fashionable, but there are a lot of people that have made it in this industry who come from all over the world.
Q. Is there a time or a moment on Project Runway where you knew you had something special on your hands?
A. Heidi: I always say after the first challenge. The very first challenge I gave the designers $50 and one day and they had to go to the grocery store. I was so worried about this. The producers and I were all sitting together before and we had other more normal challenges also, but let's go out with an unconventional materials challenge and that will either set the tone and either showcase the designer's talents or we will just tank because it will all look like arts & crafts projects. We were a little bit worried about it, but at the same time we just jumped in the cold water and gave it a shot and I have to say, afterwards I am glad we did.
Q. I know you mentioned The Rockettes challenge, but are there any other challenges this season you can talk about?
A. Heidi: We did one in Times Square. My dream was to always bring the show out into the streets so fans could stop by and watch the fashion show. I've been nagging about it for years and this year I finally got the yay, so we did our very first episode in Times Square where the designers had to make two outfits. One they had to do at home which showcased who they are as a designer and we gave them a choice when they came to NYC where they had to do a second look. We had a big stage in Times Square and we had hundreds and hundreds of fans there. They were really nervous and didn't know we were going to do this, but it was a lot of fun.
Q. As a mom, are there any designers from this season or previous seasons that you would like to see do a kid's line?
A. Heidi: Funny you should ask. You definitely need to watch this season because there might be something about that. There will definitely be something incorporated like that into this tenth season.
Project Runway premieres July 19th at 9/8c on Lifetime.
(Image courtesy of Lifetime)
Follow Todd @tbetzold