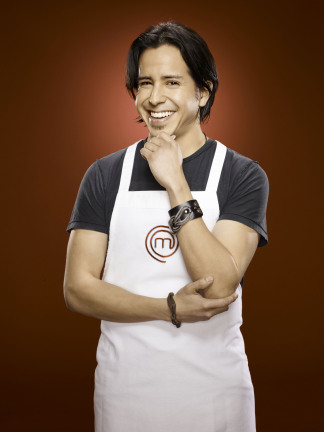 by Todd Betzold
Last night on MasterChef, Tali Clavijo struggled cooking Arctic Char in the Elimination Test. The judges were not fans, but he claimed they were old school and couldn't see the beauty and the genius in his food. Despite his arrogance and confidence, it was not enough to keep Tali in the competition and the judges sent him home. Today, we got an exclusive interview with Tali as he talked about how he is a mix between Jesus and Vincent van Gogh (yes, you read that right), his relationship with Ryan Umane and much more.
Q. Todd, RealityWanted: What made you want to try out for MasterChef?
A. Tali: I definitely wanted to spread the modernist, non-traditional ways of cooking to the forefront. I wanted to bring techniques and methods that you probably haven't heard of, such as using an iSi foam canister to make some breathtaking foam. I definitely wanted to experiment around with new ways of cooking and that was one of the main reasons why I wanted to get on the show. I stood by what I believed in. The show connected that. Just because I am not cooking like you would out of a Martha Stewart book, you can cook food that is much better. Say what you will about my food, but these are things that I definitely wanted to showcase to the world. The judges have a different palette for their food. They obviously love things that are a little bit more traditional and there's nothing wrong with that. Flavors and tastes are subjective, just like art. Vincent van Gogh is one of the best artists in the world and no one appreciated him until he died. I definitely don't want to go out like van Gogh, but if I have to die before my food is significant, so be it.
Q. Todd, RealityWanted: Last night you said the judges were too old school and can't see the beauty and the genius that is your food. Do you still stand by that way or was it the heat of the moment?
A. Tali: It was definitely the heat of the moment. The judges are traditional and I am a modernist, non-traditional cook and they did not see the genius that was in front of them because they did not understand. I have to compare myself to artist and let's just go back to van Gogh. No one cared about his art. Usually people don't appreciate the new message that you bring, like Jesus. When Jesus was preaching his gospel, people wanted to kill him and they eventually did. I'm not comparing myself to Jesus, but I will compare myself to van Gogh. I'm more in between van Gogh and Jesus.
Q. Todd, RealityWanted: You and Ryan were close on the show, even nicknamed yourselves the Dream team. Are you still in touch after the show?
A. Tali: Ryan and I are definitely the Dream Team and you haven't seen the last of us yet. Our connection is still strong and we are definitely going to do more events in Chicago and New York and L.A.
Q. Todd, RealityWanted: What were you thinking when it was you and David in the bottom two?
A. Tali: Last night when it was down to me and David, I was thinking two things. I was thinking I might go home because the judges don't like the technique. As far as the flavors go, I thought the flavors David Martinez used didn't make sense according to the judges and mine didn't make sense according to the judges. This is a fish challenge and when it comes down to just the fish. My fish was cooked perfectly because I suveed it. There is no room for error when you vacuum-pack and it tasted really good and Dave Martinez presents them a raw fish. It looked disgusting and it tasted disgusting. My fish tasted awesome, even though the flavors maybe didn't make sense. Honestly, when I was standing up there I was really hoping Dave would go home based on the fish criteria.
Q. Todd, RealityWanted: What was your favorite challenge or test this season?
A. Tali: The food truck on the beach was really cool to me. The fish challenge was awesome because it gave me a chance to showcase the modernist, non-traditional way of cooking.
Q. Todd, RealityWanted: What's the biggest thing you are going to take away from this whole MasterChef experience?
A. Tali: My new found fire and love for cooking in a non-traditional, modernist way.
MasterChef airs Mondays and Tuesdays at 9/8c on FOX.
(Image courtesy of FOX)
Follow Todd @tbetzold