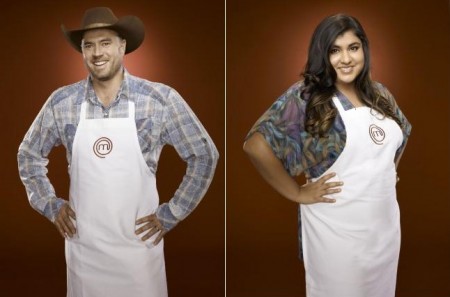 by Todd Betzold
It was a double elimination last week on MasterChef, as the judges surprised all the homecooks and sent home two contestants. The pizza stone got the best of Mike "Cowboy Mike" Hill and Tanya Noble in the Elimination Challenge and they were both sent home. Today, we got an exclusive interview with Cowboy Mike and Tanya as they talked about their experiences on MasterChef, their favorite challenge and much more.
Q. Todd, RealityWanted: What made you want to try out for MasterChef?

A. Tanya: I wanted to try out for MasterChef because I had gotten bored with my life and going to school. I liked being a student, but cooking is all that I did. I had cookbooks by my bedside table. It really was just all-consuming and I just figured the show is there for homecooks and it perfectly describes me, so why not take a chance. I'm so young and there is so much I can do ahead of me and I really just wanted to take a leap of faith and it worked out in my favor, so I'm really glad I did it.
Cowboy Mike: For me, mine was a little bit different. Obviously, I have been involved with cooking and been cooking my whole life, never in any competitive situation or restaurant situation, but my wife talked me into it. She's my biggest fan with my cooking. Saw an open casting call in Atlanta and it took a lot of arm pulling and twisting because I didn't think there was any way I was good enough to be on this show, but she finally convinced me to go audition and it was exciting since then.
Q. Todd, RealityWanted: You said you did this in your sister's honor, who passed away. What was that experience like for you during the show?

A. Cowboy Mike: To be able to do something to lift my family's spirits was really what this was all about for me. Not everyone gets to do something like this, but the timing was incredibly amazing for me because we were in the low of our lives. To give my family something to really look forward to and focus on bringing some happy times to everybody was really great. Obviously she wasn't with me to experience, but I know she's up there smiling down on me big time right now.
Q. Todd, RealityWanted: What was your favorite challenge or test you did this season?
A. Tanya: Mine would have to be the Mystery Box Challenge that I won, the Wal-Mart Steak Challenge. It was such an honor to win that challenge, especially when I had Cowboy Mike, which was known for manning the grill and being the steak guy and for me to come in, dubbed as the Spice Queen, and do a steak that the judges liked. It was such a highlight. Really exciting to get to do that.
Cowboy Mike: I would have said the steak thing, but I didn't get on top because I got beat by a girl (laughs). For me, it was definitely the Marine Challenge. That was an amazing experience and that is something I will absolutely cherish for the rest of my life. I told all the other contestants after that challenge, if I go home tomorrow I feel like I am going home accomplishing the world because that was incredible. I love our military. I'm a huge fan of our entire Armed Forces. My family is basically a military family, so to get out there and do something for those guys and gals that are representing out Armed Forces was an incredible challenge.
Q. Todd, RealityWanted: What were you thinking when Mike went home and it was you and David? Were you thinking you were safe for another week?
A. Tanya: Yeah, it definitely was a shock. It was so sad to see Mike go because he was one of my closest friends and we joke around that he is my big brother. David and I are standing there and Gordon Ramsay announces we are the Top 10 and we all start rejoicing and excited, but then he cuts us off and says, "I'm not done yet. Tanya you're going home." I was in disbelief. I couldn't even process the words that he was saying. I knew they could sneak in the double elimination, I just did not expect it to be right then. It was definitely a hard 24-hour process after that trying to process it, but I am still incredibly proud of everything that I accomplished
Q. Todd, RealityWanted: When you were leaving, Chef Ramsay asked you who you thought would win and you said Christine. Why did you choose her?
A: Cowboy Mike: To be where she is at in this competition right now with no vision is just absolutely amazing. I got the privilege of cooking on the same station as her several times throughout the competition and not that I had a whole lot of time to watch, but I would peek over and I would be like, man Christine are you ok. You don't have anything on your plate. She always pulls it off. Her sense of smell and her sense of taste are so refined that she can take it to the next level without any vision. The more she continues in that environment I know the better she is going to get.
Q. Todd, RealityWanted: Now that you're off the show, is there anyone you're rooting for?
A. Tanya: The people left in the competition that I was close to would be Felix, Christine and Frank. They were definitely people that I respected their cooking and their different styles and palettes. All three of them are such lovely people and I'm definitely a fan of the nice guy going through.
Q. Todd, RealityWanted: What was it like working with all the time constraints of the challenges and given food ingredients that you must use?
A: Cowboy Mike: Totally intensity. It was insanity. It was controlled and sometimes non-controlled, because you saw fires and explosions and stuff like that. We are all very accomplished and very good homecooks, but when you are sitting there cooking in your kitchen with a glass of wine or a cold beer in your hand, you have all the time in the world with what you set out to do. When you condense that into 60 minutes, everything gets thrown out the window.
Tanya: I have to agree. There really is no room for error in those 60 minutes. Pretty much the first attempt at something has to be right. You really just have to be responsive. You don't have a spice or you forgot something in the pantry or something is not going right, you really have to think on your toes and work really well under pressure. A lot of people ask if it is really 60 minutes or is it planned. It is 100% cooking, one hour. You get it done or you don't. What it boils down to is you have to work really fast and pray that it works and go with the flow.
Q. Todd, RealityWanted: What's the biggest thing you are going to take away from this whole MasterChef experience?
A. Tanya: For me, it would be confidence in the kitchen. I knew that I was a really good homecook. I was a little shy and not believing in myself in what I could do and what I could actually accomplish. I've taken away so much with self-belief that if you love something and you are passionate about something you should really dedicate your life and your time to it and I now know this is something that I could succeed at in life
Cowboy Mike: Mine is very similar. All of us are extremely passionate about what we do in the kitchen and none of us make a living doing it. I'm a concrete contractor in Georgia and re-directing my life and goals now. I know that I belong in this industry and I will and I am taking steps toward accomplishing my new goals as a career. I don't have the privilege of being 22 like my little sister up there (laughs). I'm a 40-year-old guy and I'm right in the middle of when I should be killing it career-wise and redirecting that is going to take some effort, but that's what I am going to do because this is my passion and it's what I'm good at and I'm going to start doing it for a living.
Q. Todd, RealityWanted: Anything to add?
A. Cowboy Mike: Keep an eye on MasterChef because these next challenges it just keeps getting worse and worse and worse. It's exciting.
Tanya: It's going to be so fun to watch. I think we both have different things going on in life. I just moved out to L.A. and interning at a restaurant here in town that I'm really excited about. I think we both have business ventures that hopefully will work out in our favor, so definitely keep an eye on us. I will be posting recipes at TanyaNoble.com as soon as my website is up in about a week. So, if you want any of the recipes from the show, definitely check it out.
Cowboy Mike: Go to TheCowboyMike.com for my line of spice rubs that will be out very, very soon.
MasterChef airs Mondays and Tuesdays at 9/8c on FOX.
(Image courtesy of FOX)
Follow Todd @tbetzold