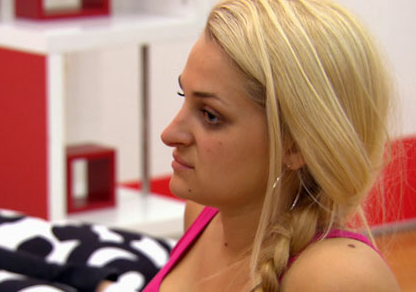 by Gina Scarpa
Here's hoping that the remaining contestants have a lot of patience and focus because this week's theme on The Glee Project is: Adaptability. Robert delivers the homework challenge, Alanis Morissette's "You Oughta Know", and their solos are already chosen for them. What will Mario fight about then?!
When the group shows up to perform for Robert and guest Kevin McHale (Glee's Artie), they find out that they won't be performing as a group, but as soloists. Bye bye, chair choreography! Michael makes a weird acting choice, being a little too angsty, and Shanna forgets the words but sings random things to get through it. Charlie changed the lyrics to make it appropriate for a guy, which was smart, but it's Aylin who hands down wins the challenge for performing "the hell out of it" as Kevin put it.
It's not until the contestants arrive at the studio that they find out their song for the video shoot is Jessie J's "Price Tag". That's a bit of a problem for people like Blake, who never heard of the song before right then and there. With no time to get up into his head, Michael actually delivers in the studio and wins Nikki over. Ali continues to overdo it, and Alexander is really pitchy. Lily and Aylin deliver in front of the microphone as well.
On set, Zach teaches some really basic choreography but Blake struggles, and Nellie can't find her confidence (again). Charlie gets way too into character and the shoot starts to become more about him than the group. I'm seriously over him not taking direction and just doing whatever he wants. How long are the mentors going to put up with that? Erik speaks to Mario about pumping up his acting, and he gets super offended. He's a great actor, okay? How DARE anyone tell him differently?
After the video is complete, the mentors come together and decide that Aylin has been a standout once again and is called back first. Definitely well deserved! Lily, Shanna, and Michael are also safe. The remaining six are all in the bottom and have to perform duets in order for Ryan to figure out which three should be up for elimination.
Nellie and Blake - "Waiting For A Girl Like You" by Foreigner
These two may have had their struggles on set but their last chance performance was anything but rough. They have good chemistry and they're both interesting to watch when they're in a small setting. Both need to really pump it up though and get their competitive juices flowing if they're going to convince Ryan that they'll be a good fit for Glee.
Ali and Abraham - "Last Friday Night" by Katy Perry
The words get the best of Abraham and his performance is pretty lackluster but Ali is as confident as ever. Ryan calls her a cute little Dolly Parton but Abraham is definitely off his game this week. When he's not overthinking things, Ryan finds him riveting. I don't know if I'd go that far...
Mario and Charlie - "Don't Let The Sun Go Down On Me" by George Michael and Elton John
Mario and Charlie end up giving a sincere and heartfelt performance but they both have some major issues that the mentors need to over come. Ryan finds Mario sweet (what show is he watching?) but he came across flat in the video. And we all know what everyone's problem with Charlie is.
Ryan lets Nellie, Blake, and Ali know that they're all safe while the remaining three wait to find out their fate. When the callback list is posted, it's Mario who will be leaving the competition. Do you think he should've gone or should the mentors given Charlie the boot?

The Glee Project airs Tuesdays at 10/9c on Oxygen.
(Image courtesy of Oxygen)
Follow GIna @ginascarpa