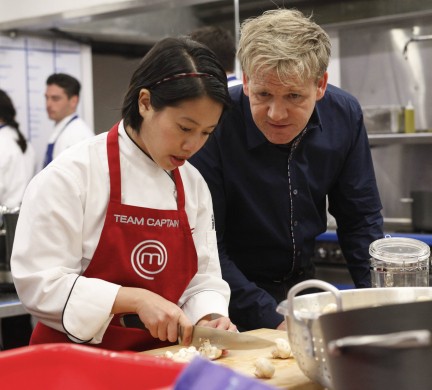 by Todd Betzold
It is Team Challenge time on MasterChef and with Christine winning the last Elimination Challenge, that means she is a team captain this week...will her disability play a factor in leading her team tonight?
The homecooks are all sound asleep in a Los Angeles hotel, but not for long, so the judges all head to wake them up for the next challenge. It's 3:00 am and they will get started on the next Team Challenge. The challenge tonight: cooking all the breakfast room service orders for the hotel. The dishes they will be ordering are delicious oatmeal, a fresh fruit salad, homemade pancakes, egg white omelet, eggs benedict and two eggs any style. Christine and Josh will be captains for this challenge and Christine (Red Team) picks first. Christine picks Felix, Scott, Tanya, Mike, Stacey and Ryan. Josh (Blue Team) picks Becky, Frank, Anna, Monti, David and Tali. I love the fact that Tali and Ryan were the last two picked, but of course Tali feels he should be picked first. An added twist: as the winner of the Elimination Challenge, Christine gets to trade out one of her teammates for one of Josh's teammates (buh-bye Ryan)! Of course, Christine gets rid of Ryan and takes Becky from Josh...I love Christine so much, get it girl!
For this challenge, the teams have 90 minutes to prep and 90 minutes to serve. Each team needs one expediter to check the carts before they leave the kitchen. Christine picks Felix and Josh picks Monti. Each team will serve 130 guests who have pre-ordered their meals with delivery times and the guest will vote which team served the best food. The losing team will face a Pressure Test.
For the Blue Team, Josh starts handing out duties to his teammates. He puts Ryan and Tali in charge of cutting fruit for the fruit salad, David is on oatmeal and Frank is on pancakes. Frank thinks that is bad because he didn't ask what people are comfortable with. For the Red Team, they discuss what everyone's strengths and weaknesses are and then start assigning duties.
As they prep, Chef Ramsay questions if they have enough sauce for the eggs benedict on the Red Team. Graham thinks the Blue Team is not making quality food. Meanwhile, Monti is being very vocal for her team as the expediter...Monti ain't messing around this challenge! Felix is being very quiet for the Red Team and Christine is worried because she is getting no response back from Felix.
Time for service and the Blue Team keeps asking Monti for the numbers for their orders, which Monti is stressing over because she has 150 tickets in front of her and tell them to look at the board people! The Red Team is having a breakdown, as no one is communicating and things seem to becoming unhinged for them as the waiter waits for food to deliver.
The Blue Team is sending out plates, but the Red Team is sending out no plates. Felix is not communicating with her team and that is key for an expediter. As loud as Monti is yelling, that is key and the Blue Team is getting their orders out. As expected, the Red Team has run out of sauce for the eggs benedict. Tanya gets on making new sauce and Christine gets vocal with her team and takes charge.
Back to the Blue Team and they are getting plates out, but the quality of the food is lacking, as eggs are going out raw and plates are looking terrible. Then Joe brings back a plate to the Blue Team, which has a hair on it. Josh says that falls on Monti, for checking the plates before they get sent out. It is all downhill from there for the Blue Team, as they are unraveling and a battle for who wants to be in charge as Josh oversteps and tries to tell Monti what to do for the expediter. Meanwhile, Felix has found her voice and things are going smooth for the Red Team.
Time runs out and Felix is trying to still send out food, because she was in the hall and missed Chef Ramsay calling it quits. The Red Team is not sure how it is all going down, as they didn't finish all the food tickets. Joe collects the votes from the guests and time to find out who won. The winning team, with 60% of the vote, is the Red Team. So, the Blue Team will be facing the Pressure Test and Christine won!!!! Who wants to see the Dream Team in the bottom two tonight???
Time for the Pressure Test and three of them will not be cooking tonight! The judges decided who the heroes are and who was completely out of their depth, so the three homecooks that are safe are: David, Frank and Monti. So, it will be Ryan, Tali, Anna and Josh cooking a molten lava cake tonight for the Pressure Test. The homecooks all have the same ingredients at their stations and have 45 minutes to create the perfect cake. They will have four attempts to make the perfect one and can only bring up the one they feel is the best.
As they cook. Ryan says that Monti should be down here cooking besides him. Ryan is so full of himself and his Dream Team member is the same way. Ryan is the first one to bring out his first attempt from the oven and he puts it on the plate and it collapses and Graham said it looked like liquid diarrhea. The other homecooks follow, as everyone seems to be struggling to get the timing down and all their cakes are collapsing as time is running down.
Tali is the first one to bring up his cake and it does have liquid in the center, but is it not done enough? The judges give no feedback. Anna is the next one to go up and the judges seem impressed. The cut brought out liquid in the middle and Graham said great job. Josh is the next one to come up and it cuts very nicely. It does look like it may have a lot of liquid, like Tali's, so could it be underdone? Ryan struggles and he brings up a plate that has a cake that collapsed. He is hoping that it tastes better than the others cakes...this made me giggle.
So, the judges discuss and they ask Josh and Anna to step forward and Chef Ramsay told them that their cakes were perfection. Joe said Anna turned a Pressure Test into a demonstration, so Josh and Anna are safe. That leaves us with Ryan and Tali (the Dream Team) and one of them will go home!!! Chef Ramsay asks the homecook who thinks they should go home and act on integrity and bring up their apron. Surprisingly, Ryan brings up his apron and he will be headed home and Tali is safe after bottom two for three weeks in a row.
MasterChef airs on Mondays and Tuesdays at 9/8c on FOX.
(Image courtesy of FOX)
Follow Todd @tbetzold