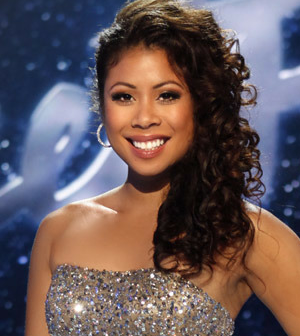 by Gina Scarpa
Meleana Brown came into Duets a week after the rest of the contestants, replacing one of John Legend's partners, Johnny Gray. She started off her time in the competition with a bang, impressing with her rendition of "Endless Love". She fell to the middle of the charts in week 3, then battled against Olivia Chisholm to stay in week 4. She was eliminated from the competition and we spoke to her today about her time on Duets in an exclusive interview.
Q. Gina, RealityWanted: Do you feel like there was more pressure on you than the other contestants because you came into the competition a week late?
A. Meleana: I didn't feel like there was more pressure at all. I just felt like I definitely had to catch up a little bit.
Q. Gina, RealityWanted: One thing that was clear from your very first performance on the show was your confidence and stage presence. What was your performance experience prior to doing Duets?
A. Meleana: Well before Duets, I actually performed in Hawaii. My family and I used to perform when we were living in Japan. I had some musical theater experience but I also performed solo on a dinner cruise as well. I would host a show and do a luau.
Q. Gina, RealityWanted: Each week that you were on the show, you fell a little further down the charts. Do you think that song choice had a lot to do with that?
A. Meleana: You know... I don't know. I really don't know, maybe. It could be that. So many factors can take place to why the judges scored the way that they did. I just wanted to make sure that I did my best in the songs that we chose. John and I chose songs that we felt were the best for us and as a duet, would show our strengths. I don't know if it was the song choice to why they scored me the way they did. There's so many factors that can take place.
Q. Gina, RealityWanted: Speaking of song choice, it was definitely a bold choice to take on "Since U Been Gone" this week. Right before the performance, how were you feeling about it?
A. Meleana: You know what? I was feeling really excited. I was feeling really happy. I wanted to go onstage and finally rock out. John wanted me to do something I hadn't done before, something challenging for me. Most of all, he wanted me to have fun. He said, "It's time to have fun! Show them that you can jump around and that you're not always the ballad singer." That's why we chose it. The audience was hyped up and jumping up and down. I was feeding off of their energy.
Q. Gina, RealityWanted: Did you know in advance that you'd sing "Saving All My Love For You" if you ended up in the bottom or was that a game time decision?
A. Meleana: I don't know how to answer that question. "Saving All My Love For You" is a song that I've loved for a long time. There were other songs I was thinking of singing.
Q. Gina, RealityWanted: Don't get me wrong, I like Olivia, but I thought she was going home... then again, that would mean Robin would have no more duet partners. Were you surprised that it was you?
A. Meleana: You know what? We're in a competition. Everyone is talented in their own way. Of course I wanted to stay. I wanted to stay and I wanted to keep singing. That's my passion, that's what I love to do. I didn't want to go home but sometimes, you gotta move in different directions and the wind blows you in different ways. I thought I did my best. It is what it is!
Q. Gina, RealityWanted: What's next for you from here?
A. Meleana: Oh my gosh! What do I wanna do from here? I want to make a record. I want to continue to sing songs, inspire people, make people move, and lift people's spirits. I wanna keep singing. People can follow me @meleanaduets!

Duets airs Wednesdays at 8/7c on ABC.
(Image courtesy of ABC)

Follow Gina @ginascarpa