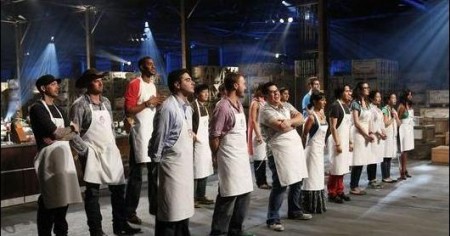 by Todd Betzold
The Top 18 were revealed last night on MasterChef and now they will arrive at the MasterChef Kitchen and take on their first Mystery Box Challenge. What do Chef Ramsay, Joe Bastianich and Graham Elliot have in store for the contestants?
The Top 18 arrive in the MasterChef Kitchen, as Chef Ramsay, Joe and Graham meet them to start Season 3's first Mystery Box Challenge. They must prepare, cook and present a dish using only the ingredients in the box. Their ingredients a duck breast, bananas, kale, maple syrup and more. This challenge could be hard for Christine, as she cannot see what the ingredients are and must wait for the judges to announce what they are and then process what she will make.
The contestants all have 60 minutes to make a dish with the winner getting an advantage in the next challenge. The judges go around checking with the contestants. They seem to think Scott is not serious about the competition with what he is cooking. For the other contestants, some are being ambitious while others aren't even turning the stove on to cook the duck. Their nerves are working overtime. Meanwhile, Helene has her oven start on fire...not a good start!
After observing and tasting throughout the 60 minutes, the judges take one final look and call up three standout dishes. The three contestants are: Ryan, Samantha and Scott. The three dishes were called up for being the WORST three dishes out there. The judges will taste each of their dishes and the worst of the three will be handing in their apron and heading home already!
Up first is Ryan, who made Seared Duck Breast with Bananas and Sweet Potato Puree. Joe said it is dry, bananas is this a joke? Graham says it looks like he plated it and then stepped on it. Chef Ramsay says he has managed to cook the duck, but everything around it is dreadful. Next is Samantha, who cooked Seared Duck Breast with Sweet Potato Rhubarb Puree. Graham said this is not what we are looking for. Joe said this is bad on so many levels it's kind of hard to explain. Scott is last and he has cooked Duck Profiterole and Mashed Sweet Potatoes. Chef Ramsay said it is embarrassing. Joe said it was delusional. After some discussion, Scott is safe, so Samantha or Ryan are going home already. The person leaving the competition is Samantha.
One person's dish did standout among all the contestants and is the winner of the Mystery Box Challenge. That person is Felix, who made a Seared Duck Breast with Chinese Five Spice, Eggplant and Sweet Potato. Joe said they recognized it as being restaurant quality and the taste is phenomenal.
As the winner of the Mystery Box Challenge, Felix is the first to enter the pantry and gets to choose the style of food or dish that everyone must cook, but the theme of the challenge is up to the judges. The theme this week is to create the judges three most intimidating dishes. For Joe, it is Italian Risotto, for Graham it is Classic New England Clam Chowder and for Chef Ramsay it is Beef Wellington. The dish Felix chooses to make is Italian Risotto. For winning the challenge, Felix does not have to cook it and is safe and gets to watch for the MasterChef Gallery.
For the Elimination Challenge, they will have 45 minutes to cook up the risotto. After the 45 minutes, another contestant will be sent home. They all run into the pantry to get their ingredients and head back to start cooking. Frank said his Dad would break his balls if he got sent home on a risotto. Joe said they should be going for a simple risotto, but Monti has a lot of ingredients and Chef Ramsay asks her if she is doing a little too much.
Time has run out and the judges will taste each contestant's dish and then callout the worst three dishes and one of them will be going home. Monti is up first, who made Risotto with Pancetta, Sun Dried Tomatoes and White Asparagus. Chef Ramsay says it doesn't look like risotto and the garnish tastes better than the body of the dish.
Up next is Frank, who makes Risotto with Clam, Artichoke, Blood Orange, Pancetta and Basil. Joe says bravo. Graham said look at the texture, pretty good. David is next and he made Risotto with Gooseberry, Roasted Poblano and Scallops. Chef Ramsay says you nailed it, really good job. Graham says this is one of the best things I've tasted in a long time. Helene is next and makes Saffron Risotto with Scallops wrapped in Burdock Root. Chef Ramsay says the rice is raw and scallops raw. Joe said it is not a game and not here to waste our time.
Christine is next with Risotto with Scallops, Mushrooms, Garlic and Onions. Chef Ramsay says you have an extraordinaire pallet, but this one is subpar. Up next is Ryan, who makes Mushroom Risotto with Portobello, Morel and Shitake. Joe says the consistency is spot-on. Scott, who wants to redeem himself from the Mystery Box Challenge, is next with Risotto with Fennel and Onion. Graham says the texture is nice. Joe says a spirited effort and welcome back to the contest.
Next up is Tali, who makes Risotto with Pistachio, Cranberry, Cherry and Gooseberry. Joe says what you did on that dish is inappropriate and ultimately kind of disgusting. Chef Ramsay spits it out. Last one up tonight is Dave Mack, who makes Risotto with Morel and Portobello Mushrooms. Graham says if the mushrooms are not washed out really well, it is a dirt sponge. Joe spits it out and says a little too sandy for me.
The judges discuss and the two standout risottos tonight are Frank and David Martinez, who will be team captains in the next challenge. The bottom three dishes tonight are: Dave Mack, Helene and Tali. Helene is safe and Chef Ramsay asks her to go back to her station. That leaves us with Tali and Dave Mack and based on that risotto, Chef Ramsay tells us Dave Mack will be going home and Tali is safe for tonight.
MasterChef airs on Mondays and Tuesdays at 9/8c on FOX.
(Image courtesy of FOX)
Follow Todd @tbetzold