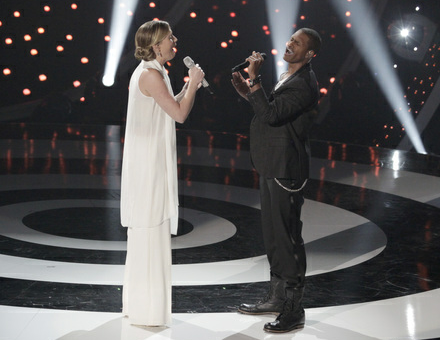 by Gina Scarpa
This week's theme on Duets is songs that inspire - and those songs were chosen by the contestants themselves. By the end of the night, one amateur will be eliminated from the competition and headed home. They've been given more than enough time to impress the panel of mentors/judges. Last week, Jason and Olivia found themselves at the bottom of the charts. Let's see what this week has in store for them and the others...
Alexis Foster and Robin Thicke - "Killing Me Softly" by Roberta Flack
Look, Robin Thicke may be a great singer but he has yet to make me want to jump out of my seat and I think that a lot of people are suffering from the same issue I do. He also picked two duet partners this season that aren't all that exciting either. That's not to take anything away from Alexis's singing ability. The song really suited her voice and she sounded great on it. However, these two don't have a whole lot of chemistry which Kelly also pointed out. For the most part, the judges are overly nice - to Alexis, and the other contestants. But I'm glad Kelly was honest enough to point out that this performance was slightly awkward.
John Glosson and Jennifer Nettles - "How Great Thou Art"
John's concern going into this performance was that it would be cheesy but I think he and Jennifer did a nice job on the arrangement. The song really did both of their voices justice, the performance was full of emotion, and their voices (as usual) complimented each other well. The pair even received a standing ovation at the end of it! As John Legend said, they really delivered.
Jordan Meredith and Kelly Clarkson - "Mama's Broken Heart" by Miranda Lambert
Jordan and Kelly had a heart to heart before this week's performance where they bonded over the struggles faced while trying to make it in the music industry. Combine that with the fact that she's been in the bottom for the last two weeks, and Jordan emerged with a serious fire in her belly. She came across confident, both in her vocals and her performance. The judges definitely seem impressed with the new and improved Jordan, and the fact that she really did take their notes. BY FAR, the biggest improvement of the season thus far.
Meleana Brown and John Legend - "If I Ain't Got You" by Alicia Keys
Meleana had it right when she said this is like a dream come true. She entered the competition in the second week and shot right to the top of the charts. This week, she delivers a solid performance in her duet with John. There's definitely a natural vibe going on between them and it feels as if they've been singing together for longer than just a few weeks. As Jennifer points out, Meleana is full of confidence and makes deliberate choices in her performance. It may not have been as impressive as last week, but she should be safe by the end of the night.
Olivia Chisholm and Robin Thicke - "Crazy In Love" by Beyonce
Finally! A song picked by Robin that has some energy! He chose it because it forces Olivia to step up her performance ability and rise to the level that Beyonce is at and it's either going to go extremely well or crash and burn. I could've done with Robin's rapping at the beginning and the thing about Olivia is that her voice lacks the power and the punch that Beyonce's voice packs. So did she come out of her shell more this week than in the past? Absolutely. Was it enough to save her? Maybe not. Kelly was more impressed than I was, saying she sounds bigger, bolder, and can't wait to hear her album. Okay, that might be pushing it.
J Rome and Jennifer Nettles - "How Am I Supposed To Live Without You" by Michael Bolton
This performance by J Rome is dedicated in memory of his grandfather, who he was very close with. Though it's touching to hear him talk about him, sometimes, personal performances are not the most successful because the singer gets caught up in the moment. What makes this work is that Jennifer is able to share what he's feeling and together, they transfer that out to the audience. Of the mentors/judges, Jennifer has definitely picked the best two in terms of who matches up best with her voice. J Rome is catapulted to the top of the charts - let's see if he can stay there.
Jason Farol and Kelly Clarkson - "Hallelujah" by Leonard Cohen
Jason has made a bold choice with "Hallelujah", given we've all heard several renditions of this song. I still can't help but feel that Kelly's voice overpowers his in every performance but he does get more comfortable with each passing week. Their harmonies were strong, but it did start a little pitchy.  Jennifer and John agreed, but Robin couldn't offer anything more than telling Jason he belongs up on the stage.
Bridget Carrington and John Legend - "I Heard It Through The Grapevine" by Gladys Knight
I never knew there was a Gladys Knight version of this song but I'm glad Bridget introduced me to it.  She does get better each time she steps onto the stage but she needs to show that she's enjoying her performances a little bit more. It all seems so serious.  Putting that aside though, this girl can sing and there's no doubt she'll be safe.  Jennifer did love her attitude, but she and Kelly both agreed it started a little "muddy".  Apparently, muddy means hard to understand.
Here's how everyone finished on the charts this week:
1. J Rome
2. John Glosson
3. Jordan Meredith
4. Bridget Carrington
5. Meleana Brown
6. Olivia Chisholm
7. Jason Farol
8. Alexis Foster
Jason and Alexis face off in an a capella battle to stay in the competition, which sounds a lot more exciting than it actually is.  Jason chooses "Me and Mrs. Jones" (which I've never heard of) and Alexis goes with "Natural Woman".  Even though she picked the more well-known song, I'd still choose Jason.  Alexis felt pitchy the entire time, but the judges won't give any opinions about who was better.  Their votes say it all: Alexis is eliminated from the competition.
Hopefully, going forward, Duets will opt for more upbeat performances. It's been a little slow. Let's pick things up!

Duets airs Thursdays at 8/7c on ABC.
(Image courtesy of ABC)
Follow Gina @ginascarpa and "Like" her on Facebook!