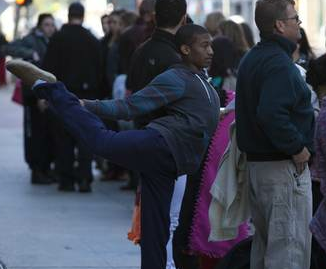 by Kylene Hamulak
The third set of auditions for Season 9 takes us to Atlanta. Hopes are high in Hotlanta, where Season 8 winner Melanie Moore was first discovered. Is America's favorite dancer in the crowd today? Let's join guest judge Debbie Allen and Mary Murphy and Nigel Lythgoe and find out...
Audrey Case (18 - Edmond, OK): We learn from Audrey some of the key things NOT to share when auditioning for the competition. Don't tell them you can fart with your neck (it's actually more of a squeak). Don't mention that you can lick your elbow. And if you've never had a boyfriend, keep it to yourself. Can't hold any of that against Audrey, though - the girl can dance. And she's also kind of adorable. Standing ovation from all three judges - Nigel says she's got "magical charisma", and she's on her way to Vegas.
Members of a dance crew called Dragon House audition next. They all live together with a thousand other dancers in their crew in a house that has very little furniture but lots of room to dance. Boris Penton (23 - Atlanta, GA) is the first up - he moves like one of those robot men mimes.
You know the ones I mean. The judges find him to be an extraordinary artist, so of course, they give him a ticket. But how did his crewmates do? Well, right now I don't know because they skipped over them to go to the next random guy.
Joshua Alexander (18 - Columbia, SC): Debbie Allen told him when he dances, it's like he's testifying...all three judges were so overcome that there was only jubilation as he accepted his ticket.
Next we get a montage of dancers who were good enough to get to Vegas, but not good enough to get their names on the screen.
Tim Conkel (21 - Atlanta, GA): Tim is a karate instructor who was bullied before becoming a bad ass. He thinks he's not only got what it takes to be America's favorite dancer, but also America's favorite person. In general. His routine is interesting and skillful, but it seems more karate than dance to me. And to Nigel, too. They challenge him to show some ballet skills - what he lacks in grace, he makes up for in explosive personality, and it's enough to get him to Vegas.
Jackson Alvarez (24 - Maiden, NC): Jackson is a dj and apparently leads line dancing. It's not your typical line dancing though - before you know it, half the dancers in the audience are up demonstrating "The Wobble" for the judges. It's enough to bring Jackson back for the choreography round.
Janelle Issis (23 - Birmingham, AL): Janelle's specialty is belly dancing, which she learned in church because she was never paying attention. The judges call her performance tremendous and tell her she's a star, describing her as fascinating to watch. Debbie notes that, "only in America could someone come out of Alabama and do what you do." Astute observation, Debbie. That would never happen in Canada, for example. Where there is no Alabama.... Either way, Janelle will be coming back for the choreography round.
Danielle Dominguez (21 - Tampa, FL): She really likes bacon. A lot. Danielle's dancing is described as "weird" by...well...everyone. This weird is a good thing for the judges though, and she gets sent straight to Vegas. (Sidenote: Now I really want some bacon.)
Hours and hours later, we meet up with the other two members of Dragon House. Andrew Rucker (21 - Atlanta, GA) goes first, and he folds his body in insane ways. I wonder if he can fold into a suitcase, cause he's going to Vegas. Cyrus "Glitch" Spencer (21 - Atlanta, GA) is the final member to audition, and I think he should be put through on excitement alone. Luckily his dancing does the work for him - the judges call him remarkable, telling him that he topped the genius who came before him...who just happens to be his roommate. Ticket to Vegas for this one too!
The individual auditions are completed, and after the choreography round, 15 additional dancers are heading to Vegas, including the belly-dancer (Janelle) and DJ Wobble (Jackson).
Day two of auditions begins with Courtney Kirby (18 - Lutz, FL) and her grandmother, who used to teach dance. I've got a soft spot for grandmas. Especially when they're adorable and look like Old Rose from Titanic. After Debbie votes to send her straight to Vegas, Nigel thinks he'd like to see her do someone else's choreography with a partner. It all comes down to Mary, who votes for her to get her ticket, so she does.
Asher Walker (19 - Glade Hill, VA): Nothing says hip hop like redneck hobbies! This boy likes shootin' and huntin' and torchin' Christmas trees in the back yard...but he also likes hop hop dance. And he's totally unexpected. The judges unanimously love him and send him straight to Vegas.
George Lawrence, II (18 - Atlanta, GA): A former track star, George wants a ticket to Vegas to really change his dad's mind about his choice to pursue dance. Nigel thinks George's father should be very proud of his son, and Mary thinks his audition was one of the best so far. Debbie tells him he was "born to dance." He's going straight to Vegas.
Another montage of great dancers going to Vegas, including Abigail Ruz (19 - Goose Creek, SC), Calvin Turner, Jr. (21 - Las Vegas, NV), and Aubrey Klinger (25 - Chicago, IL) is then followed by less successful dancers.
And some unsuccessful interviews. Like Brittany Ortner (20 - Oviedo, FL) who can't seem to get her name right. I sort of love her, and I love that there are chickens roaming around her hometown. That sneeze. And are protected by law. She's pretty good, but the judges want her back for the choreography round.
Remember Deon Lewis (19 - Atlanta, GA) and Damon (Bellmon, 20 - Atlanta, GA) from Season 8? No? Ok, well, they're the pair that ripped off the choreography from Les Twins. They're back. And I know I'm supposed to be all offended about it, but they're kind of funny, and they ARE good dancers. So I'm not too fussed when the judges decide to bring them back for choreography round.
Speaking of - Deon is the first to be judged of the two, and he is told he did not make it. Damon, however, is given a ticket to Vegas, where he joins Brittany and fifteen other Day Two dancers from Atlanta.
Next stop? Salt Lake City. Based on the previews, I'd say we've got some interesting auditions heading our way!
So You Think You Can Dance airs Wednesdays at 8/7c on FOX.
(Image courtesy of FOX)