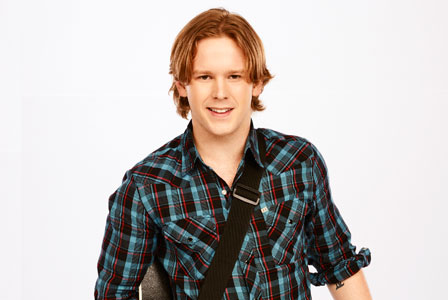 by Gina Scarpa
Maxfield Camp, of Nashville, isn't your type Glee Project contestant. First, he only began singing just six months before the competition started. And second, he said that he went on the show mostly to move past an old relationship. He struggled during this week's Individuality challenge to stand out and feel comfortable in the video shoot for "Here I Go Again". His last chance performance of "Always On My Mind" wasn't enough to win Glee creator Ryan Murphy over and he was the first to be eliminated. We caught up with Maxfield to learn more about his reasoning for going on The Glee Project and what went wrong in that first challenge.
Q. Gina, RealityWanted: What made you want to audition for The Glee Project? Was it really about a girl?
A. Maxfield: Well, I met McKynleigh from season 1 at Bluebird, which is a little café in Nasvhille. When I saw her, we were joking about it and then six or seven months later, I heard on the radio that there was going to be a casting. I was out with some buddies and they convinced me to go. I went and auditioned. Well, the girl... have you ever seen The Notebook? It's a good one! The girl, she's a big part of where my inspiration comes from. I love to write songs and she's a big part of that. I look at it more like The Notebook. Noah builds a house for Allie, not knowing she's going to come back. This is like me starting to build my home.
Q. Gina, RealityWanted: You said that you had only started singing 6 months before the competition began. Did you feel intimidated that others had more experience?
A. Maxfield: I've always been one to sort of go for it. It was a little intimidating. I think the most intimidating thing was not singing my original songs, but covers... other people's stuff. That and being on stage with 14 other people and I'm just used to being on stage with my guitar and myself. With singing, everyone else was so great.
Q. Gina, RealityWanted: Was your concern with "Born This Way" more that it was out of your comfort zone or that you were unfamiliar with the song?
A. Maxfield: Can we say all of that? I never thought I'd be singing a Lady Gaga song, especially in front of Lea Michele and Ryan Murphy. It was so completely far from what I thought I would be doing. I guess that's the main thing, stepping out of your comfort zone.
Q. Gina, RealityWanted: What was the issue in the recording studio?
A. Maxfield: Man, I don't know! After talking to Nikki, Robert, and Zach for the bottom three, I told them I really didn't know what happened. I just couldn't get it. We finally got what we wanted but it took a long time to get there. I sort of dropped the ball on my big toe.
Q. Gina, RealityWanted: How were you feeling after your last chance performance?
A. Maxfield: After I sang, I walked out and I was a little discombobulated overall. "Always On My Mind" - I love that song. It's such an emotional song that I ended up tapping into that old relationship. It was a lot like our relationship and I sort of felt emotional about it and I wasn't the same, fun person that I know myself to be. I wasn't that person right there on stage. Overall, after speaking with Ryan and the rest of the mentors, I walked off confident. I really felt confident after singing for him and God has a plan for me.
Q. Gina, RealityWanted: Even though you weren't there for very long, what's the biggest thing you're taking away from being on The Glee Project?
A. Maxfield: The biggest thing I'm taking away is the relationships I made with everyone. The other 13 contenders are such amazing people and I never would've met them or the mentors if this experience didn't happen. I'm forever grateful for this. I'm just grateful.

The Glee Project airs Tuesdays at 10/9c on Oxygen.
(Image courtesy of Oxygen)

Follow Gina @ginascarpa and "Like" her on Facebook!