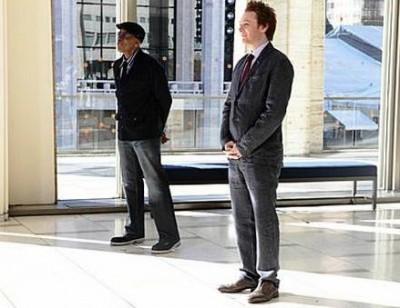 by Todd Betzold
The final task on The Celebrity Apprentice started last week...Team Arsenio vs. Team Clay. We saw both finalists as they worked on planning a charity event in hopes of raising more money than the other and being crowned Season 5 winner and the title of Celebrity Apprentice.
Trump arrives at the live finale in Trump-style...too over-the-top for me to care. We then get a look back at the season and all the highs and lows before we get to see the end of the task. We ended with Arsenio having issues with the video shot and Magic Johnson looking in the wrong direction and Clay was having a quarrel with Debbie Gibson.
After going through the clips some more, they find a part with Magic looking at the camera...Arsenio is relieved. We go back to Debbie on the phone with her cousin trying to get something for Clay to see what the mural will look like to calm him done.
Trump introduces his family, Ivanka and Eric are in attendance tonight...he then sends it over back to the final tasks. It's the day of the event and Debbie gets an email from her cousin of some work she has done. Clay takes a look and likes them, so Debbie is at ease and her cousin can do the mural.
Team Arsenio arrives at the venue...both parties will be taking place in the same venue. They will merge together for the performance part of the events...interesting. They're working on the script for the event and Adam will be writing the scripts for Teresa and Paul. Adam then wants to do a roast of Arsenio for a little while, which Arsenio does not want to do and shoots down that idea.
Team Clay arrives at the venue...they have a lot of work to do and a mural to paint, so he is worried if everything will get done. Clay is wanting to have his hand in everything that is being done...for Aubrey that is an issue. She is in charge of the event and wants him to trust him...this could be an issue.
Arsenio wants to have a fun environment...everyone have some drinks and enjoy the laughs. Teresa is busy getting the decorations and food ready for the party. Meanwhile, the mural is not complete, so Clay gets everyone involved with painting the wall...he is painting, Penn is painting, Aubrey is painting...Teller arrives and Clay gives him a paintbrush...he is determined to get the mural done.
On the live finale side of things, Trump brings some fired celebrities back to the boardroom...Victoria Gotti, George Takei, Tia Carrere, Patricia Velasquez, Lou Ferrigno and Dayana Mendoza. Lou had surgery recently and for the first time he can hear without his hearing aid and then gives a check to Trump for his charity, Muscular Dystrophy, for $41,000. Trump talks with the fired celebrities...to sum it up, Lisa is classless and Aubrey is a cartoon character and Patricia is sad she can't raise money for her charity.
Time for the parties to start...the lines start forming for the separate parties. Clay has all his Claymates in line and Arsenio has like six people in his line. They both have 75 tickets to sell for the event...that is it. They try and see who has the most people...Clay gets a $20,000 check...then the $10,000 checks are coming in from Kelly Clarkson and Orel Hershiser. Meanwhile, Arsenio starts getting the money roll in too...$10,000 from the Andretti family, Jay Leno and so on. Lisa has her drag queen alter ego come over and they go to Clay's side of things and she donates a $10,000 check to his charity.
The tickets have been sold and the events have started. Clay has all his people in and playing the carnival games...everyone seems to be having fun. Meanwhile, Arsenio is having a more adult-themed party...everyone is having cocktails and mingling. Arsenio gets a text and Whoopi Goldberg is on her way...Arsenio has a date. Trump arrives...he will be judging the events himself tonight. Aubrey tries to step in and lead Trump through the event, since she "planned" it, but Clay gets back in control and letting him know this is his task. He mingles his way through Arsenio's party and meets with Whoopi.
The canvas is dropped and the parties are merged. Back at the live finale, we get to meet the other fired celebrities...Adam Carolla, Debbie Gibson, Dee Snider, Paul Teutel, Sr., Penn Jillette, Teresa Giudice, Lisa Lampanelli and Aubrey O'Day. To sum it up...Aubrey is competitive, Lisa is a basket case, but admits it and she is hilarious...she needs more hormone therapy then Chaz Bono...Adam is hilarious as well. Penn thinks Clay should win.
Back to the charity events...Clay and Arsenio take the stage for the performance portions of the parties. We take a look at the PSA videos that they made...first up was Clay...very informative and works toward your heart. Then Arsenio's video...more funny and not as informative, but entertaining.
Time for Arsenio's portion of the performance...Adam takes the stage and roasts Trump a little. He brings out Paul and Teresa...Paul changes up the script, but it goes over well. Lisa comes out and roasts Clay and Trump...very inappropriate, but typical Lisa and I love it. Arsenio comes out and does his thing to end his part. It was very fun and entertaining...I love comedy.
Time for Clay's part for the performance...Dee and Debbie open it up followed by Aubrey doing some singing. To break it up, Penn and Teller do some magic tricks to entertain the audience. Dee and Debbie take the stage again and have a little sing-off. Clay takes the stage and does a duet with Aubrey before Dee and Debbie join him onstage. This was fun as well...I am all about comedy, so I enjoyed Arsenio more.
Time for the initial boardroom...Trump brings up Lisa contributing to Clay and they all agree it shows Lisa's character by doing that and a genuine thing she did. Aubrey says she doesn't know Arsenio as a man and wants Clay to win. Ivanka says the execution of Arsenio was done very well. Trump says the execution of their performance was great...Debbie and Dee singing together was great. Arsenio raised $167,100 for his charity and will get that money win or lose...Clay raised $301,500...very impressive. The decision is not based on money raised though...it is also based on the event put on, the video created and overall performance.
Time to go to the live finale and we bring out the finalists to the boardroom. They keep focusing so much on the fact Clay was a runner-up on American Idol, I think he is going to win. Some picks from the fired celebrities...Dee picks Clay...Lisa picks Clay to win, but wants Arsenio to have late-night talk show next fall...Debbie picks Clay...Dayana picks Arsenio...Teresa picks Arsenio.
Twenty minutes before the announcement...alright, let's have Clay and Arsenio sing "Lean On" together? Someone at NBC thought this would be a fabulous idea...hey, let's even throw a choir up there on the stage as well...just make the announcement already!
We get some final words from the final two on why they should win and how important it is that they win. Ivanka and Eric waste airtime by saying both should win. After dragging it out over two nights and two hours tonight, Trump finally makes his decision...the winner of Season 5 of The Celebrity Apprentice is...Arsenio Hall...Clay gets second again!
(Image courtesy of NBC)
Follow Todd @tbetzold