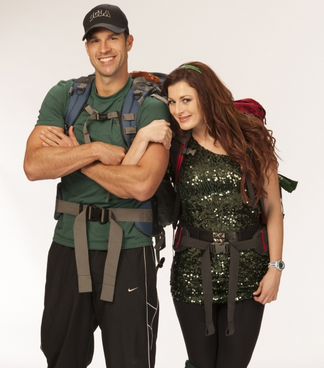 by Gina Scarpa
Whenever Brendon and Rachel are around, there's never a shortage of drama. However, there's never a shortage of competitive spirit and they ran their hardest this season on The Amazing Race. The former Big Brother players made it all the way to the end but made a potentially million dollar mistake when they didn't fully read their clue and finished in third. We talked to them today in an exclusive interview about their experiences on The Amazing Race and whether or not there's more reality in their future.
Q. Gina, RealityWanted: I feel like teams really underestimated you this season but they clearly didn't see you on Big Brother! You won a lot of challenges. Why do you think people overlooked you as a threat?
A. Rachel: I think they overlooked us as a threat to win because I think they looked at the fact that I was wearing sequins, had the extensions, and am a very girly girl in my outfit choices. I don't know! I don't know if they overlooked us because we did win Big Brother but I think that they did see us as a threat.
A. Brendon: I think it's because we didn't win a first place leg. You're watching these prizes get handed out and you're not getting them but I didn't care about that. I just wanted to compete in one leg, and that was the last one. Even with the bad decisions we made, I think we did a good job of always playing to stay in the race. It was such a crucial thing that we made those safe choices. In Azerbaijan, we saw Danny and Joey and Dave and Rachel go for the Fast Forward. I didn't wanna take the chance and race for last place.
Q. Gina, RealityWanted: You guys really didn't have a bad leg and only finished towards the bottom of the pack in Italy. Why do you think that leg was so tough for you? Was it that damn salami!?
A. Rachel: Oh my god! It WAS that damn salami! That leg was just the worst. I think it was the salami and I was really tired. I had just gotten an IV and we were just beat. That damn salami... oh my gosh.
A. Brendon: I can tell you where it started. We were driving the Ford Focus and they had that automatic parking function. I love Rachel but she's one of the worst drivers I've ever seen. She was trying to tell me what to do but it turned into a fight. I felt like we deserved it but for we overcame it.
Q. Gina, RealityWanted: When you watch back the episodes and see yourselves fighting with one another, do you say, "I can't believe I acted that way?" or do you laugh it off?
A. Brendon: We laugh it off! We have to! If we got upset every time we were saying something stupid or mean, we wouldn't be together. We know how easy it is, in reality television, to get caught in the moment. I don't hold people accountable for what they said on the show. Once it's all over, just give me a handshake and leave it on the field. With Rachel and I, we know that we said stuff and fought and we just got caught up in the moment. We had a little finale party and we all started dying laughing. She's trying to argue with me and then it cuts and she's doing her makeup.
Q. Gina, RealityWanted: The ascending and rappelling of the building in Hawaii was insane - was that the scariest thing you've ever done?
A. Rachel: Oh my god, literally... everything I did this season was scary. Jumping out of a plane was so scary but that was the scariest! The building was so scary. You see how high it is and you're just looking down. You want to enjoy the view but you can't. Going face down ... I can't imagine anything scarier than that.
Q. Gina, RealityWanted: It must've been tough when you knew you hadn't won but it's still a big accomplishment to make it to the finish line. You ran a really great race. How do you feel you did, overall, this season?
A. Rachel: Thanks, I think our performance was really good! Obviously, we made a million dollar mistake in the final leg. Not reading the clue properly was the biggest mistake we made in the entire race and that's such a bummer. Besides that, I think we ran a really good race. Dave and Rachel are amazing, fierce competitors. To be able to keep up with a team like that, I'm proud of ourselves for getting that far and competing against such good teams.
Q. Gina, RealityWanted: Are the two of you hoping to do more television? What's next for you - more reality tv?
A. Brendon: Uhh... I would never, ever say never! Every time we say it's our last reality show, we pop up. I'm trying to do my phD and I'm really committed to that. I'm in a field that's amazing and I'm in a school that has been supportive of us. We're ready to get married, we're looking to do it in September. You might see Rachel on reality television. You never know!
A. Rachel: I have a website called adventures4pets.com and just the same as Brendon, I'm rolling with the punches and seeing what's coming next. We're planning a wedding...
Q. Gina, RealityWanted: Rachel and Brendon's Giant Reality TV Wedding Extravaganza?
A. Brendon: I think that would definitely be entertaining!

(Image courtesy of CBS)

Follow Gina @ginascarpa and "Like" her on Facebook!