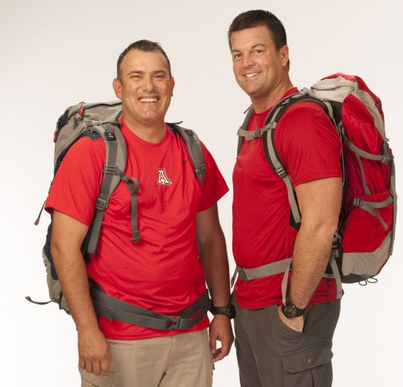 by Gina Scarpa
Art and JJ may have rubbed some people the wrong way this season on The Amazing Race, but you can't deny what great competitors they were. They went on a hot streak, winning three legs in a row, and never finished any lower than fourth. A tough Road Block on the final leg cost them the race, but they can keep their heads held high. We talked to the border patrol agents today in an exclusive interview about their opinions of other teams, people's perception of them, and that unforgettable race to the finish line.
Q. Gina, RealityWanted: What made the two of you want to run The Amazing Race?
A. Art: Well, JJ and I have been working together about two years. At the time when we decided to do it, we had only known each other about eight months. He was like, "I love The Amazing Race, we should try out for it!" and I thought he was crazy. It was JJ's idea.
Q. Gina, RealityWanted: You figured out, early on, that Nary and Jamie were lying about their profession. Was it smart of them to lie about that? Do you think it mattered that you were border patrol agents?
A. JJ: You know, Art's ridiculous idea before the race was to be shower curtain salesmen! I don't know if it made any difference when you're running the race. All you're thinking about is not getting eliminated.
Q. Gina, RealityWanted: Dave and Rachel may have finished first eight times but you guys were impressive yourselves, almost always finishing in the top three and coming in first three times in a row! Is it safe to say that you saw Dave and Rachel as your biggest competition?
A. Art: I think they were the competition and we knew that from day one when we started this thing. They looked athletic, we didn't know who they were, or what their dynamic was. Once we found out Dave was a helicopter pilot, it was one of those things where we knew they had the intellect and athletic ability. When we first saw them, I was like, "I'm going to have to worry about those guys."
Q. Gina, RealityWanted: What do you think everyone's issue was with Brendon and Rachel this season? You didn't have a very high opinion of them.
A. JJ: You know, for Art and I, the biggest problem was that they followed us everywhere we went. They would stop and wait for us to go and the other thing was that they would cut in line and be really abrasive about it. They knew there was no physical altercation allowed. A man gets a lot of confidence when he knows he's not going to get punched in the face for doing something. We got tired and we decided to jam them with the U-Turn but we never really worried about them.
A. Art: And the thing is, when we started this thing, I didn't even know who they were. I never saw them, I never watched Big Brother, I didn't know anything about them. They brought that dynamic where they would say things about people to other people and try to manipulate teams against each other. It was really weird!
Q. Gina, RealityWanted: One aspect of The Amazing Race that's different than other reality competitions is that, a lot of the time, you're away from the other people you're competing against. What did you learn when you watched the episodes back about everyone else?
A. JJ: I learned that we were very disliked. We thought we got along with everyone very well. A lot of times on the show, people's comments were, "Have you seen Art and JJ? Where's Art and JJ?" I took that as a compliment. You had to run the race a certain way to win and that's how Art and I took that upon ourselves. We didn't know we were rubbing people the wrong way. We keep up with some people. I don't have any animosity now but we're not going to buy plane tickets to go to Wisconsin anytime soon and fly helicopters. It was a great experience; it ended in a way that was unfortunate.
Q. Gina, RealityWanted: Speaking of the way it ended, how difficult was it for the two of you in that final leg, to come in second?
A. Art: Yeah, you kinda replay it in your head a little bit. That stupid sled thing took forever to get done. I don't know what else I could've done other than pick a different sled to make it go any better. I think I went down that hill 40-50 times and I jacked up my foot doing that Japanese game show. I still remember the pain in my foot! There were so many other tasks and things that led up to that moment. You can focus on the one bad thing or you can focus on the 99 other things.
Q. Gina, RealityWanted: What do you want to do next?
A. Art: JJ wants to go and take over for Rush Limbaugh! Me, personally, visiting those other places... those are places I want my family to experience. But I love my job!
A. JJ: I'm hoping for anything that happens. I love challenges in my life and whatever direction this may take or not. I got a lot out of The Amazing Race and it just reaffirms my belief in life and that you gotta take chances and try to do things outside of the box. It was something I wanted to do and we did it! We did it on a grand scale! The Amazing Race, when you're in it, is grueling. For Art and I to lose the way we did... we would be lying if we said we didn't think about it every day. And we have. At the same time, we did it.
(Image courtesy of CBS)

Follow Gina @ginascarpa and "Like" her on Facebook!