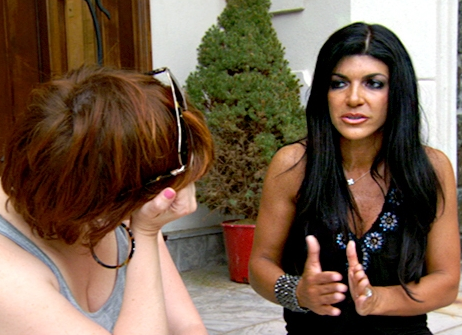 by Jessica Blackwell
It's that time again!! It's the time for drama, bubbies, and sauce!! At the end of last season, we saw a brand new feud brewing over snide remarks that Teresa made in her cookbook about Carolyn and her family. The reunion for last season left everyone wondering what was going to happen this season! Jacqueline didn't show up, and her friendship with Teresa seemed to be hanging in the balance.
Let's start with what's currently going on with our main ladies in the new season:
Carolyn
Carolyn was upset with Teresa for writing the comments about her in the book, but isn't trying to get into too much detail about how she feels because she prefers to pick her battles. Since the book was already printed, she didn't feel it was a battle she could win. Oh that calm, level headed Carolyn! During a brief discussion about it, Teresa said that she was offended that Carolyn would even think that she was serious about her comments in the book, and that she was joking. Teresa refuses to take responsibility for her actions that hurt people. Sound familiar? She then apologizes by giving Carolyn a copy of the very cookbook that she bashed her in. Carolyn revealed that she has been having frequent migraines, so she went to see a specialist and he thinks that she could be close to menopause.
Side note: I noticed some very blatant product placement going on when Lauren, Jacqueline, and Teresa went for a walk. Lauren was wearing a Blk water T-shirt and they were all carrying bottles of the Manzo created super water. I wonder if we are in store for more of this?
Teresa
Teresa is currently waiting to find out if her husband will go to jail for attempting to obtain a counterfeit license through the D.M.V. She still seems unhappy and is having trouble truly getting along with her brother and his wife. She briefly addressed the rumors about Joe cheating on her by dismissing them as fast as she brought them up, simply stating "he's focused on helping me around the house". Now, I 've seen enough of Joe Giudice's lazing around the house to know that isn't true but whatever makes her feel better. For someone who doesn't think their husband is cheating she sure became inquisitive when Joe mentioned "ladies" being around on one of his business trips.
Jaqueline
Jacqueline is still having the same issues with Ashley, who is back at the house and is now a platinum blond. Despite Carolyn consulting with a life coach, the same patterns that we see every season are still going on: Ashley is lazy and unmotivated. Her parents are frustrated. They buy her things. She is ungrateful. They threaten to kick her out. She still lives there. And so on, and so on and so on. This time, Chris and Jacqueline seemed to have convinced Ashley to go stay with her Aunt in Las Vegas. Yes! That's the perfect place to send a young girl who wants to party all the time. She'll really be able to focus there!
Melissa
Melissa still seems to be determined to keep things running smoothly between her and her sister in law. Her determination seems unwavering until Joe informs her that Teresa called him the other day and told him that if his wife found someone with more money, she would leave him. Melissa seemed to be really shocked and hurt. I know how it is to try and have patience with a family member, so much so that you ignore the little hurtful things they say. I don't think Melissa will be able to forget or ignore that Teresa said that. I expect it to come back up during one of the many confrontations that are sure to come this season. Melissa sister commented that Teresa knows that she messed up by marrying Joe, and that she probably wishes she married someone like her brother. Hmm... that would explain the weird incest like vibes that I felt going on last season...
Its summer in New Jersey (in reality TV time) and the temperatures were running high right along with the tensions. Where do New Jerseyans go for the summer? Why the shore of course!! The family headed down to the Jersey shore with the Gorgas and Giudices staying in their respective houses and the Wakiles renting a friend's house. The children got to play despite the issues with their parents. Joe got the opportunity to express to Teresa that he would always be there for her including if her husband went to jail. When Teresa mentioned that he didn't call her during the week that Joe was in jail, he didn't seem to have much to say. Teresa didn't seem to want to talk much at the beach, trying to shush him in Italian and bristling when he reminds her that he let her and her husband borrow 25 grand. I can't wait to see what is in store for these two.
More to come!
The Real Housewives of New Jersey airs Sundays at 10/9c on Bravo.
(Image courtesy of Bravo)