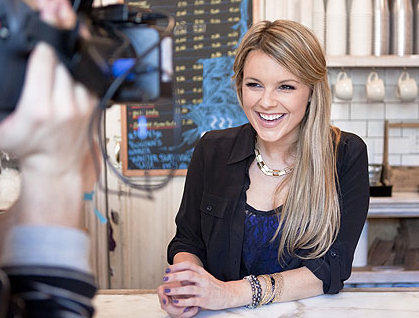 by Gina Scarpa
Tonight, former Bachelorette Ali Fedotosky will embark on a trip around the country, looking for the best in food, entertainment, and travel as host of the NBC show 1st Look. The opportunity couldn't have come at a better time for Ali, who is newly single and was looking for a change of pace. We talked to her today in an exclusive interview about the new show and why you should tune in.
Q. Gina, RealityWanted: What do you feel is the biggest thing you learned about yourself through your experiences on The Bachelor and The Bachelorette?
A. Ali: Oh goodness! What I learned about myself... a lot of little things. I think I learned that I'm stronger than I ever could be. I think maybe that's the best answer for that question. I feel like I've been "that girl" in relationships. I've been needy and I think I've learned to be strong. I think I'm super comfortable with who I am and nobody can tell me any different.
Q. Gina, RealityWanted: Doing those shows has definitely opened more doors for you. Was television always something you were interested in?
A. Ali: No... I was never interested in television. I'm just not the type of girl that gets up in the morning and puts makeup on. I throw my hair in a pontytail, jeans, Converse, and go to work. That's what I did at Facebook. The idea of being in tv and putting on makeup everyday repulsed me a few years ago. I was working in advertising and I loved it. I loved my job. I worked for two years just to get that job. I had no interest in changing that career path. Life kind of gives you whatever it wants. I think I ended up here because I was supposed to be and I'm super happy about it. What I loved about Facebook was I was impacting the world through a site that reached millions of people every day. I get to do that too with 1st Look.
Q. Gina, RealityWanted: How did it come about that you would host NBC's travel show, 1st Look?
A. Ali: The producers called me up out of the blue. Literally, I was in a transition period and didn't know what I wanted to do with my life. I was staying with some friends and they said, "We have this job that would be great for you." At the time, I was traveling all over the place just in my personal life. I love to travel and thought it would be perfect for me. I came to New York, interviewed, and the rest brought me here. I'm super psyched about it. I needed a change and I'm grateful for that.
Q. Gina, RealityWanted: Tell us a little more about what you're going to do be doing on it and what viewers will get out of tuning in.
A. Ali: The show airs on NBC after SNL. It's basically me going around the country, trying all the cool things the country has to offer. Expensive restaurants, dive restaurants... we'll look at great places for nightlife, entertainment. I did a tour around Miami the other day and this weekend, I'm going to Chicago and going to Bacon Fest. I'm going to show you things around the country that are cool and fun. I think it's great for learning about new cities or cities nearby, in your own backyard. I actually think it's really great for guys because I talk a little bit about "Wow, if a guy took me here for a date..." They can get some tips!
Q. Gina, RealityWanted: How can fans keep up with what's going on with you and the show?
A. Ali: My Twitter is just my name, no spaces! Then, same with my Facebook. Right now, as I go along and film, I'm posting pictures of everything I'm doing. You can also follow 1st Look on Twitter. It's not just a travel show! It's a lifestyle show and it's also kind of a reality show. You're seeing in my life after The Bachelorette. This show films year round and I'm traveling 5-6 days a week. Even 7 days a week! Pretty much, this is my life!

1st Look premieres tonight on NBC after Saturday Night Live!
(Image courtesy of NBC)

Follow Gina @ginascarpa and "Like" her on Facebook.