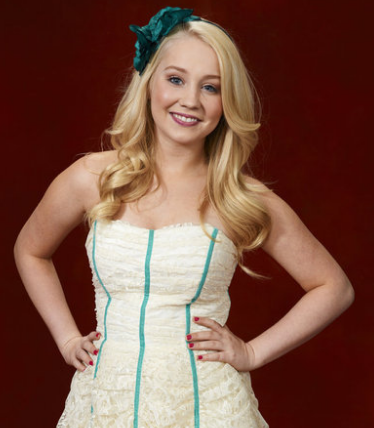 by Gina Scarpa
RaeLynn's introductory song to America this season on The Voice made perfect sense. For her blind audition, she chose "Hell on Heels" by Blake Shelton's wife Miranda Lambert, catching his attention - exactly what she had been hoping for. From there, she defeated Adley Stump in the battle round, then took on a Maroon 5 for her first live performance. America voted her through and this gutsy country singer is hoping she's here to stay. We talked to RaeLynn today in an exclusive interview today to hear more about her experience on The Voice so far!
Q. Gina, RealityWanted: What made you decide to try out for The Voice this season?
A. RaeLynn: Actually, I watched season 1 and I was thinking that I would love to do it. I loved Blake and I loved all the artists on there. I got a music manager and went back and forth to Nashville and kind of forgot about the show. I was writing with a girl on the show, from Team Adam, and she said, "Please tell me you're auditioning for The Voice." And that's how it happened!
Q. Gina, RealityWanted: You sang a Miranda song as well as a Maroon 5 song so far, which is pretty gutsy of you! Was that something you had planned to do coming in?
A. RaeLynn: Well, I knew I wanted to audition with a Miranda song because she has inspired me so much. I knew without a shadow of a doubt that I wanted to do a song by her. Blake sent me "Wake Up Call" and said, "I want to see what you can do with this!" It came to life and it was so cool. I love bold choices!
Q. Gina, RealityWanted: You had a big reaction when Carson Daly announced you had made it through the first round of live shows. What was going through your head?
A. RaeLynn: Oh my gosh, so many things! They didn't announce the top three in any order so we didn't know who got the most votes. Nevertheless, I was the third name called out and I was sitting there with three other amazing singers. When they called my name, I was just blown away. I was literally... well, everyone saw my reaction!
Q. Gina, RealityWanted: What has been your favorite moment so far?
A. RaeLynn: I think my favorite moment was meeting Miranda because it was so genuine and literally, I had no idea... I thought it was too good to be true. I didn't really think they'd bring in Miranda. It was crazy. That was the best moment for me. Her and Blake told me in a sit down conversation... I was asking how to battle a big voice and they said, "RaeLynn, you're amazing in your own way. You have such a unique voice and we need a voice like you on radio!" That meant a lot to me because first of all, hearing that from the two people you look up to is crazy and hearing that at all is cool.
Q. Gina, RealityWanted: What's it like to have all of these people, these fans, rooting for you now?
A. RaeLynn: It's been crazy! I'm not used to all this! My biggest fans used to be my family and now, I have real fans and it's so crazy. I'm so blessed to be on the show. It was so cool to have America vote me through. That was so cool. It's really awesome.
Q. Gina, RealityWanted: What is going to be your strategy in the competition? Are you going to stick to country or keep pushing the envelope?
A. RaeLynn: I'm going to do a country song this next time because that's who I am. I want to show a country song. I can't tell you what!
Q. Gina, RealityWanted: Anything you want to say to your fans?
A. RaeLynn: I just wanna say thank y'all so much. I'm so blessed that y'all voted me through. I love this show and I will not let you down.

The Voice airs Mondays at 8/7c on NBC.
(Image courtesy of NBC)

Follow Gina @ginascarpa and "Like" her on Facebook!