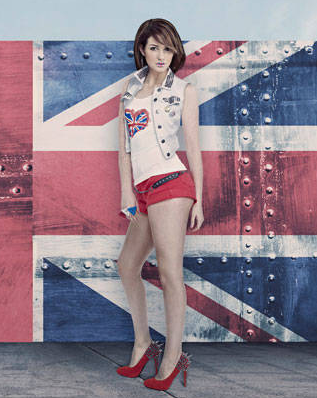 by Gina Scarpa
This week on America's Next Top Model, the girls headed to Canada for Toronto Fashion Week where they auditioned for real fashion shows by real designers. Three (Ashley, Catherine, and Seymone) didn't book a single show but had their photo shoot to redeem themselves. Unfortunately, Ashley had the weakest photo, which gave the panel no choice but to eliminate her. Today, we talked to Ashley in an exclusive interview about leaving her kids to compete for a second time, her thoughts on the girls who wanted to quit, and where she wants to take her career next.
Q. Gina, RealityWanted: After doing Britain's Next Top Model, what was your reaction to be asked to do America's Next Top Model and was it tough to leave your kids?
A. Ashley: Yeah what it was was that I've never really thought that America's Next Top Model would want me on the show. When they wanted me to be on the show, I was shocked! I was like, "Really? You want me?" I would never give up an opportunity like that but it was very tough.
Q. Gina, RealityWanted: How was it to compete with American girls?
A. Ashley: I didn't really see much difference. Obviously, there were girls from my season and I already knew that. You kinda meet everyone from America and get along with them. I don't really think there was much of a difference apart from that they did really, really well.
Q. Gina, RealityWanted: What do you make of girls like Louise and Kyle who either quit the competition or threaten to quit?
A. Ashley: Well, I think that was Louise's choice and Kyle, I don't actually really know why she wanted to leave. I was in a different room when it was all going off and I kind of missed it. When you're under so much pressure, people take it differently. I don't think bad of Louise. I love her and think she's a lovely girl and Kyle was nice as well.
Q. Gina, RealityWanted: What was your biggest issue this week at Toronto Fashion Week?
A. Ashley: Obviously, I didn't get any castings! I think maybe my biggest issue was my walk. I've been practicing. I think that was probably my biggest one but the fact that I got to go to Canada Fashion Week... I appreciate the experience. I was happy for the girls. It sounds really strange because it's a competition but I was.

Q. Gina, RealityWanted: Did you disagree with the judges' decision to send you home or were you at peace with it?
A. Ashley: Oh no, I think I was at peace with the decision. I thought I had the worst picture. If I have the worst picture and I have no castings, I was like, "Right, I'm going. It's my time to go, clearly."
Q. Gina, RealityWanted: Are you going to stay overseas or do you want to come back to the states to model?
A. Ashley: I want to come back to the states and model. I just need to try and get with an agency over there. I'm hoping to do some tv presenting in the future. If you know anyone who needs a presenter...

America's Next Top Model: British Invasion airs Wednesdays at 8/7c on the CW.
(Image courtesy of the CW)

Follow Gina @ginascarpa and "Like" her on Facebook!