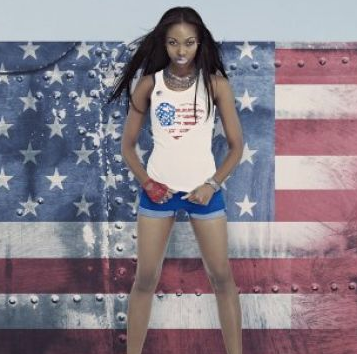 by Gina Scarpa
Candace fought hard to get onto America's Next Top Model - in fact, she tried for 7 cycles until she finally made it. The judges, however, felt that her passion and energy weren't coming through in her photos and eliminated her on last week's episode. She took the news hard, especially with girls in the competition walking off set and quitting, or threatening to quit. Today, we talked about that and more in our exclusive interview with Candace.
Q. Gina, RealityWanted: What was your modeling experience prior to being on Top Model?
A. Candace: Prior to going on Top Model, I shot for Seventeen magazine a couple of times. Also, Essence, Cosmo, a promo for Steve Madden, and a couple of fashion shows.
Q. Gina, RealityWanted: You tried out many times for the show didn't you? What kept you coming back?
A. Candace: Like 7 times, it took me 4 years. When I was 18, I started with Cycle 11. What kept me going is that I hate being turned down, I hate the word no, it makes me more eager. Every time I got rejected, I would go back. This was my passion! Eventually, a door will open and for me, it did.
Q. Gina, RealityWanted: Did you have a favorite model from a past cycle, one that maybe you identified with?
A. Candace: I really like Eva, cycle 3. She reminds me of me. She's a go-getter, she didn't care what people thought of her. She did what she had to do and she's a winner.
Q. Gina, RealityWanted: Being such a fan of the show, it must have been pretty surreal to actually be there and compete.
A. Candace: It was amazing! Watching it on tv is extremely different than being there in person. Seeing Tyra, working with Nigel and Mr. Jay, having them in your face with their critiques was a dream come true.
Q. Gina, RealityWanted: What did you think of having the British girls in the competition along with the American girls?
A. Candace: I thought it was an amazing opportunity because it was the first big twist that Top Model has ever had. I thought they might have an advantage having done Britain's Next Top Model but I have a history with modeling under my belt. I was prepared and I was ready for the challenge.
Q. Gina, RealityWanted: What do you think was the biggest issue that the judges had with you?
A. Candace: I would say all the judges felt that my energy was kind of low. Really, they're not in the house to see how I interact with all the other girls or see how the other girls act. It was stressful to hear them say that I have no energy. It does look like I'm not saying anything or I'm quiet. Nigel made me mad during week 4, which was my elimination. On set, he was saying I was doing good but in panel, he flipped the script and said he was disappointed in me. I was thinking, "But on the set, you told me I was doing good!" and Mr. Jay was telling me the same thing.
Q. Gina, RealityWanted: How did you feel being eliminated, knowing that people like Louise and Kyle wanted to quit?
A. Candace: I fought for four years to get on the show and it was just frustrating.
Q. Gina, RealityWanted: How do you feel the show helped you with your modeling career? And how can fans keep up with you?
A. Candace: I feel Top Model definitely helped me with exposure. Prior to joining the show, I was doing modeling and this just brought it to a higher level. I'm going to continue to model and get into acting. For my fans out there, you can follow me on Twitter @istheeexotica and on Facebook at facebook.com/CandanceMonae.
America's Next Top Model: British Invasion airs Wednesdays at 8/7c on the CW.
(Image courtesy of the CW)
Follow Gina @ginascarpa and "Like" her on Facebook!