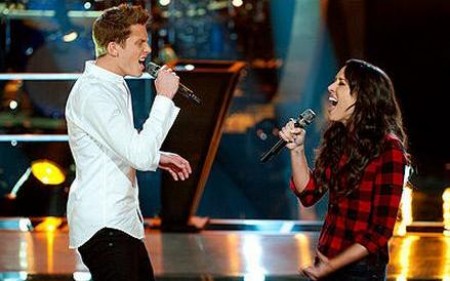 by Todd Betzold
We have reached the last of the battle rounds on The Voice and we will find out which of the remaining singers will join their teams when the live shows kick off next week...and someone makes Cee Lo cry tonight...who will it be?
Team Cee Lo: James Massone vs. WADE - "True Colors" by Cyndi Lauper
This is a song that doesn't seem to fit either of their styles, which is an odd song choice for Cee Lo. James doesn't know the song, so he is very nervous about the battle. Cee Lo brings in NeYo to help mentor James. They say he can sing, but he is not confident enough in himself right now. For WADE, Cee Lo brings in Babyface to mentor him. Babyface says he has experience in his voice and sounds like Al Green. The rehearsal the day before the battle makes Cee Lo cry and surrender to them...he can't sing like that and he is proud of them. They both do a decent job with this song, but I thought WADE did an awesome job...more of a vocal range to me. The three coaches all chose James, but will Cee Lo pick him? Even though he was biased to WADE, he let him down tonight, so he chooses James to join Team Cee Lo in the live shows.
Team Adam: Nicolle Galyon vs. Mathai - "Love Song" by Sara Bareilles
The country, piano-playing Nicole versus the very outgoing and confident Mathai. Adam brings in Robin Thicke to mentor Nicolle and he says she needs to embody some of her sweetness into her physical movements. Adam brings in Alanis Morissette to mentor Mathai. They told her to sing each note fully...don't chop it off. The day before the battle, they decide to get rid of the piano for Nicolle because it wasn't working out...can she be strong without the piano in front of her? Mathai is another one of those singers, like Erin Martin, where I don't understand half the words she is actually singing...I don't enjoy that and so I am picking Nicolle, but that means Mathai will win. Mathai was very confident and strong on the stage, but I didn't like it. Adam was a little let down with the whole performance...thought they did better in the rehearsals. He chooses Mathai to move on to the live shows for Team Adam.
Team Christina: Moses Stone vs. The Line - "Satisfaction" by The Rolling Stones
Another interesting matchup...the rapping emcee versus the country duo...this could be weird. The Line is worried about the song choice and it is more rock than they would want. Christina brings in Lionel Richie to mentor Moses and they tell him to bring out his voice and if he does he will be victorious. For The Line, Christina brings in Jewel who tells them to not be a wedding band...show who you are as an artist. This was a fun battle, actually. I really enjoyed it and thought Moses did an excellent job...he owned that stage and completely outshined The Line. He was fun and entertaining and made you want to keep your eyes on him. The Line just seemed out of place up there. And Christina agreed, as she chose Moses to move on to the live shows for Team Christina.
Team Adam: Karla Davis vs. Orlando Napier - "Easy" by Lionel Richie
After meeting with Adam, he determined that the original song choice, "Rich Girl" by Hall and Oates, was not proper for them, so he changes it...now they don't have much time to learn this new song. For Karla, Adam brings in Alanis Morissette to mentor her. They tell her to be more sure of herself and have Bertha (the big girl inside her that sings those big notes) come out. Adam brings in Robin Thicke to mentor Orlando. They tell him he has great vocals, but needs to know when to use his power at the right moments. This is a hard one...they both did a good job. Karla has a solid voice, but Orlando has a different voice and I like that in a singer (normally). In a shocker, Adam chooses Karla to move on to the live shows for Team Adam.
Team Blake: Jordan Rager vs. Naia Kete - "I'm Yours" by Jason Mraz
We have the street performer versus the country singer. At the blind auditions, Jordan said he was hoping Blake would turn around in hopes of meeting his wife...will Miranda be his mentor? They meet to do first rehearsal and Blake tells him he will be doing a harmony with Nya, which scares the hell out of him...totally out of his comfort zone. The next day, Blake brings in Miranda to work with Jordan, which he loves. Miranda works with Jordan to get the harmony down...they tell him he needs to work on his confidence. For Nya, Blake brings in Kelly Clarkson to mentor her. They tell her to save the tricks for later in the song. One more rehearsal together and Jordan has down a 180...much better. This one is another tough one...Naia is good and Jordan is good too. This song was meant for Naia, so she did great and Jordan, for being out of his element, did well. The coaches all pick Naia, but will Blake as well? He goes with experience and picks Naia to join Team Blake in the live shows.
Team Cee Lo: Tony Vincent vs. Justin Hopkins - "Faithfully" by Journey
Justin is worried about Tony's vocal range, but Tony says that doesn't mean he is a shoo-in. During the rehearsal they bring to Cee Lo to tears...what is up with him crying tonight? Get it together! To work with Tony, Cee Lo brings in Babyface. He says Tony is a pro and is just looking for pointers to make it better. For Tony, Cee Lo brings in NeYo. They tell him to keep in mind that the emotion of this song is the power of this song. This was a very good battle...they both had great performances. Tony had a more polished vocal, but I really enjoyed Justin's voice for this song. Tony is more versatile, so Cee Lo chooses Tony to move on to the live shows for Team Cee Lo.
Starting next week, The Voice airs Mondays at 8/7c and Tuesdays at 9/8c on NBC.
(Image courtesy of NBC)
Follow Todd @tbetzold