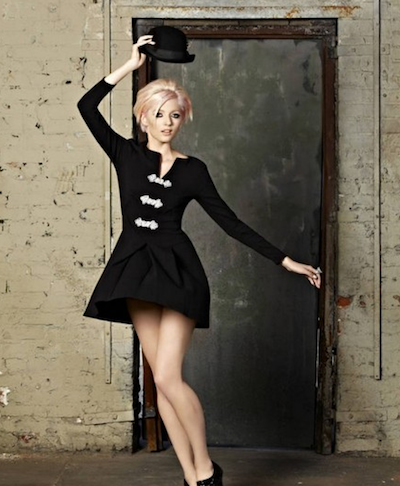 by Gina Scarpa
This week on America's Next Top Model, the British girls played (what they thought was) an innocent prank on Seymone. After some wet paper was thrown at her in bed, things quickly escalated between her and Alisha. Okay, I'm sure it was annoying to be disturbed while trying to sleep but Seymone takes it to a whole new level, screaming and pushing the other girls. Don't take out your frustration on them just because you landed in the bottom the week before!
Tyra shows up at the house and asks the girls for an impromptu walkoff outside, then hangs out and gets to know the girls a little better. After that, she reverts back to Crazy McGee, going on about supermodels with superpowers. Can you guess what hers is? That's right: smizing! She bestows Intoxibella (aka superhero) names upon each of the girls - from Illuminata to NextDoorsia. If you're saying to yourself, "None of these are words," you're right.
After playtime is over, the girls meet up with Kelly Cutrone and find out that they'll be creating an ad campaign for one of her clients, very.com. They'll work in teams, UK vs. US, with Annaliese taking the lead for the British girls and AzMarie taking the lead for the Americans. Annaliese is confused from the beginning, and is difficult to reach when her teammates are out prop shopping. AzMarie, on the other hand, has a very strong vision and her team, in turn, is much more organized.
The organization carries over into the shoot. With just two hours to get all the girls in hair and makeup AND get their photos done, the Americans go in with a clear vision and AzMarie at the helm. Kelly seems very unhappy with the British girls, from their organization to their choice of props to their vision for the campaign. If Annaliese was in the boardroom right now, Trump would definitely be saying, "You're fired." That being said, I think Louise would've been sitting right next to her because Kelly finds her to have one of the worst attitudes she's ever seen.
The guest judge at panel this week is So You Think You Can Dance host (and international model) Cat Deeley. Annaliese is up first to face the panel and is called young and fresh, which must've been a relief for her to hear but Tyra called it cataloguey. Sophie has a really cool shot, with the photographer catching her in mid-spin. Catherine's eyes really stand out in her photo, but Ashley is called out for posing too much. Alisha made a bad choice in her photo because her legs are cut off and it doesn't really show off the jacket she wore, and Louise is told she looks mean - then proves the judges right with her reaction as she storms off the set and screams outside, "I need to go home!" Take it down a notch!
Let's move on. AzMarie's photo is strong, edgy, and really captures her androgynous style. Kyle's photo, in which she jumps in the air, goes over well but Seymone's isn't as successful. Laura's shot really shows off the clothes but the panel wishes she showed more of her face. Agreed. Eboni reads too old in her photo, and Candace also disappoints the panel with what Nigel deems a "cheesy photo".
AzMarie is called first (well deserved) followed by Sophie, Laura, Kyle, Catherine, Seymone, Annaliese, and then the bottom four are told they're safe. Thanks to Louise's meltdown, Eboni, Candace, Alisha, and Ashley didn't have to face going home.

America's Next Top Model airs Wednesdays at 8/7c on the CW.
(Image courtesy of the CW)

Follow Gina @ginascarpa and "Like" her on Facebook!