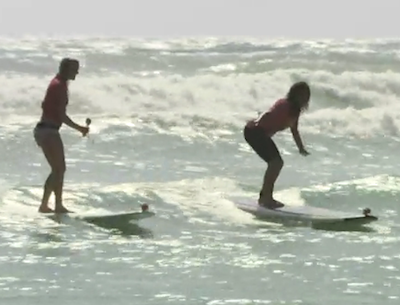 by Gina Scarpa
Usually, when Alison keeps the contestants after an elimination on The Biggest Loser, it's not a good sign. This week, it's another story - depending on how you look at it. The players have proven that they can lose weight on the ranch and they can lose weight at home but can they lose weight on vacation? That's right, they're off to Hawaii! Did they really have to give them all tacky Hawaiian shirts in their team colors?
Once they arrive in Hawaii, the contestants meet up with surfer Bethany Hamilton, who shares her incredible story of losing her arm in a shark attack. If she can overcome her fear and get back out in the water, then they can all conquer their fears too. Bethany takes them all out in the ocean to surf and Kimmy even gives it a shot, despite her fear of the water. Look at Kimmy go! First, she takes on heights and this week, she tackles water.
For their challenge this week, Alison administers a Hawaiian-style pop quiz with the winner getting a one pound advantage on the scale. Of course, the questions are about calories, fat, and exercise and things come down to a tiebreaker between Kim and Chris. The self-proclaimed Queen of Useless Knowledge, Chris, pulls out a win and she probably needs it, given that she doesn't have many allies in the game. The same could be said for Kim though and this whole episode feels like a setup for her to go home...
The last chance workouts involve pull-ups onto a boat in the water, digging holes on the beach, then running with shovels above their heads, and not surprisingly, a whole lot of swimming. It's not time to head to the scale just yet, though. Alison has another challenge in store with immunity on the line. Players must run up and down a giant hill and find leis to hang on an opposing player's tiki. Once someone has ten leis, they're out. Buddy still isn't medically cleared to compete so he's automatically out of the running.
Jeremy said it best when he points out that challenges like this make it very clear where allegiances lie. Right away, Kim and Chris are targeted and they're the first two out. Megan and Kimmy go out next, leaving the major alliance in the house (Conda, Jeremy, and Mark - minus Buddy) to fight it out. Conda and Jeremy team up against Mark, and then Jeremy asks his sister if she wants to win. Of course she does! Why does he keep giving her stuff in this competition? Conda is certainly the queen bee, isn't she?
This week's weigh in takes place at Pearl Harbor, and the numbers go as follows:
Conda: -4 (immune)
Chris: -3
Mark: -4
Jeremy: -7
Megan: -3
Buddy: -6
Kimmy: -2
Kim: -5
So Kim prevails after all, and Kimmy and Megan must go up against one another for elimination.  We all know what's going to happen though.  There's no way that Kimmy won't sacrifice herself so that her daughter gets a chance to stay on the ranch for at least another week.  Strategically, it would make sense to keep her but in situations like this, the player's wishes are usually granted and tonight, we say goodbye to Kimmy.

The Biggest Loser airs Tuesdays at 8/7c on NBC.
(Image courtesy of NBC)

Follow Gina @ginascarpa and "Like" her on Facebook!