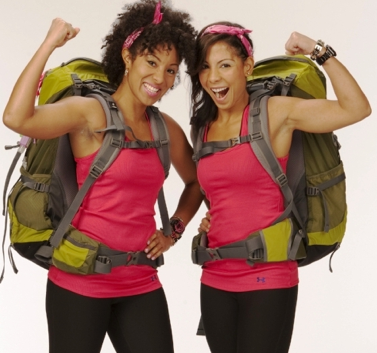 by Gina Scarpa
On last night's episode of The Amazing Race, Kerri and Stacy's navigation skills got the best of them in Bavaria and they were the last team to arrive. The cousins from Mississippi were told that unfortunately, they had been eliminated from the race. Today, we spoke to the pair in an exclusive interview about the difficulties of running the race and how they handled being sent home.
Q. Gina, RealityWanted: Whose idea was it to try out for The Amazing Race?
A. Stacy: It was my idea to do the show because I've watched it for years and I've traveled back and forth, supporting my husband's career for the past few years. I wanted Kerri and I to get together and do something fun, because I had been missing that family time. Kerri is always down for any crazy adventure.
A. Kerri: She brought it up to me and I was like, "Sure!"
Q. Gina, RealityWanted: What was the toughest part of actually running the race versus how you thought it would be when you watched it on tv?
A. Kerri: I think the travel. People don't realize that you're traveling for 18 hours sometimes and it's really tough. It's really hard to eat or drink water. It's really hard on your body.
A. Stacy: Time management on the race is like, key to this race. You have to really master that skill in order to just have energy and just have the willpower to keep going.
Q. Gina, RealityWanted: Since you weren't around the other teams all of the time, were there things that you saw when watching the episodes back that surprised you?
A. Stacy: I didn't realize how much other teams struggled in some of the challenges. Like, when you're going through it with your teammate, it's like, "Oh my gosh, I bet everybody is just going through it and knocking it down. We're doing so bad!" Now that we've watched it over, we're like, "We whizzed through some of those things!"
A. Kerri: Other teams bickered a lot. I didn't think they had that much drama.
Q. Gina, RealityWanted: What went wrong for you this week?
A. Kerri: I mean, Stacy and I have always been really strong because we've been a team our whole lives. It was just the navigation! We had gotten some pretty poor directions. No one knew exactly where to go and it was so vague. They would say, "Go that way" but once we go up the street, where do we go from there?
A. Stacy: Some people seemed so confident in what they were saying.
Q. Gina, RealityWanted: Last week, Phil let Mark and Bopper know that it was a non-elimination round when they arrived last. You were not as fortunate this week. How did you handle being eliminated?
A. Stacy: I think I can speak for both Kerri and I. It was devastating for us. We felt like we were a sleeper team because we could outrun and outhustle a lot of these other teams. We saw the vision of crossing the finish line. It was really heartbreaking because we're very competitive and this was like our first big loss in life.
A. Kerri: It's hard to take that loss. You have to relive it every day with our family and our fans. We have to deal with the fact that we knew where we ended.
A. Stacy: We did this for our family. Family is so important to us and we knew we weren't just a couple, we were a group. We really wanted to bring this victory home because we're just two gals for Mississippi. Even to this day, I'll call her and I'll say, "Oh my gosh, I had a nightmare last night!" I can't shake this losing feeling. It's a once in a lifetime event so it's not like we can hop back on a plane and search for plane.
Q. Gina, RealityWanted: That being said, if they called you and asked you to run the race for a second time tomorrow, would you go?
A. Stacy: Oh yes! Definitely! I have kids and last night, seeing how much my children were invested... I would do it again in a heartbeat just for them. They were really heartbroken and if I could do anything to turn those frowns upside down, I would!

The Amazing Race airs Sundays at 8/7c on CBS.
(Image courtesy of CBS)

Follow Gina @ginascarpa and "Like" her on Facebook!