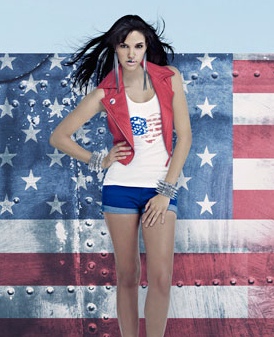 by Gina Scarpa
Mariah came into this season of America's Next Top Model as the first Native American contestant and she had a lot to prove. Unfortunately, in her second week of the competition, her photo didn't go over well with the judges. Kelly Cutrone told her that photo would've cost her a million dollar contract, while Tyra Banks said she wanted to see more innocence in the photo, which was set in a nursery. Despite being complimented by guest judge Kris Jenner, Mariah was eliminated and it came as quite a shock to her. Today, we caught up with her in an exclusive interview to find out more about her time on America's Next Top Model.
Q. Gina, RealityWanted: What was your modeling experience prior to auditioning for America's Next Top Model?
A. Mariah: I had been an international model since the age of 15. I have been blessed and traveled to Thailand for modeling. I've been signed with Wilhelmina since the age of 16.
Q. Gina, RealityWanted: What was your opinion of the British girls competing this season, especially since they were all on Britain's Next Top Model?
A. Mariah: Well, I thought maybe it was a little unfair that they had already done Britain's Next Top Model and we were brand new, fresh girls but nonetheless, I had gotten along wit them and it was different to be around another culture.
Q. Gina, RealityWanted: Speaking of culture, I asked Jasmia what the biggest different was between the American girls and the British girls and I wanted to ask you the same question to get your thoughts.
A. Mariah: I would probably say the accents. I mean, we're all different and we all have our own life things going on. I don't think there's too much difference between us and them as far as personalities in general.
Q. Gina, RealityWanted: In the first photo shoot, you were asked to portray Pocahontas. Did you feel that it was too cliché, given that you are Native American?
A. Mariah: Being Native American is huge to me so getting to portray Pocahontas as an iconic character, I didn't mind but I feel like my costume on their part was a little cliché. As you had seen in the first episode, they showed a picture of me in one of my native dresses and we've had that in our family for over 50 or 60 years, I thought that dress was a little funny.
Q. Gina, RealityWanted: Your makeover was not very extreme but were you worried going into it that they were going to do something like chop off all of your hair or dye it some crazy color?
A. Mariah: Yeah, I didn't want the boy haircut. I thought I'd look like Robin Hood! For me, it was really important because I am Native American, we have really long hair, and it's cultural in a lot of ways. I felt like some of the other girls were making a big fuss over something that they shouldn't have when it was a way bigger deal to me. Overall, I was pleased that my hair didn't get butchered.
Q. Gina, RealityWanted: On last week's episode, the judges got on your case for being too sexy in a photo shoot where you meant to be toddlers. Did you agree with their feedback?
A. Mariah: No, absolutely not, honestly. I didn't feel that I had portrayed sexy in the photo whatsoever. Sexy is going to be me doing Maxim or Sports Illustrated. I'll send that picture to Nigel when I get that. I didn't agree.
Q. Gina, RealityWanted: So then, you must've been shocked not only to be in the bottom, but to be eliminated too.
A. Mariah: Yeah absolutely. I hadn't gotten emotional during the whole show. I'm a pretty strong girl but as you saw, I definitely started crying in the end. I was shocked. I just had no idea. I didn't expect to be going home at all. I thought there were quite a few other girls who could've gone home before me but what can you do?
Q. Gina, RealityWanted: Given that you've been modeling for a few years, did you get something out of being on Top Model that you've taken away with you?
A. Mariah: Honestly, everything with Top Model from the very first casting... my goal first and foremost was to be the first Native American female to appear on the show and I achieved that! That accomplishment means more to me than even winning the competition could've done. It's going to help me with all my projects that I like to work on. I'm doing my first youth leadership project at the end of the month and I definitely just want to do good things for other people. Being the first Native model wasn't just for me, it was for something bigger.

America's Next Top Model: British Invasion airs Wednesdays at 8/7c on the CW.
(Image courtesy of the CW)

Follow Gina @ginascarpa and "Like" her on Facebook!