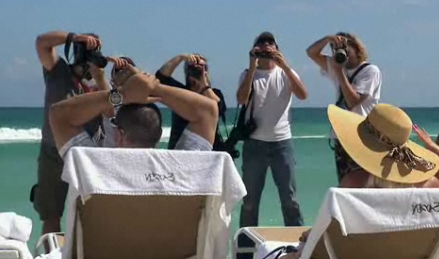 by Gina Scarpa
This week on Ice Loves Coco, Ice is feeling a little stressed out so he suggests that he and the wife head off to Miami for a romantic weekend. After fours hours of packing (for two days of vacation), Coco is ready to go. No sooner did they start lounging around that Ice's friend Marc shows up and crashes the party.
It's not any calmer over at the beach, with the paparazzi standing ten feet away snapping pictures every second. Coco takes matter into her own hands and gives the people what they want - sexy pictures of her playing in the water. Once the paparazzi leave, it's clear that Marc isn't going with them, so she takes off to leave the guys to have a bromantic time together.
Clearly, Ice didn't learn his lesson because Marc is at dinner AND he's planning to tag along on their fishing trip the next day. It's not until Marc shows up at the boat that Ice finally tells him to bounce. Coco ends up catching a 7 foot fish and Ice catches is all on film, unlike the last time they went fishing and he accidentally deleted the pics. He definitely made up for it!  Just to make sure he was scoring points, he finishes up the trip with a romantic dinner - just what Coco had wanted all along.

Ice Loves Coco airs Sundays at 10:30/9:30c on E!
(Image courtesy of E! Online)

Follow Gina @ginascarpa and "Like" her on Facebook!