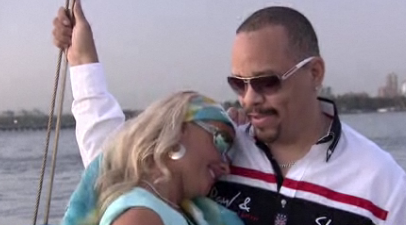 by Gina Scarpa
Since last season, Ice and Coco aren't the only ones benefitting from the fame of their tv show. Their dog Spartacus has been a breakout star and even has his own Twitter page with 17,000+ followers. That's about 16,998 more than Soulgee has!
It's hard to believe that Ice has been with Law and Order for 13 years. The cast members have become like family to them and while talking about Ice's upcoming appearance on Jimmy Fallon, Coco confides in Kelli Giddish that she hasn't been feeling well for a while. Could Coco be pregnant with a little ice cube?
Back at home, she takes a pregnancy test just to be sure but it comes out negative. That seems like a big sigh of relief to Ice! Kristy and Derek come to visit so that they can go to Jimmy Fallon and she lets Coco know that people DO get pregnant on the pill (including her) so she may want to see a doctor just to be sure.
Coco goes to see Dr. Kosta and takes Kristy along with her for moral support. The doctor tells her that she's not pregnant but she does have very high blood pressure and she needs to take it very seriously. Was Coco giving some impression that she wasn't taking it seriously? She'll need an MRI and Dr. Kosta is sure to throw words around like "silent killer" for extra effect.
That does the trick because all Coco can think about is her health. Ice tries to keep her calm but on the inside, he's worried too. Can you blame him?
On Fallon, Ice makes the mistake of leaving out Richard Belzer's name when talking about his co-stars. Back at the set, Brian the stylist tells Ice that Belzer is now upset with him. That seems a little immature. When he heads to confront him, it just turns out to be a practical joke and it was pretty funny to see Ice get laughed at in his face.
Dr. Kosta delivers the results to Coco and it seems like everything is normal but they still can't figure out why she has such high blood pressure. Until it's fixed, she can't get pregnant so that adds a little push for her to get healthy. Once again, Dr. Kosta tells her, "We have to take this seriously." She knows!!

Ice Loves Coco airs Sundays at 10:30/9:30c on E!
(Image courtesy of E!)

Follow Gina @ginascarpa and "Like" her on Facebook!