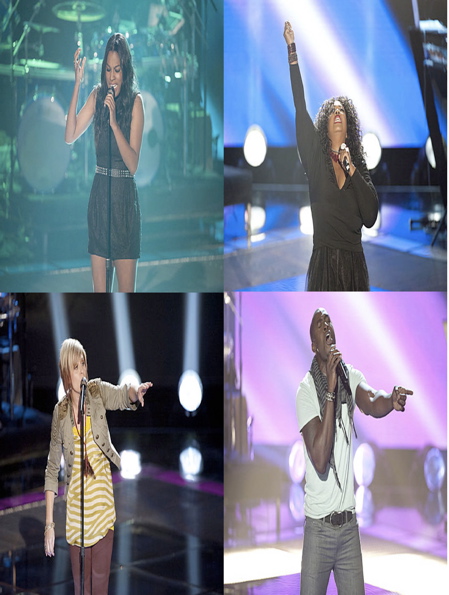 by Todd Betzold
Adam's team won it last year and Blake seemed to form strong bonds with all of his teammates...this is why I think they are the strongest coaches on The Voice. Last night, Gwen Sebastian, the country sweetheart, and Jermaine Paul, the backup singer, both joined Team Blake and Kim Yarbrough. The Chaka Khan look-alike, and Angel Taylor, the strong-voiced girl trying to move on from her past, joined Team Adam. They all got together today for a conference call to talk about their journey so far on The Voice.
Q. What's the first 24 hours been like for you now that everybody knows you are on the show and you're out on Twitter?
A. Kim: It's been a wild ride. My phone has been blowing up...text messages...I got 1,000 Twitter followers in the last 24 hours coming in with well wishes...Facebook is blowing up. It's kind of overwhelming...I couldn't sleep last night. My friend had a viewing party for me last night and after the party I couldn't sleep when I came home. It's been kind of surreal.
Q. Based on what you sang last night, it definitely wasn't country. Can you explain why you chose Blake?
A. Jermaine: My daughter and my wife had watched the show last season and they were telling me how good of a coach Blake was. One thing they told me also was it's not really genre-based...it's cool to be with someone that's in your genre, but at the same time it's cool to be with somebody that's really going to appreciate what you can bring. One thing he said that really caught my attention was when his back was turned to me and he turned around he saw exactly what he heard, which kinda made me feel like he wouldn't try to change me or influence what I'm doing in anyway, but kinda cultivate what I'm doing already...that's the main reason why I went with him.
Q. Have you tried out for any of the other singing shows before doing The Voice?
A. Angel: No, I have never tried for out any show, music-related, before, so this was my first time.
Kim: Yes, I have tried out for probably every show imaginable...every show I wasn't too old for (laughs). So, yes and I never got a callback on any of them...none of them. This was the first time that I got a callback. In my initial audition, the people that were judging said ok, you have made it to the second level and I started screaming and they were horrified thinking they were telling me I was on the show. I understood what they were saying, but I was screaming because I said, you don't understand. I've never received a callback for anything ever and they said well, that's because they don't listen to the voice and I thought that was true.
Gwen: I had tried out before for a show called Nashville Star and gosh, like you Kim, I never got a callback for any of it. I feel pretty darn lucky to have gotten that call. It was one of those moments where it's like a drop the phone moment.
Jermaine: I think it was the first season of American Idol I tried out and before I even went out as a background singer for Alicia...never got a callback...nothing came from it. That's about it...it was rumored that I did it again...I auditioned again in '08, but I didn't...just tried out one time for that.
Q. Are you still comfortable with the decision that you made to put your family on hold to pursue music?
A. Gwen: Absolutely...totally. Especially after getting this opportunity is the most incredible thing that has ever happened to me and watching it last night was like reliving that moment and seeing Louie there and reliving everything we were talking about that day...it just really, really sunk in. Absolutely...I'm totally...I'm so happy I made that decision.
Q. Did you end up watching Nashville Star the year Miranda was a contestant and Blake was one of the judges?
A. Gwen: I remember watching a little bit of when Miranda was on there, yeah. Absolutely and I liked her then (laughs).
Q. It's gotta be cool for you now to have Blake as your coach and Miranda as a mentor possibly. That gotta be a pretty cool combination for you, right?
A. Gwen: Blake is my coach...perfect fit. I really loved him from a long time ago...from his Old Red Days. From the days where he had longer hair, so for him to even turn that chair around was an amazing experience for me.
Q. What's it like to get the chance at 37? Does it give you an advantage with more life experience?
A. Gwen: Oh gosh, you know, I don't know if it necessarily gives me an advantage over anybody else, but I can say that if I would have been younger I might not have been ready...me personally. So, all of the experience that I've had with singing and touring, always being gone...that's really something that I lean on. I think that if I wouldn't have had that I may have been in a different kind of situation. I realize that definitely throughout the years it is also not just about me going out there singing...it takes how many people for me to do what I do and that along with experience is an incredible thing to have.
Q. You confessed to having a crush on Blake, so why did you end up going with Adam?
A. Angel: Well, because looks aren't everything (laughs). No, it was a tough decision because well, Blake Shelton...I actually am a huge fan of country music, so I didn't think he was going to turn around because I didn't know if I was his style or whatever. This really was a tough decision, but I feel really confident in picking Adam. I feel this choice was an undeniable one, so I feel like I made the right choice.
Q. Besides the fact that Blake is equally as tall as you as you pointed out to him, why did you pick him over Cee Lo?
A. Jermaine: I never heard of Blake before this whole thing. I was introduced to him when I was introduced to the show, pretty much, through my daughter and my wife. I really went with the moment. I wanted to really feel the moment and speak to both of them and Blake really seemed sincere and I'm a huge, huge Cee Lo fan...I listen to his music on the treadmill. I'm a huge fan of his, but I just felt the sincerity from Blake. You listen in to both of them and you kinda go with what just feels right and it felt right.
The Voice airs Mondays at 8/7c on NBC.
(Image courtesy of NBC)
Follow Todd @tbetzold