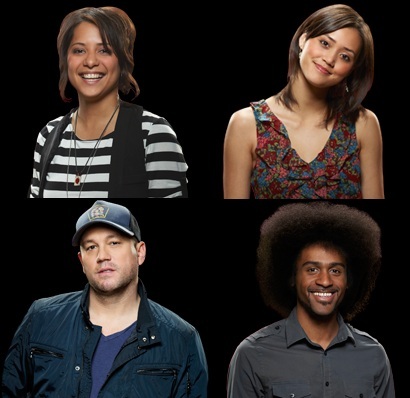 by Gina Scarpa
This Sunday, The Voice returns to NBC with the same panel of judges we came to love in season 1 and a whole new group of talented, unknown singers. As we wait to find out what the second season will bring, RealityWanted decided to check in on some memorable contestants from last year and find out how life has been since The Voice. Read on for updates in our exclusive interview with Dia Frampton, Vicci Martinez, Tje Austin, and Tim Mahoney!
Q. Gina, RealityWanted: Dia, my favorite performance of yours during season 1 was "Heartless" - is that one that stands out to you as a favorite?
A. Dia: That performance definitely stands out for me. It changed everything for me. I remember getting off stage and someone told me that "Heartless" was "trending." I was pretty new to Twitter at the time so I said, "What does that mean!?" I was surprised that it did so well, and when I saw it on iTunes later on, I literally felt like I was going to faint! It was a really amazing experience and that song will always have a special place for me.
Q. Gina, RealityWanted: Vicci, I feel like your defining performance was "The Dogs Days Are Over". Do you feel that way as well?
A. Vicci: Yes, I feel like that was when I got to do something that was original. I love percussion and I love to dance around and be crazy. I got to do that all in one performance.
Q. Gina, RealityWanted: What has life been like for all of you since The Voice?
A. Dia: It has been really incredible. Being on the Blake Shelton tour has been a dream come true. Being able to perform in front of 7,000 people a night has been insane. Also, I got signed to Universal Republic, put out a new album, called RED, and have just been touring, promoting the album. I got to work with a lot of really incredible producers and writers on the record as well.
A. Vicci: Busy. The Voice was definitely a platform for me and it has taken my career to the next level. I was signed to Universal Republic, been flying across the world recording my album, and am now ready to release it and show it to the world.
A. Tje: Life after The Voice has been great! My fans have been very supportive and the fanbase continues to grow. My band and I have been touring colleges and gearing up for festivals while finishing up my album "Dreamin Big". I just released a single on iTunes, "Right For You", and it has been getting so much love. I am lucky to have left a large enough impression on folks that they not only remember my afro but they remember my voice. And thanks to The Voice, my international fanbase has increased.
A. Tim: Great, I would have liked to have gone further but it was great to be there.
Q. Gina, RealityWanted: What are you working on now?
A. Dia: I am pretty focused on touring on RED right now. I am trying my best to promote the album. The show definitely helped get my name out there. I have The Voice and Blake Shelton to thank for that.
A. Vicci: Right now I'm working on performing these new songs on my record live. Been doing lots of photos shoots, working on packaging for my album, and going to the gym so I can healthy. I'm also getting ready to shoot a video for my first single.
A. Tje: Right now, the goal is to play in as many cities as possible and introduce my music to anyone who is willing to listen. Between that and recording the album, I am staying pretty busy.
A. Tim: I have a new single, "Hey Adam Levine", a fun pop song about my experiences on the voice. It's available on iTunes. The Voice has mainly helped me by branding. It's like now I'm the guy from Minnesota from The Voice. I'll take that!
Q. Gina, RealityWanted: What artist would you love to perform or collaborate with?
A. Dia: I already got to do a duet with Blake Shelton on my record called, "I Will" so one dream collaboration is complete! I would love to write with Tom Petty, The Avett brothers, Modest Mouse, or Regina Spektor!
A. Vicci: Well I already get to perform with the great Cee Lo Green, but would also like to collaborate with Jay-Z or Kanye. I think those guys are incredible.
A. Tje: Dream collaborations - John Legend, Keri Hilson, India Arie and Coldplay. A Coldplay and Tje Austin song would be incredible. And Adele. Wow, that would be really special!
A. Tim: For sure U2 or Bono. It would also be cool to write with Shawn Colvin.
Q. Gina, RealityWanted: How can fans keep up with what you're doing?
A. Dia: They can find me on Facebook, on Twitter, or my blog.
A. Vicci: I'm always tweeting or on Facebook, so check it out.
A. Tje: I am addicted to all social media. It's the best place to hear firsthand what my fans think about the songs I am working on and to see where I am playing next. And of course I show off my nerdy side by sharing what tv shows, movies, books and games I am currently into. Find me on Facebook or Twitter.  I encourage everyone to check out my website  to listen to my iTunes single, "Right For You."
A. Tim: I have them all - website, Facebook, and Twitter.
Q. Gina, RealityWanted: Will you be watching season 2?
A. Dia: I most definitely will, and I will be rooting for Team Blake all the way!
A. Vicci: Yes, I will be watching Season 2. I have actually seen some of the tapings already and am really excited for the new season. There are some amazing new great artists.
A. Tje: I am very excited for Season 2 of The Voice. I think it will be pretty hard to top Season 1 talent but I'm eager to see who Coach picks for his team. I will always root for Team Cee Lo. And secretly Team Blake. Ha ha!
A. Tim: Yes I have actually been asked by a pop station here in Minneapolis to be their "Voice Correspondent"

Season 2 of The Voice premieres Sunday, February 5th, after the Super Bowl on NBC.
(Image courtesy of NBC)

Follow Gina @ginascarpa and "Like" her on Facebook!