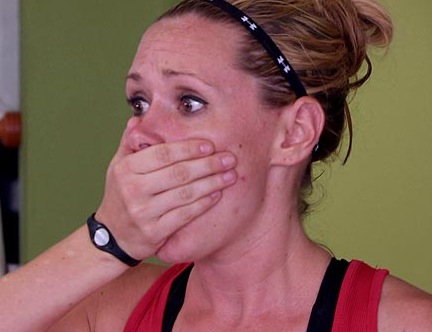 by Gina Scarpa
Look, let's get one thing straight on The Challenge: Battle of the Exes. Jasmine does not want to hook up (again) with Tyrie, and she'll make sure that everybody in the house knows it - even her partner himself. After he hears her talking trash about him outside from the balcony above, Tyrie heads downstairs to confront Jasmine, which results in her punching him and being quickly dragged away by Wes. Girls get away with so much more on these challenges and The Real World than a guy ever would but more on that later...
In this week's challenge, aptly titled "Hook Up", teams have to swing from one beam to another, high above the water of course, using a hook that they must catch onto a ring. Most teams fail miserably, falling into the water on the first or second beam but Dustin and Heather have a pretty good showing again, while Sarah and Vinny get close to the finish line. Only Johnny and Camila make it all the way and move onto the final round against Vinny and Sarah. In the end, it's the latter that make it to the end first and for the first time in Challenge history, Sarah finds herself in a position of power - it's about time! Leroy and Naomi give the worst performance of the day, and are automatically sent into The Dome.
Before Sarah and Vinny have to reveal who they're sending in against them, the teams are treated to a night out a club but it's not long before things go wrong. Aneesa literally climbs on top of Leroy on the dance floor, which Naomi doesn't like at all, and Vinny has a few too many and rips Mandi's top off in front of the entire place. That one is going to have some kind of repercussion.
Back at the house, it's clear that Vinny still holds a grudge against Wes and Mandi because they voted them into elimination on Fresh Meat 2.
He decides to milk that for all its worth and calls them into The Dome but not before calling Wes a bunch of unmentionable things and makes Mandi feel pretty horrible as well. It's not too long before TJ shows up and tells Vinny that, based on his actions at the club, he's heading home. The worst part of it all is that it also means that Sarah must leave too and she immediately crumbles at the news. You can't help but feel horrible for her, especially coming fresh off of her win. Here's hoping she gets another chance to compete soon.
At The Dome, the guys will face off followed by the girls, where each must wrestle an x-shaped bar away from the other. First up, Leroy destroys Wes twice in a row but then Mandi evens the score by wrestling the bar away from Naomi twice in a row. TJ flips a coin to decide who will face off for the win and it's the guys. Wes gives a good fight but Leroy wasn't about to go out now and he ends up sending home arguably one of the all time best players in the game. Did I just blow up his ego more?

The Challenge: Battle of the Exes airs Wednesdays at 10/9c on MTV.
(Image courtesy of MTV)

Follow Gina @ginascarpa and "Like" her on Facebook!