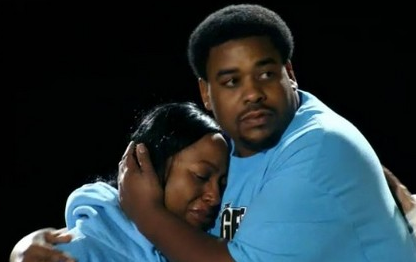 by Gina Scarpa
On tonight's episode of The Biggest Loser, we pick up where last week's elimination left off. It's not time for bed quite yet, as Alison asks everyone to meet her in the gym and welcome back the aqua team, Adrian and Daphne. They've had one month to lose 50 pounds in order to get back on the ranch and win immunity for the week. When they step on the scale, Daphne drops 26 and Adrian drops 34 - and just like that, they're back in the game while everyone whines about it in their interviews.
Immediately, the women of the red team distrust Adrian and target him to get him out the first chance they get but Mark and Buddy talk some sense into them. Right now, he's their teammate and they need him to work with them. The black team has more to worry about than Daphne, as they work out the awkwardness that some of them voted for Chris at the elimination ceremony, but she's still here.
During the black team's time in the gym, Daphne shows up some of the people that have been on the ranch this entire time while Chris finishes her workout with the best time of all! When it's time for the red team to work out, Dolvett has them all try to make their way across the monkey bars and each one falls to the ground, with the exception of one: Adrian. Damn! I guess he wasn't talking some big game, like his team thought he was. Of course, Conda isn't impressed but she seriously needs to take her bad attitude back home and stop playing up the drama for the cameras.
When Adrian shares his story, of losing his baby that was born prematurely, I can't help but reach for the tissues. We didn't get to know him until just now but it seems like this man, who lost 50-60 pounds on his own before he even stepped foot on the ranch that first day, is about to become one hell of a force to be reckoned with.
At the challenge, team members have to race with a medicine ball, bounce it on a trampoline over a wall to their teammates, who then have to put it in a bin for points. Different ball colors are worth different points and the first team to 100 points can choose someone from the other team whose weight will not count at the weigh-in (as well as one of their own team members). The black team starts out strong but their communication breaks down midway through, giving the red team the opening they need to pull ahead and win.
You'd think the red team would celebrate their victory but instead, the women target Adrian afterwards because they don't like the way he came into this game. He's told to listen more than he talks... basically, just be quiet and lose weight. Dolvett steps in to tell everyone to start being their best them instead of their worst them and work as a team. Amen!
At the weigh in, the red team decides that Nancy's weight will not count for their total and Megan's weight will not count for the black team.
Here are the numbers from the scale:
Black Team
Megan: -9 (does not count)
Daphne: -1
Chism: -2
Emily: -5
Chris: -4
Cassandra: -6
Jeremy: -9
TOTAL: -27 (1.72%)
Red Team
Nancy: -4 (does not count)
Adrian: -2
Kim: -5
Kimmy: -4
Roy: -4
Mark: -4
Buddy: -8
Conda: -2 
TOTAL: -29 (1.53%)
Well, I wanted Adrian to be a force but he's going to have to watch what he eats.  Being a beast in the gym won't be enough.  Fortunately for him, he has immunity so it's time to focus on someone else to head home.  Nobody is about to volunteer to go home, and the conversation quickly turns to what Adrian did wrong, so the red team just heads to the elimination ceremony.  Nancy and Adrian vote for Mark, but everyone else writes down Nancy's name and she's sent home.  Was that the right choice for the red team?  And what do you think of their drama?
The Biggest Loser airs Tuesdays at 8/7c on NBC.
(Image courtesy of NBC)

Follow Gina @ginascarpa and "Like" her on Facebook!