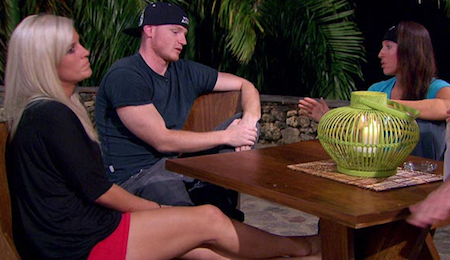 by Gina Scarpa
If there's one thing MTV knows how to do well, it's stir up some drama, and they did exactly that when they paired people up with someone from their past, romantically, on The Challenge: Battle of the Exes. CT and Diem, Mark and Robin (I still laugh every time I think of him punching the bus on The Gauntlet II), Dustin and Heather... I can barely contain my excitement so let's head to the Dominican Republic, meet up with TJ, and find out the rules.
First place at the end of this competition results in $150,000. Second place is good for $100,000 while third ends with $40,000. Better than past challenges, where third place left empty-handed. The losing couple each week will automatically be sent into The Dome, where all the elimination rounds take place. The winning team becomes the power couple and can send any other team into The Dome to compete to stay.
The first challenge of the season isn't great for any couples who haven't spoken or feel awkward around one another. In "Gimme Some Honey", players run across a beam, dunk themselves in honey, and run back to have their partners scrape it off them into a bucket. Whoever collects the most wins and is safe from elimination. As Dunbar put it, there was a whole lot of touching of the "no no special places" but Mark and Robin and Johnny and Camila were the best at it. Hell, they were damn impressive!  They faced off, with the latter taking home the first win! Nate and Priscilla, the rookies, were an absolute disaster. He plunged into the water over and water, and didn't collect any honey at all. Kind of appropriate since the pair barely hooked up at all during their season of The Real World: San Diego.
Back at the house, Wes puts on his big boy pants and tries to intimidate Camila into telling him what her plan is. She's rescued by her partner and it seems bags are barely unpacked before Wes starts making enemies - did you expect any less?
Just when you think Dustin and Heather are the obvious choices to head into The Dome, Camila and Johnny decide to put Wes and Mandi in their place, throwing them in instead. At the elimination challenge, the teams stand on a platform and duck and jump over moving pugil sticks (a la American Gladiators). Around 20 minutes in, Priscilla crashes to the ground first, leaving everything on Nate but he falls soon after. Did the rookies really expect to take down Wes and Mandi?
Afterwards, at the house, CT and Diem try to sort through their emotions after not talking for years. They both are looking for apologies from the other, but it doesn't seem anybody is about to make the first move. Will The Challenge bring them together or tear them apart for good?

The Challenge: Battle of the Exes airs Wednesdays at 10/9c on MTV.
(Image courtesy of MTV)

Follow Gina @ginascarpa and "Like" her on Facebook!