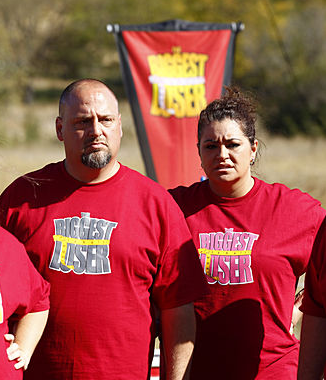 by Gina Scarpa
Buddy has left The Biggest Loser - but only temporarily! His wife is expecting and he'll head home to be with her but he'll have to return for the weigh-in and his weight WILL count. No excuses. And speaking of no excuses, whichever team loses tonight's challenge will lose the gym for a week.
The challenge is an obstacle course with several series of doors labeled A and B. Before going through a door, they must answer a question about health and nutrition, then ram through the door that has the correct answer. It was an easy win for the red team, since their opponents got every single question wrong. Oh, Bob is not going to be happy about that.
The aqua team is just one week away from weighing in at the ranch, so Dolvett pays them a visit to check their progress and give them a workout. Do you have faith that they'll get on the ranch?
Chris is having a tough time following her loss at the challenge. She won't let cameras around and locks herself in the bathroom, crying and swearing to Roy and saying she wants to go home. She gets no sympathy from Conda but did you expect anything else? Bob is called in and talks her down off the ledge. Turns out she just doesn't wanna open up. Well, what did you sign up for then?! Someone get me the aqua team please. I can't handle any more quitters.
Whether they have the gym or not, it seems many people aren't in the mood for burning calories tonight. Gail cries to Bob and Nancy shoots Dolvett an attitude while he tries to coach her on the treadmill. Conda is so difficult to work with that Dolvett sends her right out of the gym!
At the weigh-in, the numbers go as follows:
Black Team
Emily: -9
Chism: -12
Cassandra: -6
Jeremy: -11
Gail: -5
Chris: -7
Megan: -2
TOTAL: -52 (2.72%)
Red Team
Buddy: -10
Roy: -6
Kimmy: -6
Mark: -11
Kim: -10
Nancy: -5
Conda: -10
TOTAL: -58 (3.19%)
So Conda ends up being the big surprise of the night and the red team wins, despite a fantastic showing from the black team.  With a tie between Gail and Chris, Emily casts the deciding vote to send Gail home.  Here's hoping she can successfully continue her weight loss journey at home.  So far, so good.  She's lost 56 pounds to date!

The Biggest Loser airs Tuesdays at 8/7c on NBC.
(Image courtesy of NBC)

Follow Gina @ginascarpa and "Like" her on Facebook!