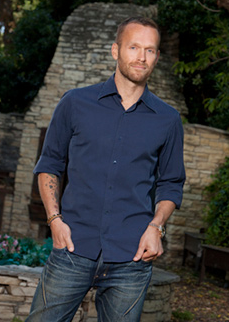 by Gina Scarpa
Tonight, The Biggest Loser unveils their 13th season and the contestants may consider themselves unlucky when they find out they won't be able to work with their partners. With a new season of twists, temptations, and transformations about to get underway, we talked to trainer Bob Harper about all these and more in an exclusive interview.
Q. Gina, RealityWanted: 13 seasons is a long time to be with a show! What keeps bringing you back?
A. Bob: I love my job and I've been in the fitness business for over 20 years. The show keeps me going because of the contestants. It's all new and fresh and I see it through their eyes. My business is ever changing so I'm always learning different techniques or programs.
Q. Gina, RealityWanted: I imagine that the contestants reacted very well when you told them they would be split up from their partners. How did you get them to calm down and focus on getting healthy?
A. Bob: I told them from day one that there's always going to be twists and turns when it comes to The Biggest Loser and you gotta be able to ride out the storm. They came in wanting to work with their husbands or daughter or siblings and realized they needed to stand on their own.
Q. Gina, RealityWanted: You always seem drawn to athletes, whether it be Rulon, Antone, and now Emily this season. What is it about them, in particular, that gets you?
A. Bob: I mean, I think that Emily really fascinates me. I'm very much into that Olympics training that is her background. When it comes to athletes... when I see people who have worked so hard on their craft, and they're able to swing so far to the other side, it's just fascinating to me.
Q. Gina, RealityWanted: Do you feel competitive with Dolvett at all, given that it's just two trainers facing off this season?
A. Bob: I really try not to look at it from a competition aspect. For me, if I have to look it that way then I have to look at Dolvett's team and not wish success on them. I've never been able to do that. Yes, we're all competitive and we want the best but I have to look at the bigger picture. I could never go into that weigh in thinking, "Oh man I hope you don't lose any weight." It just seems wrong, doesn't it?
Q. Gina, RealityWanted: You said a minute ago that The Biggest Loser is full of twists, which of course, is the case. Are there twists or temptation challenges that make you really mad?
A. Bob: Oh my God! It makes me mad all the time. Are you kidding me?! I mean, I get it. We're trying to make a tv show and keep it new and exciting. Those temptations where they're challenged to eat all this food for power... I can't work with that.
Q. Gina, RealityWanted: The show has exploded over the last 13 seasons - there are cookbooks, workout DVDs, video games... does all of that ever surprise you?
A. Bob: Oh no, not at all. I knew from season 1 that it would be a big success. For the first time, people could see themselves on television they could tune in and see people that they can relate to. When it comes to weight loss, people are obsessed with the topics. They wanna see what everyone's doing and what everyone's eating.
Q. Gina, RealityWanted: What's the biggest thing you're looking forward to this season?
A. Bob: Gosh, I think for this season, it's just seeing the transformations, seeing these people go through the darkest part of their lives and come out on the other side. We just wrapped up season 12 and seeing all that tremendous weight loss... now it's the beginning of season and they're gonna be experiencing that same sort of excitement.
Q. Gina, RealityWanted: Seasons 12 and 13 did happen really quickly, back to back. Do you get any down time?
A. Bob: No, I don't! Seasons 12 and 13 were a real challenge because we went off of 12, had a week off, and jumped right into 13. I'm not going to kid you and say that it's easy because it's not. But I love what I do so it's okay to be tired.

The Biggest Loser premieres Tuesday, January 3rd, at 8/7c on NBC.
(Image courtesy of NBC)

Follow Gina @ginascarpa and "Like" her on Facebook!