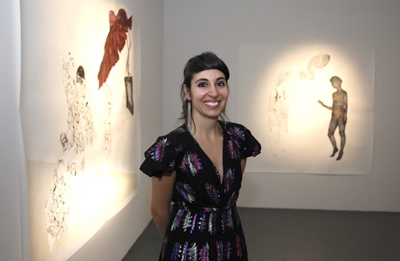 by Todd Betzold

Season 2 of Work of Art: The Next Great Artist came to an end last night, but not without the final three artists battling it out in an amazing gallery show. The judges felt that Kymia's final collection at the Brooklyn Museum of Art was the strongest and she walked away the winner. For her prize, she received her own show at the Brooklyn Museum of Art, will have one of her pieces auctioned off by Simon de Pury, and wins $100,000. We spoke to Kymia today about her win, fellow finalists, and future.

Q: Todd, RealityWanted: What made you want to do Work Of Art?
A: Kymia: I actually didn't have a choice. My sister called from L.A. in the middle of the night and woke me up and told me she was making me apply. I'm telling her she is insane. I spent all night filling it out I filled it out the day before it was due. I was having mixed emotions...who wants to put themselves out there on a reality tv show.

Q: Todd, RealityWanted: What were your expectations going in and how does it feel to have won the whole thing?
A: Kymia: I definitely expected little to no sleep, a ton of stress and some breakdowns...to make friends and hopefully no enemies. My expectations were met. I knew my processes and skills were challenged. I experienced incredible growth. I changed for the better as a person and as an artist...it empowered me.

Q: Todd, RealityWanted: How do you feel about your fellow finalists, Young and Sara?
A: Kymia: I love them both dearly. They are incredibly strong artists...articulate people and artists. I couldn't have been more thrilled to be standing there in the final three with them. Young was the strogest during the competition. Of course you really want to win, but it was an honor to do this along side of them. is unbelievable.
Q: Todd, RealityWanted: What does winning the show do for you as an artist?
A: Kymia: It allows me to have my most important exhibition to date. As an artist, you want your work to get out of the studio...maybe do a group exhibition. To be able to have a whole body of work shown fully at Brooklyn Museum is unbelievable. I hope to get a lot of traffic...hope it inspires people...get phone calls/interest in it. This opens so many doors that lead to success.

Q: Todd, RealityWanted: Which piece from your winning collection will be auctioned off at Simon's gallery?
A: Kymia: I haven't been told yet. After the finale and the cameras turned off, Simon walked through one last time and gave me one last hug. It made me cry (and I'm tearing up right now thinking about it). He said the boat piece, "The Bridge," was fantastic. I'm thinking it might be that one, but I'm curious to find out.

Q: Todd, RealityWanted: Who stood out to you as someone to watch out for or someone who could be your biggest competition?
A: Kymia: Michelle intimidated me beyond belief. She does it so effortlessly. I observed her during the competition and I was blown away. She is incredible...been making art beyond this show. I was thinking it would have been her and I in the final three, if I was lucky enough to make it.

Q: Todd, RealityWanted: What's coming up next for you?
A: Kymia: I plan on getting back into the studio. Right after the finale taped I lost my studio. I put all my art supplies in storage. I just got a new studio a few weeks ago, so I plan on getting my supplies out of storage and getting back to the grind. I'm hoping this gives me more exposure and interest.

(Image courtesy of Bravo)
Follow Todd @tbetzold