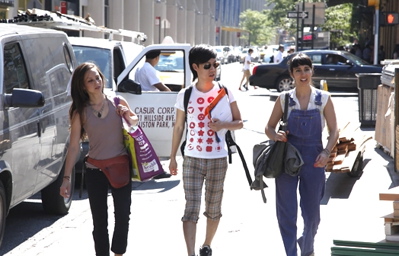 by Todd Betzold
We have watched 11 artists come and go on this season's Work Of Art: The Next Great Artist, but tonight we get to see the final three battle it out for the victory.
The three were sent home for three months to work on a full solo exhibition on a $7,500 budget. We are down to Young, Sara J. and Kymia.
Simon travels to their homes to check in on their progress. First up is Young. He spends some time meeting Young's boyfriend and mother before checking out the pieces he has come up with. He has photos set-up and Simon said as he sees it now it is very boring, which scares Young. Young has a shrine started for his father, who passed away right before the show started and Simon loved it...told him to work that into his exhibition.
He then visits Kymia and gets to meet her boyfriend. She goes to show Simon what she has come up with and has a ghost theme and a twist on religion. She has a sculpture that he says is horrendous. Out of her 15 pieces, he can see her only using one of them, which freaks her out.
Time to see what Sara has come up with, as Simon arrives and gets to meet her boyfriend before checking out her pieces. She did a performance piece and went out to get confessions from people on the streets and is working those confessions into a final piece. Simon doesn't like each piece on their own and says she must make it better.
The artists arrive back in New York City and get to share some champagne with Simon before heading to meet China and Simon at his gallery. Simon tells that artists that an additional bonus to winning is he will show one piece from the winning artist in a major Phillips de Pury auction and all the proceeds from that piece will go to the artist.
Now time for the artists to each install their own gallery. Young's show is based on the circle of life, including the shrine to his father. Sara's show is based on her performance piece and the confessions of the public. After Simon's visit, she has changed about 80% of her exhibition, so we will see how she did. Kymia's show is based on her personal exploration of spirituality.
Three hours before the end of the night, Kymia is setting up her three gravesites and the pedestals are six inches too short, so they are attempting to make it work for her. Young and Sara seem to be getting things in order without any drama. Kymia's pedestals arrive and are the perfect size, so crisis averted. The artists go and check out each others' exhibitions before calling it a night, which has them all worried on who will win.
Time to meet the judges, China, Jerry, Bill and special guest judge, contemporary artists Kaws, before the gallery shows get started. As the judges and past contestants go through all the exhibitions it is mixed reviews for all, with some tears being shed.
Now time for the final crit and the artists get their chance to defend their work. Very positive reviews from all the judges for each of the artists, with a few negative ones in there, so who knows who will win. The judges discuss on their own before we find out who the winner is. Sara is out first, leaving Kymia and Young...with the winner of season two being Kymia.
(Image courtesy of Bravo)
Follow Todd @tbetzold