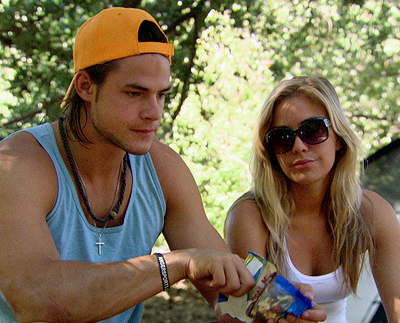 by Gina Scarpa
FYI, The Real World's Frank wants you to know that he is not... I repeat, NOT... jumping from one relationship to another. He just went from putting all of his time and energy into ex-boyfriend Michael to frequently hanging out with and cuddling up to new guy Todd.
This does not sit well with wonder couple Zach and Ashley. They had an issue with Frank being gay until they met Michael but once he was out of the picture, it was right back to square one, which he takes very, very personally. They're not necessarily outright rude, they're just standoffish but they keep to themselves 95% of the time anyway.
Frank complains to Nate, who suddenly seems to have a problem with Ashley as well. He's just jealous because she took away his ping pong buddy.
A camping trip seems like a good idea to bring the roomies together so that they can have a little bonding time. Yet, it's just like every other event they do together. Zach and Ashley keep to themselves while the rest hang out and enjoy one another's company. I have a feeling things are about to blow up...
Sam has invited everyone to her drag king performance, which she does regularly back home, and beforehand, she loosens up by doing a few shots with her roommates. Nate doesn't seem to know the meaning of "a few" shots and soon enough, he's passed out in his bed. When Frank wakes him up, he whines, complains, and shouts out random things during the car ride that seem to be hostile comments directed at Ashely. Needless to say, it makes for an awkward car ride.
Frank finally decides to confront Ashley about why she avoids him and refuses to open to him. Zach tries to step in and answer for her but thankfully, Frank tells him to let her speak for herself. It turns out that this is just how she is, even back in her real, everyday life. Besides that, she doesn't trust Frank that much so that causes her wall to go up even more. Makes sense to me. It doesn't make for interesting television that people keep to themselves and don't interact with the other roommates but it makes sense.
When the House of Blues catches wind of Alex's music, they ask her to perform with her band, which is a pretty big deal! She writes a song about living in a house that's big as a hotel, which brings Frank to tears. I'd love to say that I think that the dynamic can improve among this group but I'm starting to lose faith.
The Real World: San Diego airs Wednesday at 10/9c on MTV.
(Image courtesy of MTV)

Follow Gina @ginascarpa and "Like" her on Facebook!