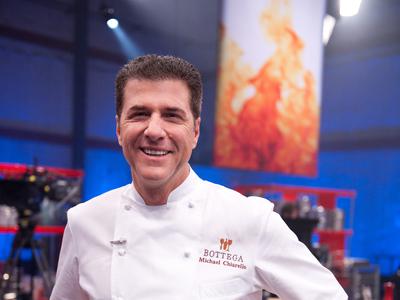 by Danae Young
This week on The Next Iron Chef, the chefs were treated to an evening of laughs at the Improv Comedy Club in Hollywood, Calif. 
The Chairman's Challenge this week was all about improvisation. 
The audience shouted out different ingredients and comedian Kevin Nealon chose from the suggestions. For the protein he chose octopus, for the carb he chose tortilla, for the fruit he chose kumquat, and for the random category he chose marshmallows. 
Each chef had to put together a single dish that contained all four ingredients. 
Chef Falkner won last week, so she received an extra 5 minutes of cook time in this week's challenge. 
The combination of ingredients was definitely interesting and created quite a challenge for the chefs. 
Chef Zakarian presented his dish to the judges first. He made Tortilla and Octopus Polenta. His mushrooms may have ruined it for him. 
Chef Chiarello made Tortilla Squared with Paprika Octopus. He got nothing but great reviews. 
Chef Falkner made a Red Wine Braised Octopus with Romesco. The judges enjoyed her marshmallow ash. Yum? 
Chef Burrell made an Octopus and Tortilla Kumquat Raviolo. It was a smartly executed dish. 
Chef Macmillan made a Charred Octopus with Corn Tortilla Fritter. The Octopus was a bit tough and his reviews weren't exactly positive. 
Chef Samuelsson made Kumquat Pickled Octopus. The judges thought the presentation could have been better. 
Chef Guarnaschelli made an Octopus with Cabbage and Marshmallows. Her dish was outstanding. 
There were some popular dishes amongst the judges, but Chef Chiarello ultimately won this week. 
Chef Macmillan and Chef Zakarian found themselves in the bottom two, which meant they had to go into the Secret Ingredient Showdown. 
The secret ingredient this week was coconut. 
With such a good ingredient, both chefs thought they had it in the bag. 
Chef Zakarian was up first and he got into a bit of trouble for making two dishes instead of one. His first dish was a Coconut Halibut Crudo and his second was a Coconut Crusted Halibut. 
Chef Macmillan followed with a Coconut Curry Stew. 
After the comments from the judges, it was tough to say who they would choose to stay to cook another day. 
Chef Zakarian's crudo saved him and sent Chef Macmillan packing. 
Watch all new episodes of The Next Iron Chef Sundays at 9/8c on Food Network.
(Image courtesy of Food Network)
Follow Danae @danaeyoung